Menu Plan Monday: December 5, 2016
December 5, 2016
Latest happenings at Small Bites by Jessica, this week's Link Love, and Menu Plan Monday!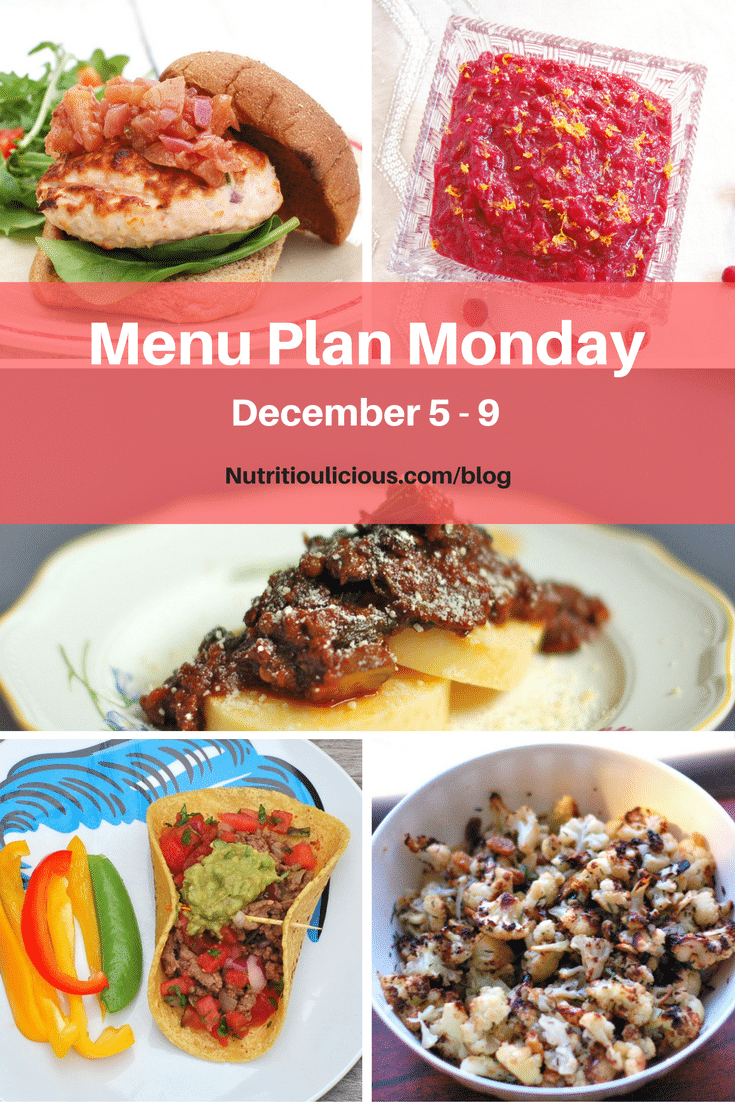 Latest Happenings:
Happy Monday everyone! Hope you had a wonderful weekend. We were busy around here – took the girls to see a show at our local theater, did some meal prep for this week, went to a kid's birthday party, and had the girls help me make my Cranberry Orange Bread to bring to a friend's house for brunch on Sunday, which was a lot of fun.
Over here at Nutritioulicious I've been busy recipe testing some new recipes that will be coming your way soon and I finally got on board with everyone else and did my first Facebook Live last week! Did you see it? It's all about meal planning! You can check it out here. I'm hoping to start doing these on a more regular basis, so stay tuned for that and be sure to follow me on Facebook if you don't do so already!
Now let's take a look at the reads and recipes of interest from last week and this week's menu plan.
Articles:
How to Build a Holiday Cheese Board @ Zen & Spice
⇒ What's a holiday party without a cheese plate?! Emily has a great guide to making one!
Tips for Improving Your Gut Health @ Sonali Ruder, MD
⇒ The health of your digestive tract – gut health – is so important and research is showing more and more just how important it is. Sonali shares some easy tips for keeping your gut healthy.
In Defense of the Potato @ The Healthy Helper
⇒ Granted I'm not the biggest potato lover (unless crispy or well done), but that's just a personal taste preference. There's no reason to avoid potatoes if they are your thing. Kaila does a great job explaining why.
Why Turmeric Is So Good For You? @ Natalie Rizzo, MS, RD for Eating Well Magazine
⇒ Turmeric is responsible for that pretty yellow color and warm and peppery flavor common in curries, but did you know it's also really good for you? Find out why and then try it in your cooking – you can make my Summer Shakshuka!
Recipes:
Sheet Pan Chicken and Vegetables @ The Lean Green Bean
⇒ You know I love my peanut sauce (I use it here and here)! Can't wait to use it on this easy weeknight dinner!
Caramelized Apple Maple Cream Tartlets @ Marisa Moore Nutrition
⇒ These little tartlets are so adorable and look delicious. Such a yummy, nutritious way to end a meal. Perfect for holiday parties too!
Healthy Frugal Dinner Recipes @ Real Food Real Deals
⇒ Who wouldn't love healthy meals that are also budget friendly? Annemarie has 60 of them here!
Kumquat Thyme Cocktail @ Zestful Kitchen
⇒ A pretty, simple, and aromatic cocktail for the holidays.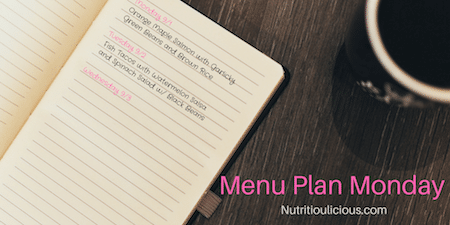 Menu Plan Monday: Week of December 5, 2016
Monday: 
Lunch: Cheesy broccoli bake, hard boiled egg, sliced veggies and avocado, orange smiles
Dinner: Vegetarian Lentil Bolognese Over Polenta Cakes with Rosemary-Roasted Cauliflower with Raisins
Tuesday: 
Lunch: Leftover vegetarian bolognese over polenta cakes with roasted cauliflower and clementine
Dinner: Grilled Fresh Salmon Burgers with Orange-Ginger Cranberry Sauce and Maple Roasted Delicata Squash
Wednesday: 
Lunch: Salmon burger with delicata squash, pomegranate seeds, and clementine
Dinner: Chipotle Beef Tacos (from the freezer) with roasted sweet potatoes and broccoli
Thursday: 
Lunch: Lentil Chickpea Vegetable Salad with Feta, sliced vegetables and orange smiles
Dinner: Eggs and Quinoa with Roasted Butternut Squash and Cranberries
Friday: Dinner at a friend's house
What were some of your favorite reads and recipes from last week?
What's on your menu this week?
Please share with me below or on social media!