Menu Plan Monday (December 31-January 6)
December 31, 2012
Hope everyone is having a Nutritioulicious holiday season so far! Can you believe tomorrow starts another year?! I for one can't believe it's almost January 1, 2013. At this time last year I was extremely pregnant and waiting for my babies to arrive (they were born January 5th). This New Year's Eve I won't be going to some fancy restaurant that holds two dinner seatings or clubbing with my girlfriends (well, I haven't done that in a number of years anyway!). Now that I have kids, my husband and I will be staying in and watching the ball drop on TV, which I am perfectly happy to do. We'll be cooking dinner with friends of ours who also have two kids and live in the suburbs. It should be a relaxing and fun afternoon and evening.
What do you have planned for New Year's Eve? 
Since it's another holiday week, my meal plan is a little different than normal. Here's what we'll be having: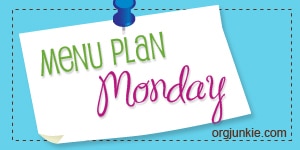 Monday: New Year's Eve Dinner – Chickpea bruschetta & Mushroom Tartlets; Brisket served over Mashed Garlic Cauliflower with Roasted Potatoes and Brussels Sprouts with Pecans; Cookies & Fruit for dessert
Tuesday: Leftovers?!
Wednesday: Out for a friend's birthday dinner
Thursday: Cocounut Red Curry Halibut with Bok Choy served over Quinoa
Friday: Roasted Chicken Breasts with Carrots and Onions, Mashed Sweet Potatoes
Saturday: Take out?
Sunday: Charlotte & Sabrina's 1st Birthday Party – Pizza & Cake!
Wishing everyone a happy and healthy new year. See you in 2013!
Linking up at Org Junkie's Menu Plan Monday.