Menu Plan Monday: December 21, 2015
December 21, 2015
Happy and healthy holiday week! Check out this week's Link Love and Menu Plan Monday!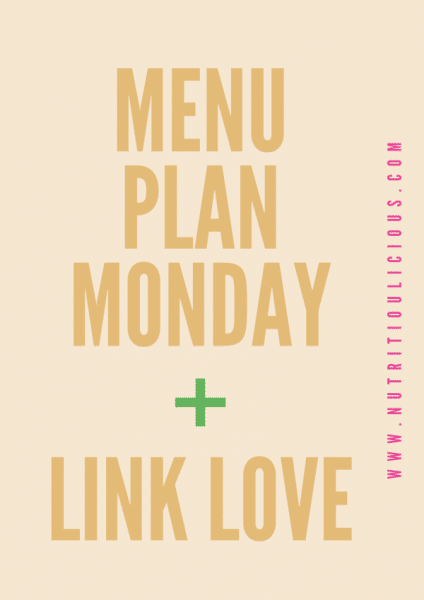 The winter holiday week has finally arrived and even though I personally don't celebrate Christmas, the festive feeling is in the air. As is the stress.
It's a little sad that this time of year brings about so much stress for most people. For me it's not about hosting a big family dinner or scrounging last minute to get all the presents wrapped and under the tree. Instead it's about getting all my work done, bills paid, and my daughters' birthday party all set up before everything shuts down for the holidays and winter break (their birthday is January 5th, so it's always a rush).
With all the stuff on my to-do list, I didn't even get to update my blog last week with any of my planned posts, including my cranberry orange bread, immunity-boosting foods, and a post all about pomegranates. Hopefully I'll have better luck in the next week or two.
In the meantime, be sure to check out my 5 Delicious & Healthy Holiday Recipes and my Heavenly Healthy Hot Chocolate Recipe, both featured over at Spa Week!
Then scroll on down for this week's link love and menu plan. And stay tuned for my Recipe ReDux post tomorrow!
Happy holidays!! 
Articles:
Supermarket RD's Pick: Cauliflower Crumbles @ RDelicious Kitchen (I just saw these at the NY Produce Show a few weeks ago and can't wait to find them in stores!)
How to Save Time and Cut Stress at the Holidays @ Real Mom Nutrition (I need to implement of some of these!)
13 Tips from Registered Dietitians for a Healthier Holiday Season @ Calio (including yours truly!)
4 Reasons Why Click-Bait Nutrition Articles May Be Hazardous to Your Health @ The Daily Basics (I'm so tired of the click-bait articles with quick fix diet plans and fads. Take what you read online with a grain of salt!)
Recipes:
Citrus Recipe Roundup @DeFrates Nutrition
9 Unbelievably Delicious Homemade Hot Chocolate Recipes @ Sinful Nutrition
35 Ways to Avoid Oatmeal Boredom @ Healthy Aperture (if oatmeal is your go-to breakfast in the winter like it is for me, you won't get bored with these ideas!)
Slow Cooker Maple Chipotle Pulled Chicken @ Healthy Seasonal Recipes (a maple recipe by the author of Maple in honor of Maple Syrup Day!)
30 Recipes Featuring Maple Syrup @ The Nutrition Adventure (more maple syrup day love)
Plant-Powered Ruby Red Recipe Roundup @ Sharon Palmer, RDN (a pretty and delicious roundup, including my Lemon Hummus Endive Boats with Pomegranate Seeds!)
Pumpkin French Toast Roll Ups @ RDelicious Kitchen (love this brunch idea!)
Winter Produce Guide @ The Grateful Grazer
50+ Healthy Vegetarian Holiday Recipes @ The Foodie Dietitian

Week of December 21, 2015
Monday: Shakshuka (slightly modified with seasonal vegetables like fennel and cauliflower) and side salad
Tuesday:  Roasted Tomato, Broccoli, and Olive Pasta with Ricotta (seasonal variation on this recipe)
Wednesday: Leftovers
Thursday: Off duty
Friday: Coconut Lime Chicken with Shorty's Quinoa and Maple-Roasted Delicata Squash
What are you cooking this week?
Wishing you all a very happy and healthy holiday week!
Tweet me @JLevinsonRD with #DinnerTonight