Menu Plan Monday: December 19, 2016
December 19, 2016
Latest happenings at 
Small Bites by Jessica

, getting ready for the holidays, this week's Link Love, and Menu Plan Monday!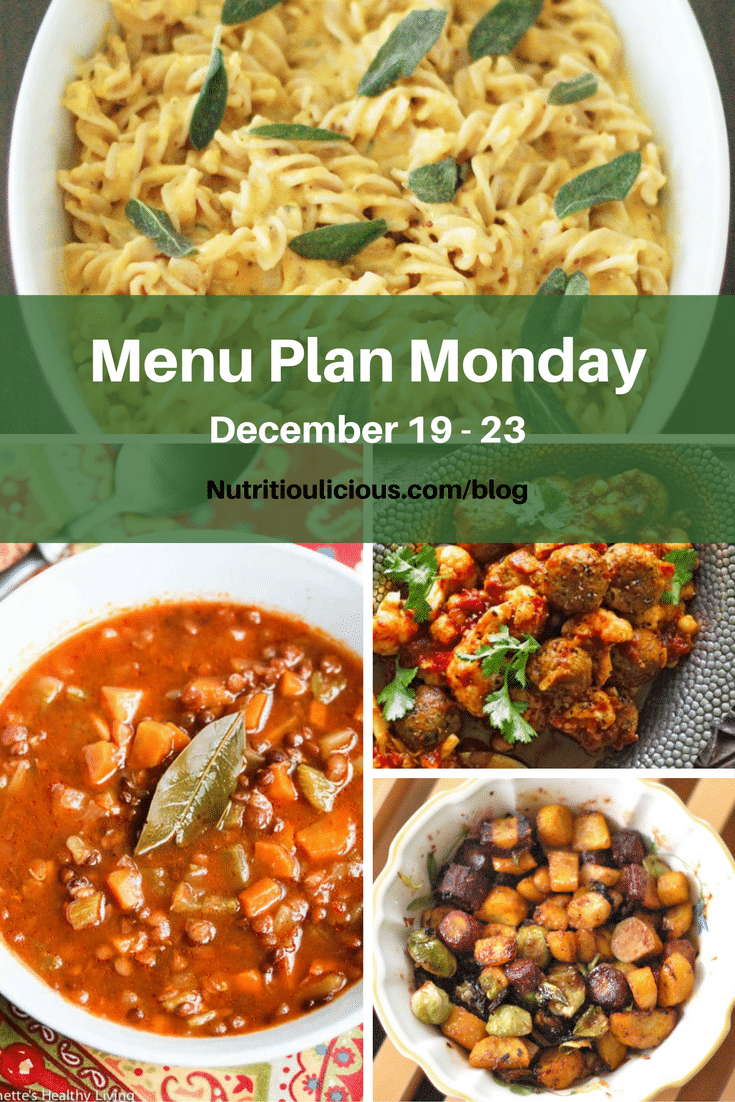 Latest Happenings:
Hope you had a great weekend, I sure did! I celebrated my 35th birthday last Friday and was able to celebrate with my friends and family all weekend long! And that's only the start of the celebrations for the rest of the month.
This coming Saturday night we'll be lighting candles for the first night of Hanukkah, Sunday we're having family over for our annual Hanukkah gathering and present-giving at our house, followed by a Hanukkah celebration with friends next Wednesday and our annual New Year's Eve party at our house the following Saturday night! Lots of great fun to be had and cooking to get done!
I'm excited to make some of my recent seasonal recipes like my Maple-Roasted Delicata Squash Quinoa and Roasted Brussels Sprouts with Pomegranate Glaze. If you haven't had a chance to check these recipes out, I hope you will and consider adding them to your holiday menu! And be sure to check back later this week for another recipe you may want to include 😉
Keep scrolling down to see what articles and recipes are included in this week's Link Love and check out this week's nutritious and delicious menu plan!
Articles:
Chocolate's Health Benefits: The Top 10 Health Reasons to Indulge @ Brighton Your Health
⇒ Who doesn't like more reasons to eat chocolate?! Just make sure you choose the right kind – that is chocolate with at least 50% cocoa.
Eating Healthy on a Budget @ Relishments
⇒ Brynn from The Domestic Dietitian shares some great tips here, including my #1 tip – meal planning!
Holiday Drink Tips @ Sara Haas RDN
⇒ Calories from alcoholic drinks sure do add up and we often don't realize how much we drink. Sara made an awesome infographic that shows the calories in different drinks and includes some helpful tips. And if you're looking for some yummy cocktails to enjoy over the next week, check out my 16 Cocktails to Ring in the New Year!
A User's Guide to Buying Seafood @ The Washington Post
⇒ Seafood is such a healthy and easy-to-cook protein source, but people don't eat enough of it. RD Cara Rosenbloom shares great information that will help you feel more confident buying fish. Ready to try some fish? My Orange Maple Salmon is a super easy and favorite recipe!
Recipes:
Whole Wheat Gingerbread Crepes with Maple Roasted Cranberries @ Bite of Health Nutrition
⇒ I've been wanting to make crepes and am expecting a crepe maker for product testing soon, which is perfect because these look delicious!
Weekend Huevos Rancheros @ Mom's Kitchen Handbook
⇒ I LOVE huevos rancheros – by far my favorite Mexican breakfast! And lucky me, I just got a cast-iron skillet (major props and thanks to my assistant Kaleigh for that Hanukkah/birthday present!), so I will for sure be making this soon!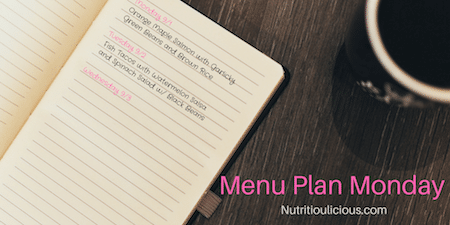 Menu Plan Monday: Week of December 19, 2016
Monday: 
Lunch: Veggie burger, cheese stick, sliced veggies, and orange smiles
Dinner: Greek Lentil Soup
Tuesday: 
Lunch: Leftover Greek lentil soup and clementine
Dinner: Lightened-Up Macaroni and Cheese  and Miso-Roasted Root Vegetables
Wednesday: 
Lunch: Cucumber cheese "sandwiches," roasted broad beans, and fruit
Dinner: Leftover mac and cheese and veggies
Thursday: 
Lunch: Salmon quinoa salad (a variation of this recipe using canned salmon and fall fruits/veggies), fruit, and veggies
Dinner: Hanukkah party at my girls' nursery school
Friday: Chicken Kofta Stew with Cauliflower over brown rice
What are your plans for celebrating the holidays? Do you have a menu planned yet?
What's on your menu this week?
Please share with me below or on social media!