Menu Plan Monday: December 12, 2016
December 12, 2016
Latest happenings at Small Bites by Jessica, this week's Link Love, and Menu Plan Monday!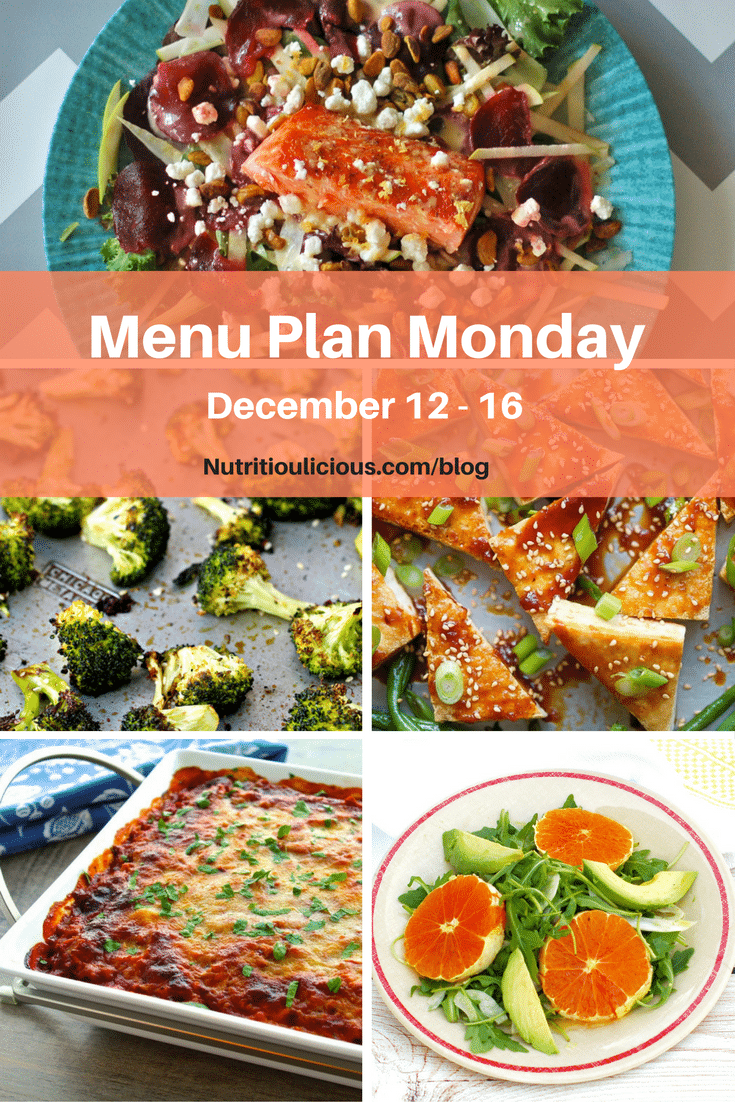 Latest Happenings:
Does anyone else feel like this month is flying by?! Today my daughters received an email invitation for a friend's birthday party, which is taking place on the same day as their 5th birthday party. And guess what? I hadn't sent out the invites to their party yet! I went into a tailspin trying to get it together lest my children's friends are all already booked up and can't attend. Thankfully some friends already responded so I can breathe a sigh of relief, but it's just one example of how nutty this time of year is and I am sure many of you can relate!
Ok, so that had nothing to do with nutrition or food, but just a glimpse into my crazy life right now. Now we can move on to more interesting things like this week's Link Love, which includes some great articles to help you get through this hectic and food-filled holiday season (clearly I need to re-read the "me-time" post below!) and recipes you don't want to miss. Check them out below followed by this week's lunch and dinner menu plan.
Hope you all have a great – and not too chaotic – week!
Articles:
Supporting "Me-Time" & Kicking Guilt to the Curb @ McDaniel Nutrition
⇒ During this hectic time of year it's important to remember to practice self-care, and it's a great goal for going into the New Year as well.
How to Avoid the Diet Trap This Festive Season @ What's for Eats
⇒ The holidays are no time to diet, so sit back, relax and enjoy all the holiday delights with these 7 tips.
Family Mealtime Rules to Live By @ Just the Right Byte
⇒ Jill always has the best advice when it comes to feeding kids and I couldn't agree more with the rules she shares in this post.
Recipes:
Pomegranate Vinaigrette @ Joy. Food. Sunshine.
⇒ You know I love pomegranates and all their health benefits and pomegranate dressing. Love the addition of maple syrup in this one.
Homemade Ricotta Cheese @ The Domestic Dietitian
⇒ I am amazed at how easy it is to use homemade ricotta! I need to give it a try myself and then make my Ricotta Berry Oatmeal Cups using it!
Cauliflower Latkes @ Nutrition Starring You
⇒ Potato latkes, aka pancakes, are a staple Jewish food at Hanukkah. I for one have never been a latke fan, but this healthier makeover using cauliflower is totally up my alley!
Avocado Toast with Pomegranate Salsa @ Dishing Out Health
⇒ Another great recipe using those delicious pop-in-your-mouth pomegranate seeds! I think this is another appetizer for the New Year's party list!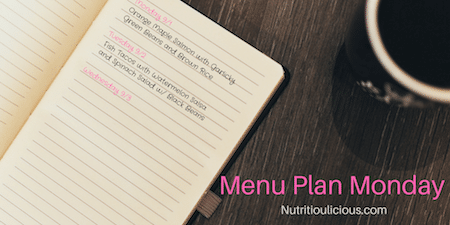 Menu Plan Monday: Week of December 12, 2016
Monday: 
Lunch: Apple Soybutter Sandwich Skewers, veggie slices, and GG's chocolate
Dinner: Sheet Pan Honey-Sesame Tofu and Green Beans and Sesame Roasted Broccoli
Tuesday: 
Lunch: Tuna Edamame Salad with cucumber slices and orange smiles
Dinner: Spaghetti Squash Lasagna w Citrus Fennel Salad
Wednesday: 
Lunch: No school – parent teacher conferences
Dinner: Leftover spaghetti squash lasagna
Thursday: 
Lunch: Veggie burgers, cheese stick, veggies, and fruit Leftover spaghetti squash lasagna (we had so much!)
Dinner: Salmon Waldorf Salad with Citrus Yogurt Vinaigrette
Friday: Ropa Vieja over brown rice Cauliflower Burnt Rice
How is your holiday season going so far?
What's on your menu this week?
Please share with me below or on social media!
Tweet me or tag me on Instagram with #DinnerTonight