Menu Plan Monday (December 10-16)
December 10, 2012
Friday afternoon as I sat down to plan my menu for this coming week, my husband started to laugh. He couldn't believe I was already putting together a menu for the week to come when I hadn't even finished cooking for that night's dinner. It does seem like I'm always planning the next meal, but to make sure we eat Nutritioulicious meals I need to put my thinking cap on in advance – I can't just wait until the day of to figure out what we're going to eat. How far in advance do you plan your meals?
After looking through the fridge and pantry to see what ingredients I have open and ready to use, I came up with the following menu: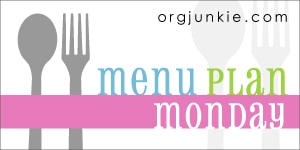 Monday: Leftover Roast Chicken with Balsamic Bell Peppers, Roasted Asparagus, Potato Latkes (it is Chanukah after all!)
Tuesday:  Westchester Twins Club holiday party
Wednesday: Sun-dried Tomato Jalapeño Frittata with Mixed Salad
Thursday:  Cod with Fennel, Bell Pepper, and Olives, Bulgur with Ginger and Orange, Roasted Broccoli and Garlic with Thyme
Friday: Roasted Chicken with Orange, Lemon, and Ginger, Roasted Brussels Sprouts with Pecans, and Chili-Lime Roasted Butternut Squash (making the squash as a side dish without the salad)
Saturday: Birthday Dinner at Bedford Post!
Sunday: Nephew's Birthday Party
Linking up at Org Junkie's Menu Plan Monday.