Menu Plan Monday: August 7, 2017
August 7, 2017
Small Bites by Jessica is here! Get an inside look along with this week's Link Love and Menu Plan Monday!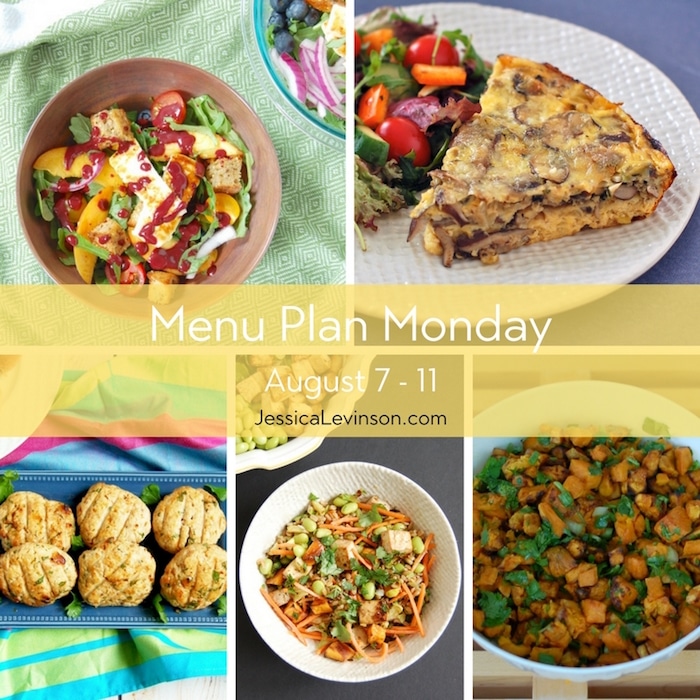 Latest Happenings:
Happy Monday and welcome to Small Bites by Jessica! In case you haven't noticed, things have changed a bit around here. My site got a makeover along with a brand new name. If you get my newsletter and follow me on Facebook, Instagram, and Twitter you probably saw the news, but if it's your first time here in a while or if you're a brand new reader, welcome to my new digs!
My goal here at Small Bites by Jessica is to help your family navigate the stress and anxiety that is often associated with feeding kids, while ingraining good long-term eating habits and a robust appreciation of the joys of food – one small bite at a time.
You'll continue to find nutritious and delicious recipes for the whole family, healthy living tips, school lunch ideas, and an overall greater focus on kids and family. And as always, every Monday you can get inspired with my Menu Plan Monday along with links to blog posts I think you'll find interesting and helpful from around the web.
As you take a look around the new site, I want to highlight a few key changes that will hopefully enhance your experience.
Recent blog posts and featured articles can be found directly on the Home page.
The new and improved Recipe Library allows you to more quickly and easily filter a search for the recipes you want.
The blog categories are more streamlined and include easy access to my Menu Plan Monday archives.
Head on over to Meet Jessica to find out more about me and to the Work with Me page to learn about my services.
I hope you enjoy the new site and all it has to offer. If there's anything you want to learn more about or any recipes you want to see, don't hesitate to contact me and let me know. I'd love to hear from you!
Articles:
Workout Clothes Care @ Run to the Finish
⇒ Labels on workout clothes are almost as confusing as food labels (if not more!). Luckily Amanda breaks it down for us. Love her graphic!
5 Table Manners Every Kid Should Know @ Parents by Sally Kuzemchak, RD
⇒ Teaching kids table manners is important and should be started early. My friend Sally asked me and other mom RDs what manners we teach our kids. Do you have a table manner to add to the list?
4 Low-Stress Ways to Get Dinner on the Table @ Food & Nutrition by Sarah Pflugradt
⇒ This summer has been so hectic that I barely have a desire to cook as much as I normally do. If you feel the same way, check out these quick and easy dinner ideas.
Why You Should Serve Family Style Meals @ Real Mom Nutrition
⇒ Now that my girls are 5 1/2 I have been trying to serve family style more often. I often fall back into the habit of plating their food, but when we all eat together I do try to let them serve themselves. Sally offers great reasons and tips for doing so.
Calories Don't Matter @ Emily Kyle Nutrition
⇒ Yes, the basics of weight gain and loss are calories in vs calories out, but as Emily shows in her menu comparison (scroll down in the post), it's what you eat that matters more than the number of calories. Quality over quantity for the win.
3 Ways Parents Unintentionally Limit Their Kids' Food Preferences @ Sarah Remmer, RD
⇒ Yes, yes, and yes! This is why my focus at Small Bites by Jessica is on feeding my kids the same food I make for my husband and me and not making assumptions about what they will and won't eat.
Recipes:
Zucchini Carrot Apple Muffins @ The Lean Green Bean
⇒ My girls don't love zucchini, but I knew that these muffins would be a hit. Made a batch that was devoured for breakfast all last week. Served with a smear of peanut butter and a side of fruit. (FYI, I reduced the sugar to ~ 1/4 cup.)
One-Pot Summer Vegetable Skillet Lasagna @ Making Thyme for Health
⇒ This recipe is a great way to use all those summer veggies, especially zucchini. When I make this I will use part-skim ricotta cheese instead of the cashew ricotta, but this option is great for vegans.
Summer Corn Ratatouille with Polenta @ My Cape Cod Kitchen
⇒ Ratatouille is typically served in the winter months, but I love this summer spin. I don't have a slow cooker, but made this last week in a regular pot over the stove. Served it over a combo of zoodles and angel hair pasta. It was like summer in a bowl!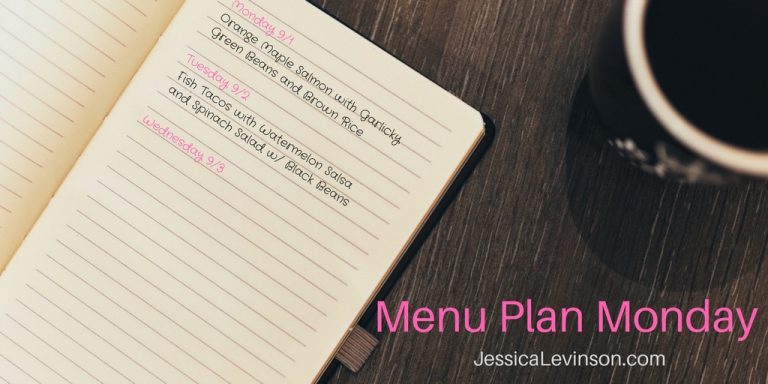 Menu Plan Monday: Week of August 7, 2017
Monday: Baked Mushroom Leek Frittata with Peach Panzanella Salad with Halloumi and Blueberry Balsamic Vinaigrette
Tuesday: Dinner out with the kids' friends
Wednesday: Asian-Style Farro Buddha Bowl with Crispy Tofu (making it with roasted zucchini & corn instead of Brussels sprouts)
Thursday: Leftovers
Friday: Ginger Miso Turkey Burgers with Honey-Soy Glaze, Sweet Potato Salad, and Grilled Tomatoes
What's on your menu plan this week?
Please share with me below or on social media!