Menu Plan Monday: August 22, 2016
August 22, 2016
What's been happening at Small Bites by Jessica, plus this week's Menu Plan Monday, and links I loved over the past week.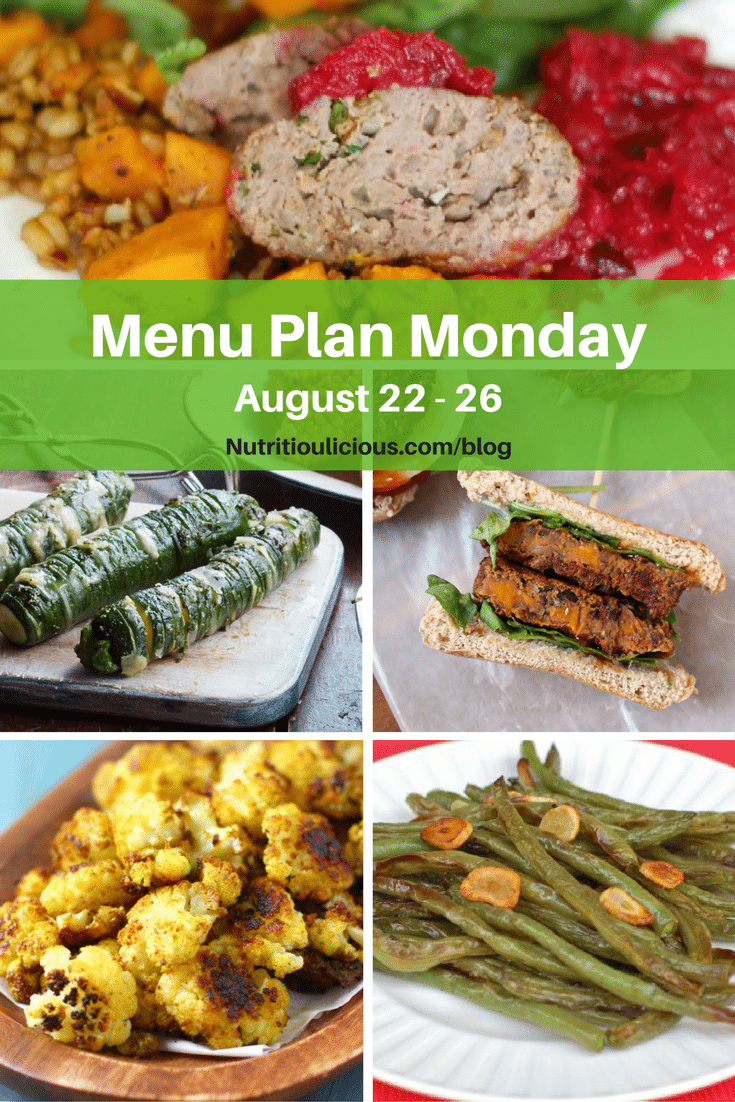 Last week I shared with you a bunch of posts to help with back-to-school planning, especially when it comes to meals. Well, this week I have even more for you, including my latest back-to-school post 5 Quick, Easy, & Healthy School Lunch Ideas + 36 Recipes to Try. And later this week we'll be sharing a roundup of breakfasts that will help you get the kids out the door on time!
In other news, did you see my August Recipe ReDux post? Be transported to Italy with this recipe for Farinata, an Italian chickpea flour flatbread that I topped with in-season tomatoes, mozzarella and some basil pesto. Be sure to check out the entire post because there are close to 100 recipes from other RDs and healthy bloggers included!
Now for this week's link love and menu plan!
Articles:
How to Make the Perfect Lunchbox in 5 Steps @ Nutrichicos
⇒ Love this basic guide for packing a healthy lunchbox, whether for the kids or yourself!
Healthy Fats For Kids @ The Lean Green Bean
⇒ People are less fearful of fat these days than in the 80s and 90s, but I know many parents who still cut fat out of their kids' diets (and their own). Lindsay explains why kids need fat and shares some great sources to give your kids.
Top 12 Tips for Meal Planning Success @ Holley Grainger Nutrition
⇒ You know how I feel about menu planning! In addition to my tips I shared recently at Real Mom Nutrition, here are a handful more for you.
Bloggers Cooking Tips and Inspiration @ Family Food On the Table
⇒ Even more great tips for meal planning, saving time in the kitchen, and just getting in the kitchen to cook. Plus, delicious easy home cooked recipes to try!
What If Intuitive Eating Doesn't Work? @ Avocado A Day Nutrition
⇒ If you think the goal of intuitive eating is weight loss, think again. That's why intuitive eating will always work. Rachael explains.
How to Stop Junk Food Cravings and Eat Healthier @ 80 Twenty Nutrition
⇒ Actionable ways to stop cravings and eat better when they hit.
Blessings of a Cracked iPhone @ Love Life Surf
⇒ I don't know about you, but I rely on my phone way too much, and studies show it's not good for kids to see their parents on their phones so often. Some important lessons in this post.
Recipes:
Peanut Butter Cup Granola @ Dishing Out Health
⇒ You can never go wrong with a peanut butter and chocolate combo! Can't wait to make this to top yogurt or snack on its own!
Strawberry Teriyaki Salmon Kebabs with Strawberry Jalapeno Salsa @ The Foodie Physician
⇒ Love salmon and the combo with strawberries sounds great! Great tip from Sonali about doubling the skewers!
5 Healthy, Quick, and Kid-Friendly Dairy-Free Meals @ Go Dairy Free
⇒  Whether or not you need dairy-free meals, these are all great ideas. I especially love the focus on cuisines from around the world – it's great to expose kids to different herbs and spices.
Grilled Fruit Dessert Tacos @ A Whisk and Two Wands
⇒ This is such a fun dessert recipe!
Cajun Salmon Tacos with Donut Peaches @ Hungry By Nature
⇒ These tacos look so delicious. Perfect for #TacoTuesday (or any day of the week for that matter!). Can't wait to include them in my next Menu Plan Monday!

Week of August 22, 2016
Monday: Leftover Coconut-Lime Chicken, Hamburger, Corn Salad, and Farro Salad
Tuesday: Veggie Cauliflower Fried Rice with Crispy Tofu
Wednesday: Black Bean Sweet Potato Burgers with Garlic-Parmesan Hasselback Zucchini 
Thursday: Off Duty
Friday: Moroccan-Spiced Lamb Burgers with Roasted Garlic Curried Cauliflower and Garlicky Green Beans
What's on your menu this week?
Tweet me @JLevinsonRD with #DinnerTonight