Menu Plan Monday: August 15, 2016
August 15, 2016
Get ready for sending lunch to school for the kids, plus this week's Menu Plan Monday, and links I loved over the past week.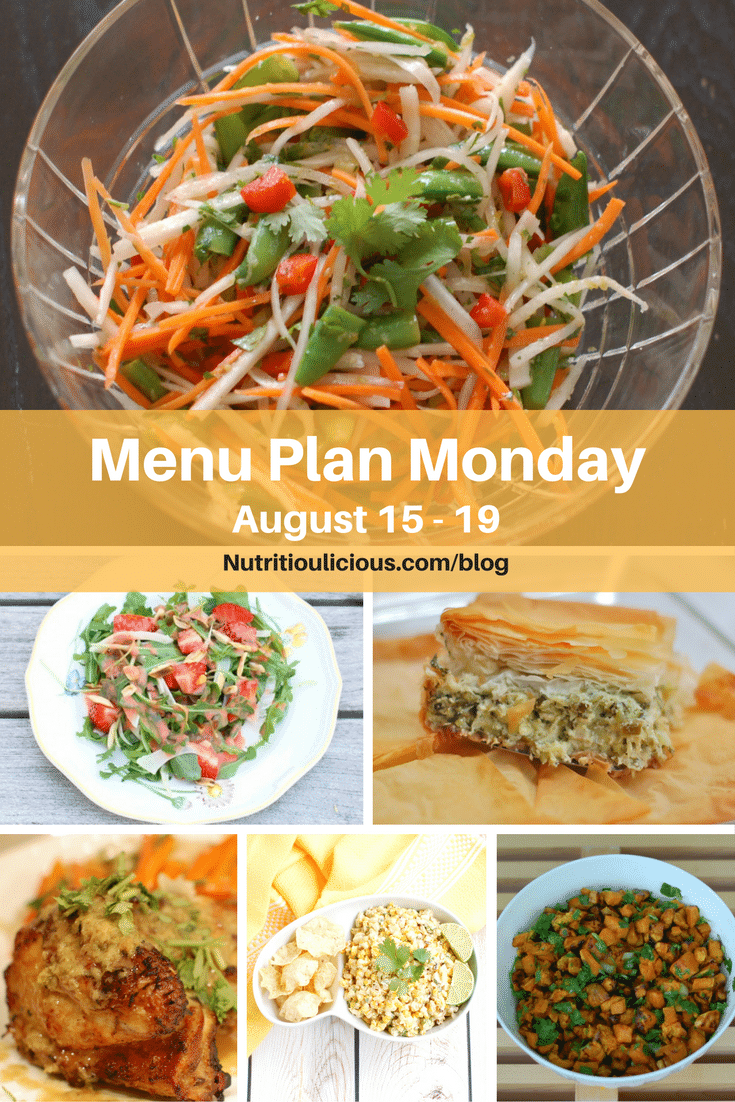 It's hard to believe, but summer is coming to an end and now that my girls are finished with camp, it's time to start getting ready for school. I know a lot of kids, especially in the southern states, are already almost a month into school, but here in New York we have a few more weeks to go.
Now that my girls are in their last year of pre-school, they'll be eating lunch at school everyday, which means I really need to get my act together with buying lunchboxes and coming up with lunch ideas that will keep them satisfied and excited for lunch on a daily basis. On the lunchbox front, I know I want to go with a bento-style box, but there are so many to choose from! I'm deciding between the YumBox, Bentgo Kids, and Planet Box – I'm telling you this decision is plaguing me! If you want to learn more about these and other lunchboxes, check out this great post from my friend Sally at Real Mom Nutrition and this Facebook Live video from my friend Holley.
For more help planning school lunch for your kids, check out this week's Link Love below, which includes a couple of posts featuring healthy lunches for kids to take to school. To help you out even more, I updated last year's back-to-school meal planning post, which has lots of healthy and fun meals and recipes for back to school. Later this week I'll also be posting my favorite lunch ideas for kids in honor of Kids Eat Right Month, so stay tuned for that!
I'd love to hear what you're favorite lunchboxes are for kids and any other tips you have for packing lunch! Share those comments with me below!
Now for this week's Link Love and Menu Plan Monday!
Link Love Articles:
Healthy School Lunch Ideas: 20+ Sandwich Spreads @ Family Food On the Table
⇒ Keep those sandwiches interesting with these ideas from Kathryn!
25 Favorite Lunchbox Recipes From Real Moms and Dads @ Holley Grainger Nutrition
⇒ The queen of the #HealthyLittleLunchbox is at it again, this time rounding up 25 lunch ideas moms and dads are actually packing!
What We Can Learn From the Brazilian Dietary Guidelines @ C It Nutritionally
⇒ Anyone watching the Olympics? Find out what Brazil's dietary guidelines entail and why they are so much more user-friendly than our own in the US!
Menu Plan Monday Recipes: 
Crispy Baked Avocado Fries @ The Foodie Physician
⇒ I love avocado fries, but have never made them. Gotta change that! These look delish!
Chili Lime Chicken Kabobs with Peppers, Farro, and Creamy Adobo Sauce @ Family Food On the Table
⇒ What a perfectly balanced and easy weeknight meal for the whole family. So excited that I have two new recipes to try using adobo since I never know what to do with the rest once the can is open!
Raspberry Blueberry Oatmeal Cake @ Jeanette's Healthy Living
⇒ This looks so delicious and even better, so easy!
Gooey Grain-Free Caramel S'mores Bars @ Kumquat
⇒ Ok, my mouth is still watering from these. They actually don't sound so hard to make, but I'd much rather Gretchen send me a care package of them. Lol!

Week of August 15, 2016
Monday: Tomato Mozzarella Farinata with Pesto Drizzle and Strawberry Arugula Salad with Fennel, Toasted Almonds, and Strawberry Champagne Vinaigrette
Tuesday: Greek Zucchini Pie with Esquites and Greek Salad
Wednesday: Leftovers
Thursday: Off Duty
Friday: Coconut-Lime Chicken with Sweet Potato Salad and Thai Citrus Salad
How are you getting ready for back to school season?
What's on your menu this week?
Tweet me @JLevinsonRD with #DinnerTonight
Disclosure: This page contains Amazon Affiliate links. If you purchase products through these link, your cost will be the same but I will receive a small commission to help with operating costs of this blog. As always, all thoughts and opinions are my own and I only recommend products I truly believe in. Thanks for your support!