Menu Plan Monday: August 1, 2016
August 1, 2016
What's going on in August, this week's Link Love, and Menu Plan Monday.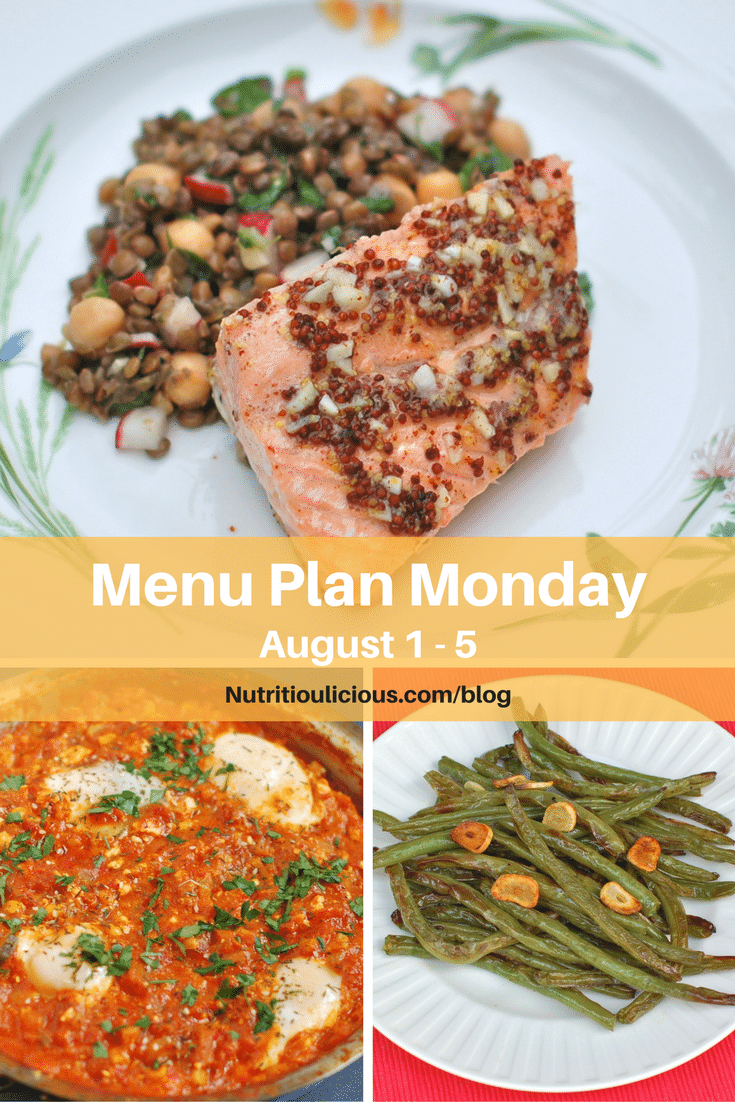 Happy Monday! I don't know about you, but I cannot believe that it's the first day of August and the summer is almost over. In fact, for some kids, summer is officially over as school started today?! It's always so crazy to me how quickly the summer goes by. I guess the saying is true: Time flies when you're having fun!
Although the kids may be almost done with camp or heading back to school this week, there are still lots of great things to enjoy in the month of August. It's the prime month for tomatoes and corn, two of my favorite summer produce items. It's Kids Eat Right Month, which means it's the perfect time to get the kids in the kitchen to cook with you, especially if they're between camp and school and looking for something to do. (Stay tuned later this month for a special #KidsInTheKitchen post!) Oh and to go along with the kids cooking, it's also Family Meal Month, so make sure to eat the meal your kids cook all together!
August is also National Peach Month and Goat Cheese Month – I can think of a bunch of ways to celebrate those two together, but if you want to celebrate them separately, you can try my Salmon Peach Quinoa Salad, Grilled Stone Fruit, and Sun-Dried Tomato, Spinach, and Goat Cheese Baked Oatmeal Frittata. And if you aren't already celebrating juicy, hydrating, lycopene-rich watermelon, this Wedneday is the day to do it when people everywhere will be enjoying National Watermelon Day. I of course have some watermelon recipes for you! 🙂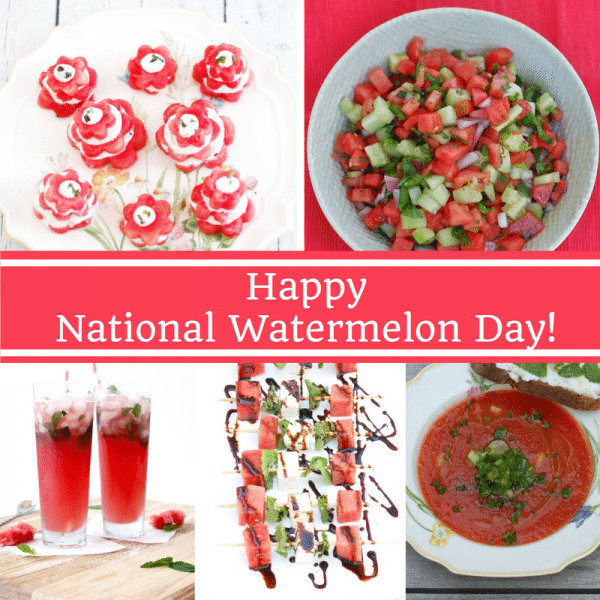 What are you most looking forward to this August? Share with me in the comments below. But first, check out this week's Link Love and Menu Plan Monday!
Articles:
Basics: Avocados @ Delicious Balance
⇒ You know I love avocados! Find out how to pick and store this Nutritioulicious fruit. Plus some great recipes (including my Grilled Stuffed Avocados) at the end!
How to Substitute Whole Wheat Flour for All-Purpose Flour @ Healthy Ideas Place
⇒ This is such a great resource! For some more recipes using white whole wheat flour, try my Cranberry Orange Bread and my Chocolate Pear Bread, and if you want to combine whole wheat and all-purpose flour, try my Apple Peanut Butter Pancakes.
10 Things I Learned on the Uncle Ben's Rice Tour @ Teaspoon of Spice
⇒ Loved finding out what Deanna learned on the rice tour. Can't wait to check out those rice packets!
Recipes: 
15 Healthy Ways to Eat Zoodles @ Healthy Aperture
⇒ You won't get bored of summer zucchini with these recipes! Kids won't eat zucchini? Try making zucchini snakes – that's what my friend Jenna's son calls zoodles! I think I'll start calling them zucchini necklaces to get my girls to eat them!
Grilled Brazilian Rub Salmon @ Jeanette's Healthy Living
⇒ I love quick and easy salmon recipes (have you tried my 5-Ingredient Salmon? I'm making it this week!). Can't wait to try Jeanette's flavorful recipe!
Cottage Cheese Egg Salad @ Healthy Aperture
⇒ I've never been the biggest egg salad person, but this combo of eggs and cottage cheese caught my attention. A perfect lunch!
Apple Spaghetti @ Holley Grainger Nutrition
⇒ How fun and adorable is this recipe? I can't imagine a kid who wouldn't love it!
High Protein Peanut Butter Cup Oatmeal @ Diehard Foodie
⇒ Peanut butter and chocolate for breakfast? Yes, please! And I love that this is higher in protein without protein powder!
Healthier No-Bake Cookie Bars @ Family Food On the Table
⇒ Another peanut butter and chocolate recipe you can't go wrong with! Plus no-bake? #Winning!

Week of August 1, 2016
Monday: Summer Shakshuka with side salad
Tuesday: 5-Ingredient Orange Maple Salmon with Farro and Lentil Pilaf with Balsamic-Roasted Cherries (my spin on this recipe) and Garlicky Green Beans
Wednesday: Leftovers
Thursday: Summer Stew from the freezer
Friday: Dinner at grandma's house
What are you most excited for this August?
What's on your menu this week?
Tweet me @JLevinsonRD with #DinnerTonight