Menu Plan Monday: April 4, 2016
April 4, 2016
How menu planning helps me avoid food waste, plus this week's Link Love and Menu Plan Monday.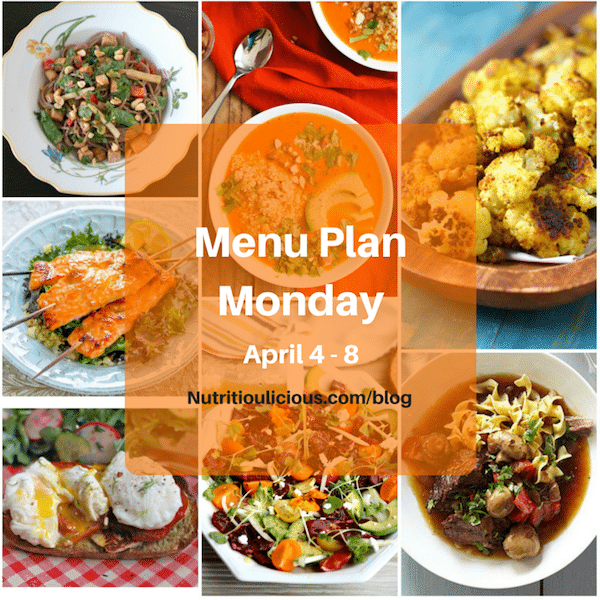 One of the food and nutrition trends that's very apparent this year is a focus on food waste (here are some of the other 2016 food trends I wrote about). I've read a bunch of articles and blog posts on the topic and have been trying to be more aware of waste in my house as well. Emily over at the blog Zen & Spice actually started a Food Waste Challenge a couple of weeks ago and it's been really interesting and insightful to read her posts.
I was so upset when last week I went to open a bag of shredded Parmesan cheese from Trader Joe's that had been in my fridge for a few weeks. It was completely unopened and the sell by date was not for another couple of weeks, but the cheese had blue mold dispersed throughout. I actually stood there for a few minutes contemplating how I could get rid of the moldy pieces of cheese and still use the unharmed contents before coming to my senses and with a heavy heart tossing the whole bag.
I hate throwing out food and wasting money – not to mention I wasn't going back to the supermarket and I really needed the cheese for some of the recipes in last week's menu plan – but food safety comes first. (By the way, it's not unheard of to eat cheese that previously had mold. As you can read in this MayoClinic article, mold on hard cheeses can be cut away and the remaining chunk of cheese can be consumed, but shredded cheese with mold should be discarded.)
One of the ways I plan my menus every week is by going through my refrigerator, freezer, and pantry to see what I have on hand to use up, especially the perishable items. It's sort of like a cooking show challenge – what can you make with the following ingredients?!
This week's menu is in large part based on my overflowing produce bins filled with the following ingredients: Fennel, mushrooms, bok choy, cauliflower, broccoli, arugula, snap peas, carrots, and cara cara oranges. As you take a look at the menu plan below, you'll see these ingredients used throughout. I'd love to know what ingredients you're using in your meals this week. Share with me in the comments below. And don't forget to check out some of the interesting articles and delicious recipes in this week's Link Love!
Articles:
Is Coconut Oil Really Healthy? @ Lively Table
⇒ Small Bites by Jessica assistant Kaleigh digs into the science and shares her thoughts on this hot topic over on her blog. (Read some of my advice here.)
Why Clean Eating is Total BS @ Jaclyn London, Nutrition Director at Good Housekeeping
⇒ Jaclyn hits the nail on the head. I vote for "transparent" to be the word we eat by!
Moderators and Abstainers – How to Find Balance in Moderation @ Avocado A Day Nutrition
⇒ I am a huge believer in moderation and have long said that restriction – or abstaining – doesn't work in the long term. Rachael does a great job explaining why.
The Benefits of Spicing Up a Breast-Feeding Mother's Diet @ NY Times Well
⇒ You can read my thoughts on this article over on my Facebook page!
Recipes: 
Citrus and Wild Rice Salad @ Recipe Runner
⇒ Love adding fruit to salads, especially oranges!
Parsnip Chips @ Joyful Bite
⇒ I've made parsnip "fries," but never chips. Don't know why, but I can't wait to try!
Creamy Carrot Soup with Red Curry @ Avocado A Day Nutrition
⇒ Lucky me I have a bag of carrots in the fridge! Added to this week's menu (see below)!
Miso Dressing @ Living Well Kitchen
⇒ I'm always looking for more recipes using miso since I usually have a container open in the fridge. (Meme's miso post inspired me to include miso-infused recipes in this week's menu plan below!)
25 Ways to Enjoy Spring Vegetables @ Amee's Savory Dish
⇒ If you didn't get enough spring recipes from our roundup, here are 25 more!

Week of April 4, 2016
Monday: Peanut Soba Noodles with Crispy Tofu and Spring Vegetables
Tuesday: Creamy Carrot Soup with Red Curry & Roasted Garlic Curried Cauliflower
Wednesday: Miso Ginger Salmon (making fillets, not on skewers) with Miso Roasted Sweet Potato and Broccoli (using the recipe for Miso-Roasted Brussels Sprouts and Root Veggies)
Thursday: Mediterranean Style Egg & Cheese with a variation of Jamie's Citrus Salad with Fennel, Avocado, and Honey Lemon Dressing
Friday: Soy Ginger Pot Roast (with added spinach and served over whole wheat egg noodles)
What ingredients are you cooking with this week?
How do you prevent food waste?
Tweet me @JLevinsonRD with #DinnerTonight