Menu Plan Monday: April 3, 2017
April 3, 2017
Get the latest happenings at Small Bites by Jessica, this week's Link Love, and Menu Plan Monday all in one place!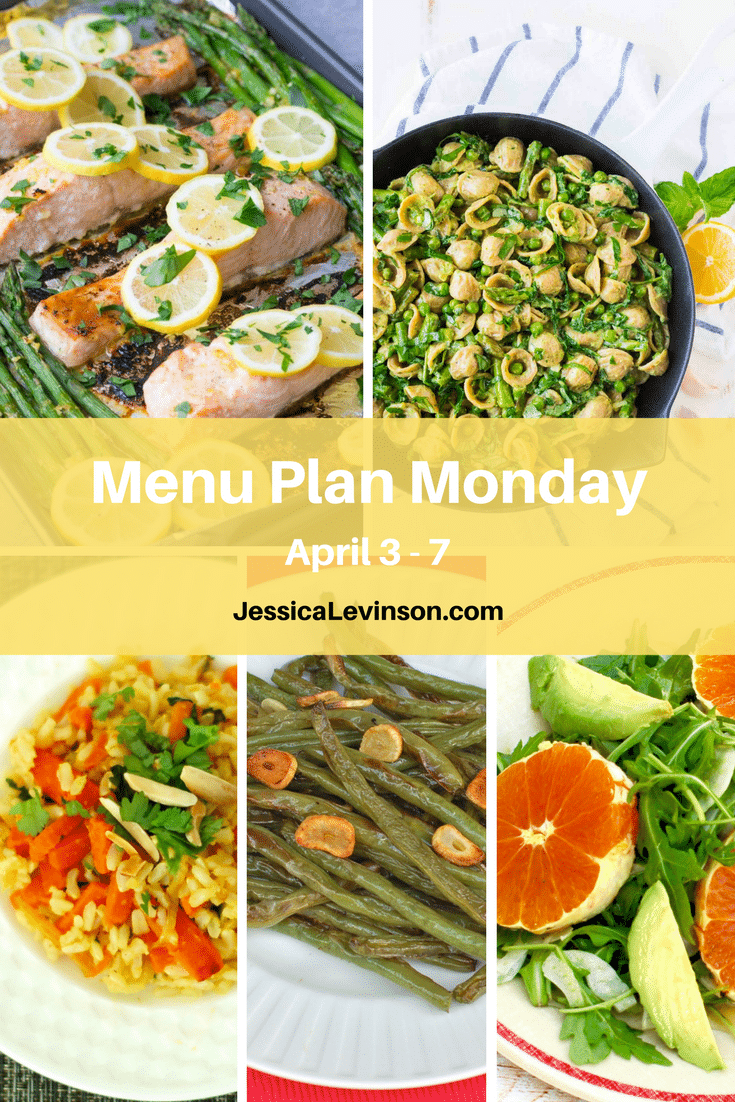 Latest Happenings:
Hope you had a great weekend! We're finally seeing some spring-like temperatures in New York, which was so nice. I'm excited to get cooking with spring produce like asparagus and peas, and my girls were excited to get outside for a bike ride the past couple of days!
In case you aren't subscribed to my newsletter, here is a link to last week's edition, which included my top tips for getting kids to eat salad. I know this is an issue many parents struggle with, and if your kids are eating other fruit and vegetables it's ok if they don't eat a salad per se, but hopefully these tips help if you want to make a salad for the whole family.
I'd love to know if these tips are helpful and work for you and what your experience is with kids eating salad!
Now, for this week's Link Love and menu plan monday!
Articles:
Whole Grains 101 @ RDelicious Kitchen
⇒ DYK? Last week was Sample Whole Grains Day. It's ok if you missed it – every day is a good day to try a new grain. And Julie shares lots of recipes to get you started (and great info about grains too!).
Priority Nutrition: Keeping Nutrition In a Busy Schedule @ Salubrious RD
⇒ If you're one of the many people who lets nutrition fall by the wayside when life gets in the way, this article is for you. Lots of great tips for making sure you maintain healthy eating habits even when other stuff takes over.  
The Right Foods at the Right Time: Circadian Rhythms & Nutrition @ Food & Nutrition
⇒ You may have heard that the time at which you eat meals affects your weight and other health factors like risk for diabetes and heart disease. There's increasing research on this topic, as this article explains.
Recipes:
Veggie Packed Couscous with Lemon Oregano Chicken @ Erica Julson
⇒ So much flavor packed into all the different components of this dish. It would be a great one for meal prep and to have leftovers of during the week.
Passover Friendly Desserts @ Abbey's Kitchen
⇒ Passover is exactly one week away! If you celebrate, you'll want to check out these delicious recipes to end the seder. They sure beat the packaged baked goods!
Yellow Squash Cheesy Biscuits @ Kroll's Korner
⇒ I love the idea of adding some veggies into these fluffy and cheesy biscuits. Great to have another use for yellow squash!
Pink Fresh Fruit Spring Rolls with Strawberry Mint Dip @ Emily Kyle Nutrition
⇒ These bright and colorful spring rolls are a gorgeous way to celebrate the warm weather! And that Strawberry Mint Dip sounds delicious. Pretty in pink!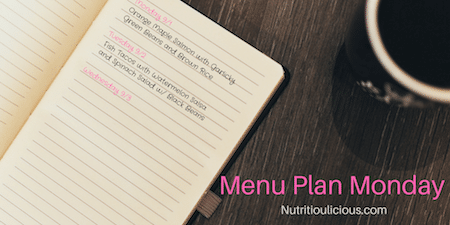 Menu Plan Monday: Week of April 3, 2017
Monday: 
Lunch: Mayo-Free Tuna Hummus Salad Wrap with sliced veggies and Cara Cara orange smiles (you can check out the lunchbox here)
Dinner: Southwestern Cauliflower Rice Casserole  with Garlicky Green Beans
Tuesday: 
Lunch: Beet & Goat Cheese Quinoa Salad, leftover garlicky green beans, and banana/pears 
Dinner: Sheet Pan Lemon Garlic Salmon with Broccoli and Maple Roasted Acorn Squash
Wednesday: 
Lunch: Leftover salmon, broccoli, and squash
Dinner: Avocado Pasta with Asparagus and Peas and Citrus Fennel Salad
Thursday: 
Lunch: Easy Veggie Egg Muffins, sliced veggies, and grapes
Dinner: Leftovers or eggs
Friday: Chicken Kofta Stew (leftovers from freezer) with Shorty's Brown Rice
What's on your menu this week?
Please share with me below or on social media!