Menu Plan Monday: April 25, 2016
April 25, 2016
This week's Passover menu, recent media mentions, and Link Love!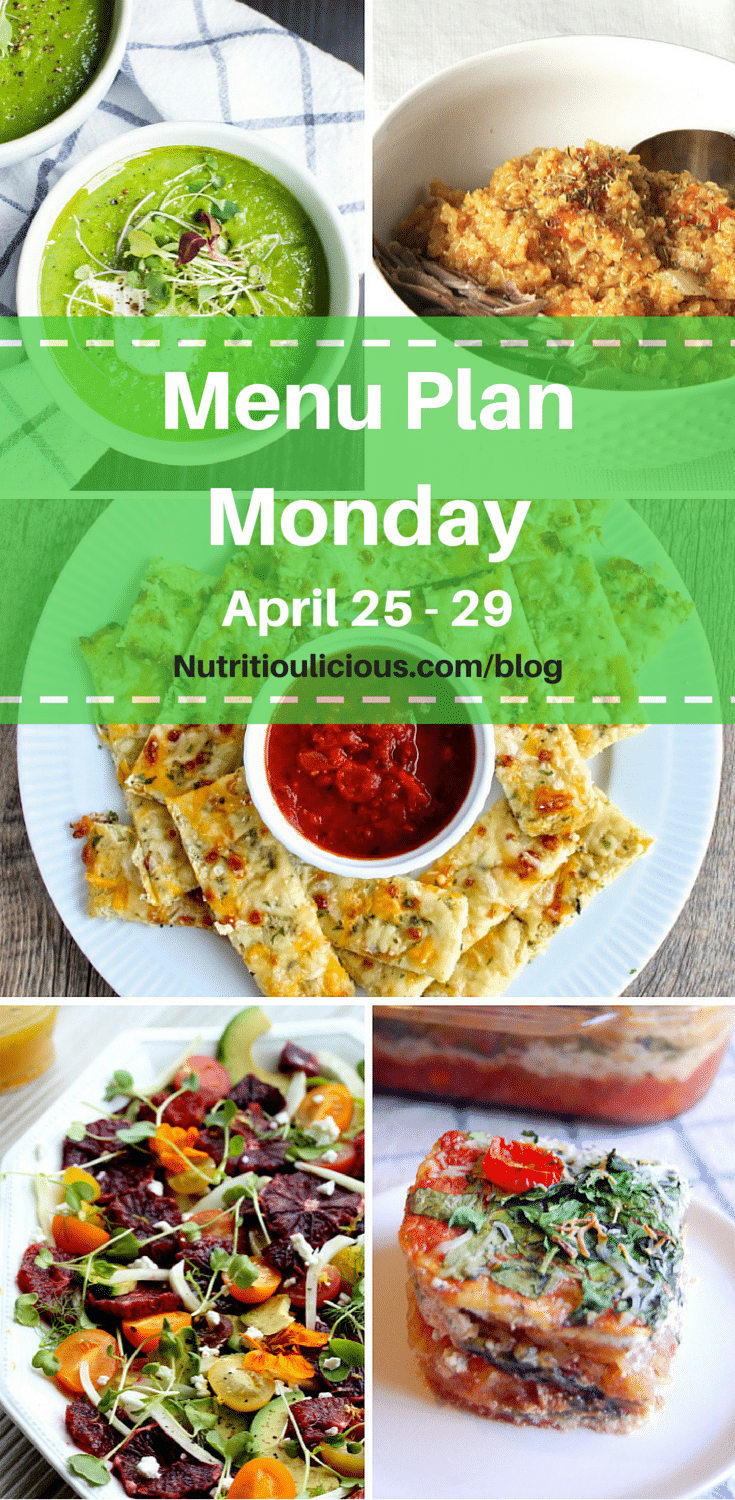 Hope everyone had a great weekend! We enjoyed our first couple of nights of Passover with family and friends. It was really fun watching the kids participate at the formal Passover meals because we sing a lot of songs and they got to show off everything they've learned in school. What's cuter than kids between the ages of three and eight singing and dancing around?!
Today is day three of the weeklong holiday and this week's menus is full of the Passover-friendly recipes I shared in last week's roundup of 30+ Healthy & Delicious Passover Recipes. But before we get to the menu, I wanted to share a few recent articles I was featured in and of course be sure to check out the articles and recipes in the Link Love below!
Looking to add more protein to your diet? Check out these 7 High-Protein Foods You Should Always Keep In Your Pantry at SELF Magazine. Then head on over to Men's Fitness to get 10 Powerful Plant-Based Protein Recipes that you can make with some of those staples! (No surprise I'm featured mentioning lentils in both of these articles! I do love my pulses.) You'll find more meals using pantry ingredients in my friend Holley's roundup of 15 Healthy Pantry Dinners for Hectic Weeknights over at HGTV.com. That roundup includes my 5-Ingredient Orange Maple Salmon, which happens to be on my meal plan this week!
Now for some Link Love!
Articles:
A Dietitian's Favorite Snacks + 40 Healthy Snack Ideas @ Be Truly Nourished
⇒ Snacking is key for me to get through the day between meals, so it's always good to have more ideas. Are you a snacker?
Why Strength Training Is Important Later in Life @ Real Living Nutrition
⇒ Such an important topic and reminder for me that I need to get back to lifting some weights!
Why Is Grilled Cheese So Good? @ Healthy Aperture
⇒ I'll give you a hint: It's the 5th taste! The recipe included in this post looks amazing too!
Recipes: 
Cinnamon Roll Frozen Yogurt Muffins @ Chelsea's Choices
⇒ These look delish and so easy. Gotta make them for the kids this summer!
Double Chocolate Almond Butter Zucchini Bread @ Dishing Out Health
⇒ This looks amazing! For another chocolate bread, check out my Chocolate Pear Bread!
Corn Bread with Sun-Dried Tomatoes, Basil, and Cheese @ Food, Pleasure & Health
⇒ My mouth waters every time I look at this recipe! So delicious!
The Ultimate Mediterranean Appetizer Platter @ The Organic Kitchen
⇒ Love platters like this. So pretty, festive, and delicious!
Blood Orange Margaritas @ The Rising Spoon
⇒ Blood orange season is almost over, but there's still some time to make these cocktails!
Blueberry Basil & Goat Cheese Panini Sandwich @ Sinful Nutrition
⇒ Another mouthwatering recipe! I love all things grilled cheese (and it's National Grilled Cheese Month!), but this takes it to a new level!
Chickpea Walnut Sandwich @ RDelicious Kitchen
⇒ Can't wait to make this for the girls and me for lunch after Passover's over. In case you missed it, last week was The Recipe ReDux April reveal and it was full of nutritious and delicious lunch recipes. Check out the Grilled Avocados Stuffed with Corn & Black Bean Salsa that I made!

Week of April 25, 2016
Monday: Creamy Roasted Asparagus Soup and Cauliflower Cheesy Bread
Tuesday: Spaghetti Squash Lasagna Casserole and Citrus Salad with Fennel, Avocado and Honey Lemon Dressing
Wednesday: 5-Ingredient Orange Maple Salmon with Sweet Potato Quinoa Risotto (subbing sweet potatoes for the butternut squash in the original recipe)
Thursday: Greek Frittata with Greek Salad
Friday: Off Duty! Dinner at my mom's house!
Did you do anything fun this weekend?
What's on your menu this week?
Tweet me @JLevinsonRD with #DinnerTonight