Menu Plan Monday: April 24, 2017
April 24, 2017
Get the latest happenings at Small Bites by Jessica, this week's Link Love, and Menu Plan Monday all in one place!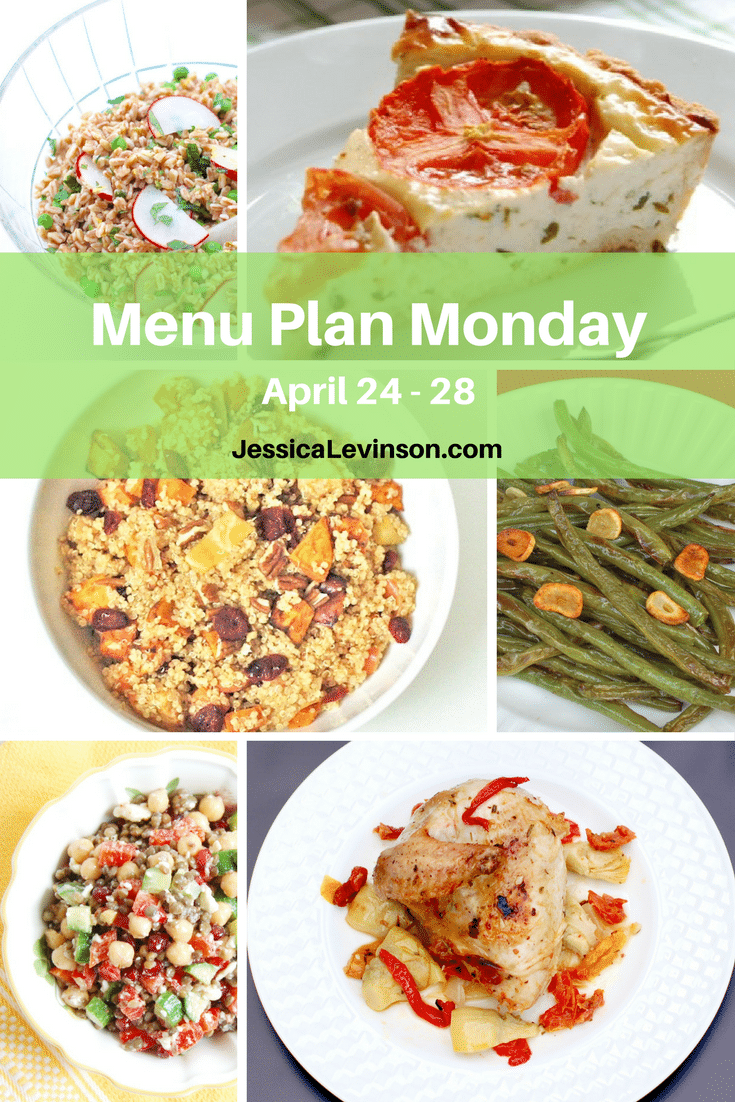 Latest Happenings:
Happy Monday! Hope you had a wonderful weekend. ICYMI, Saturday was Earth Day, which is a great time to think about what we can do for the environment, including ending food waste. To help with that cause, this month The Recipe ReDux focused on recipes to use up leftovers, rotting food, or items that would otherwise get thrown out (e.g. potato peels). My Southwestern Cauliflower Rice Casserole was my contribution to the challenge. It's a great Meatless Monday option as well. Hope you give it a try!
Did anyone celebrate National Picnic Day yesterday? If you missed it, don't worry – there are many more weekends of beautiful weather to come to enjoy one! And to help you prepare for a delicious picnic, be sure to check out my roundup of 50+ Healthy Homemade Picnic Recipes.
This week is also National Infertility Awareness Week, and while I don't focus on anything pregnancy related in this space, this is a topic that affects many and is unfortunately not talked about openly. I want to take this opportunity to give my friend and colleague Liz Shaw of Shaw's Simple Swaps a huge shoutout for her courage in talking about her struggle with infertility, and her support to help others on that journey.
Liz started a website and her passion project, Bumps to Baby, as a place to share her thoughts, feelings, and bumps along the way to achieving her wish of being a mom. She highlights other brave women who have gone through the journey and share their stories. If you or someone you know needs some encouragement regarding infertility, please check out Liz's site and social profiles.
Now, who's ready for some excellent reads and eats and this week's menu plan? Hope you have a great week!
Articles:
3 Plant-Based Ways to Cook Delicious Meals For Picky Meat-Eaters @ The Grateful Grazer
⇒ So many people I know have a house mixed with vegetarians, vegans, and meat lovers. Catering to everyone's different food preferences can be challenging, and you know I don't approve of being a short-order cook. That's why I love Steph's tips here!
Quick Guide on How to Cook with Tofu @ Healthy Nibbles & Bits
⇒ I know so many people who enjoy eating tofu at a restaurant, but don't make it at home because they just don't know what to do with it. If you're one of those people, this guide will help! Then try some of my tofu recipes!
Recipes:
Savory Basil Cornmeal Cakes @ The Fit Cookie
⇒ What a pretty and delicious brunch dish, especially for Mother's Day! They remind me of my Corn & Basil Cakes, but more breakfast friendly!
Orange Balsamic Grilled Brussels Sprouts @ Physical Kitchness
⇒ I always think of Brussels sprouts as a fall and winter veggie, but this is a great way to enjoy them during the spring and summer too!
Baked Sweet Potato Black Bean Veggie Burgers @ JoyFoodSunshine
⇒ Love how these are freezer-friendly, making them perfect for those busy days when you need an emergency dinner nights during the week!
Spring Pasta Salad with Dill Frond and Radish Green Pesto @ Avocado a Day Nutrition
⇒ This is such a pretty spring dish! Love that Rachael used the radish greens in her pesto – something I'm doing this week too (see menu plan below)!
Roasted Cauliflower Caprese Casserole @ My Cape Cod Kitchen
⇒ Another delicious way to use cauliflower!
Grain-Free Invisible Apple Cake @ Kumquat
⇒ What a gorgeous way to use up those apples!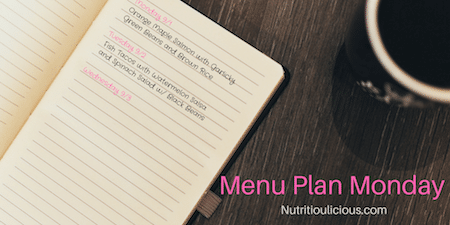 Menu Plan Monday: Week of April 24, 2017
Monday: 
Lunch: Leftover Spring Pea & Radish Farro Salad with feta cheese, side veggies, and strawberries
Dinner: Tomato Leek Pie with Rosemary Parmesan Crust (slight modification since basil isn't in season yet), Roasted Portobello Mushrooms, and salad
Tuesday: 
Lunch: Lentil Chickpea Vegetable Salad with Feta, olives, oranges
Dinner: Hamburgers, Roasted Garlicky Green Beans, and Roasted Sweet Potato Fries
Wednesday: 
Lunch: Salmon Veggie Croquettes (from Trader Joe's) with Carrot Veggie Fries and Grapes
Dinner: Roasted Radish & Pea Pasta with Radish Greens Pesto and side salad
Thursday: 
Lunch: Soynut butter & fruit sandwich skewers with sliced veggies
Dinner: Leftovers
Friday: Roasted Chicken with Artichokes, Peppers, and Sun-Dried Tomatoes (leftovers from the freezer) and Spiced Quinoa with Roasted Apples and Root Vegetables
What's on your menu this week?
Please share with me below or on social media!