Menu Plan Monday: April 18, 2016
April 18, 2016
Getting ready for Passover, plus this week's Link Love and Menu Plan Monday.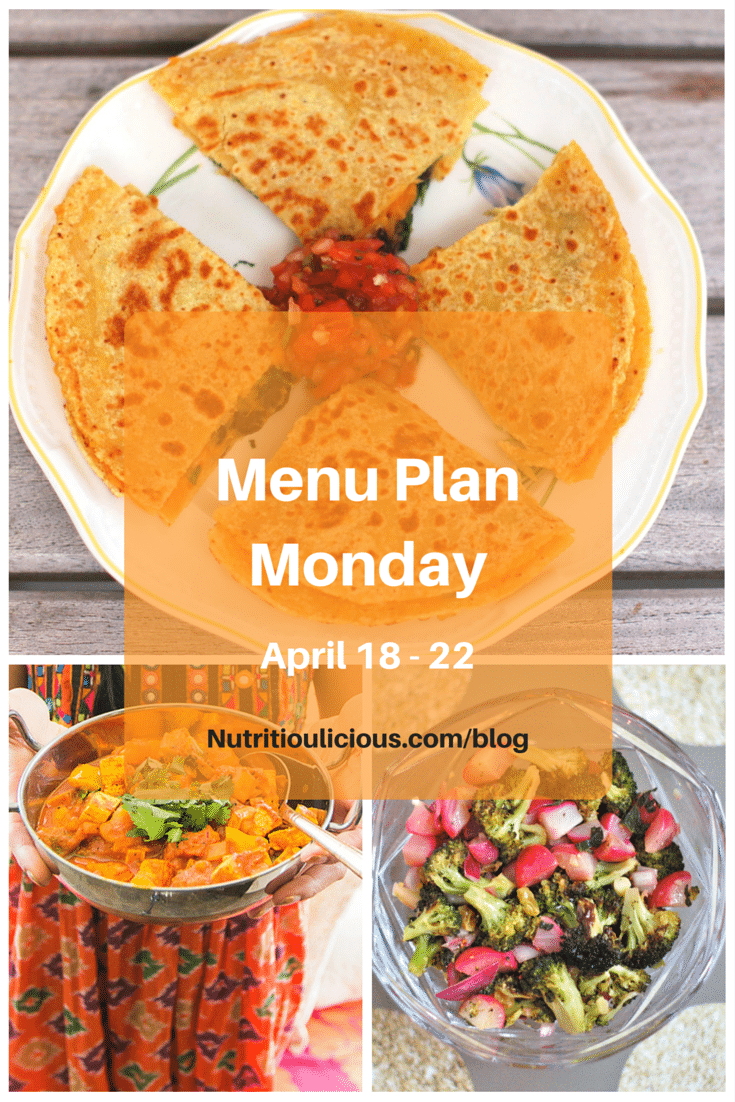 This Friday starts the Jewish holiday of Passover, which celebrates the Exodus and freedom of the Jewish people from enslavement in Egypt. Passover is an eight day holiday that is celebrated with various traditions, the primary one being a change in our daily dietary habits, primarily not eating hametz – grains that have been leavened. This means any food or drink that contains wheat, rye, barley, oats, or spelt cannot be consumed. The mainstay of the Passover diet is matzo (or matzah/matza, depending on how you spell it!), unleavened bread made from flour and water.
Other than matzo, you could say that the Passover diet is very similar to a gluten-free diet, although for years there have been further restrictions on rice, corn, beans and other legumes, collectively called kitniyot. A few years ago quinoa was approved to be a Kosher for Passover grain, which opened up so many new possibilities for what to eat during the holiday, and this year I found out that the restriction on kitniyot has been lifted for Conservative Jews. I'm still not sure how I feel about that since a big part of this holiday is about traditions and what my parents and grandparents did for generations. Time will tell if I accept this change in customs.
As we get ready for the holiday we must clean out our cupboards, fridge, and freezer to ensure we have no hametz in our midst during the holiday. It's actually a great way to force spring cleaning since I haven't done that yet! So this week's menu plan is based on what I have on hand or what's lurking in the freezer that needs to be used up.
Over the years the Kosher for Passover options have expanded and thankfully there's been a movement to more gourmet food on this holiday – not just the classic matzo pizza and matzo lasagna! Later this week I'll be sharing a Passover recipe roundup for those of you who observe the holiday or are interested in learning more about what is and is not allowed to be eaten throughout the Passover week.
In the meantime, be sure to check out some of the links I loved from last week!
Articles:
Are Frozen Fruits & Vegetables Actually Healthy? @ Be Truly Nourished
⇒ Great summary of this topic. Love using frozen fruits & veggies for out of season produce!
10 Cooking Skills Every Kid Should Know @ Mom's Kitchen Handbook
⇒ This is a great resource for parents, especially those whose kids are getting ready to head off to college!
Satisfy Food Cravings, Don't Kick Them @ Avocado A Day Nutrition
⇒ Denying yourself what your body truly wants will only make you crave it more.
Why You Should Love Carbs @ Nutrition A La Natalie
⇒ I love my carbs and so should you. Here's why.
Recipes: 
Sweet Potato Pie Greek Yogurt Parfait @ Shaw's Simple Swaps
⇒ Love this recipe makeover from Liz!
Baked Brown Rice Risotto @ Whole Food Bellies
⇒ Risotto in the oven? I'm sold!
25 Healthy Takeout Recipes to Cook at Home @ Snacking In Sneakers
⇒ I love recipe makeovers, don't you? Here are 25 better-for-you pizzas, pad Thai, curries, and more!
Arugula, Farro and Pistachio Salad with Raspberry Vinaigrette @ Meal Makeover Moms
⇒ This salad is packed with nutritious and delicious toppings!
Thursday Three: Berry Compote Kefir Parfaits @ Chard In Charge
⇒ Love the theme of Dianna's new series and this parfait looks delish too!

Week of April 18, 2016
Monday: Sweetpotato Black Bean Quesadillas and Roasted Broccoli Radish Salad with Lemon Mint Vinaigrette
Tuesday: Veggie Baked Ziti from the freezer (an extra fully prepped and uncooked baked ziti I have in the freezer)
Wednesday: Indian Chili Tofu with Green Beans, Cauliflower, and Carrots over brown rice
Thursday: Mushroom Asparagus Pesto Frittata with Citrus Fennel Salad
Friday: Passover Seder
What's on your menu this week?
Tweet me @JLevinsonRD with #DinnerTonight