Menu Plan Monday: April 17, 2017
April 17, 2017
Get the latest happenings at Small Bites by Jessica, this week's Link Love, and Menu Plan Monday all in one place!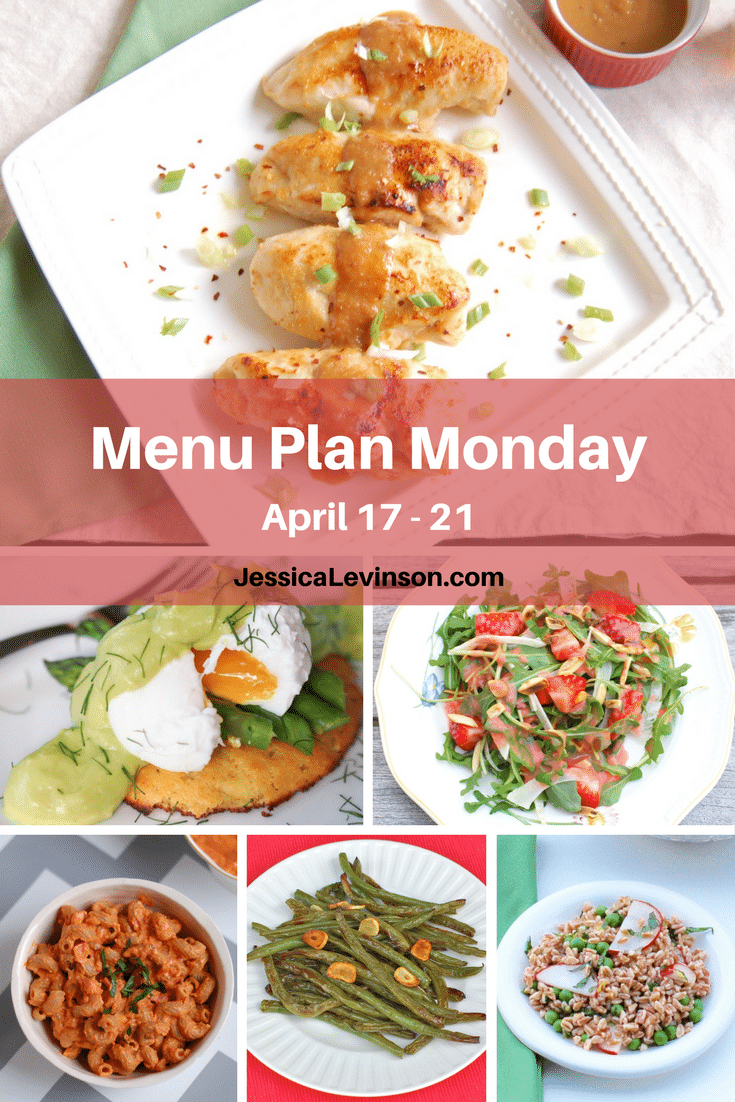 Latest Happenings:
Hope you had a great weekend and happy Easter and Passover to those who celebrated/are celebrating! We have one more day of Passover left and I'm ready to get the kids back to school and have a bowl of pasta! In the meantime, we have been enjoying some delicious kosher for Passover meals.
If you follow me on Instagram, you may have seen my Instastories over the weekend, which featured some of the recipes I made. In case you missed them, I want to give a shoutout to Shannon at Kiss in the Kitchen, for her amazing lamb recipe – it was my first time making rack of lamb and boy was it delicious. I made a few modifications to her recipe, but the way I prepared the lamb was exactly the same and it was fabulous! I also want to mention the Almond Butter Chocolate Chip Cookies I made from Belle of the Kitchen, which were so quick and easy to make and a hit with all the adults and kids who tried them!
Passover officially ends Tuesday night and the kids go back to school Wednesday, so if you missed the school lunch inspiration last week, it's back starting Wednesday!
Have a great week everyone!
Articles:
The Most Important Dinnertime Lesson You Can Teach Your Kids @ Real Mom Nutrition
⇒ I can assure you, this lesson is not what you think it is. But oh, what a good point it is. And one I am going to start teaching my kids, especially when they ask for pasta every night!
The Trick to Adding Oomph to Blah Food @ Food 52
⇒ You may know that herbs and spices pack in the flavor when cooking, but have you thought about adding an acid to your recipes?
Earth Day, Food Waste, and Your Foodprint @ Sound Bites
⇒ Food waste is a huge problem in our country and ending it has been on trend for a while. If you want to do your part, check out these tips from dietitians (including me).
Recipes:
Roasted Carrots with Tahini, Olives, and Mint @ Healthy Aperture
⇒ Roasting is one of my favorite ways to cook veggies, and this flavor combo is far more interesting than just steaming with butter!
Butter Bean Blondies @ Snacking In Sneakers
⇒ These are the distant cousin of black bean brownies, and the perfect way to make a sweet treat gluten-free and vegan-friendly without a bunch of different flours or hard to find ingredients.
Mix & Match Grain Salad Bowl Recipes @ Fannetastic Food
⇒ Grain bowls and salad bowls are hot! Combine them in a variety of different ways for something new every day.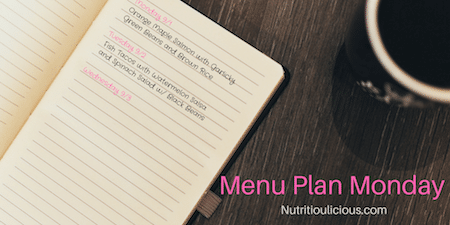 Menu Plan Monday: Week of April 17, 2017
Monday: Asparagus Eggs Benedict With Grain Free Biscuits & Avocado Hollandaise with Strawberry Arugula Salad with Fennel, Toasted Almonds, and Strawberry Champagne Vinaigrette
Tuesday: Baked Fish with Olive Sun-Dried Tomato Relish and Roasted Broccoli
Wednesday: 
Lunch: Beet & Goat Cheese Quinoa Salad with sliced veggies & fruit
Dinner: Quick & Easy Creamy Roasted Red Pepper and Tomato Pasta with Garlicky Green Beans
Thursday: 
Lunch: Smoked Salmon Cucumber Roll Ups, sliced veggies & fruit
Dinner: Leftovers
Friday: Miso-Glazed Chicken Breasts with Spring Pea & Radish Farro Salad and Roasted Asparagus
What's on your menu this week?
Please share with me below or on social media!
Tweet me or tag me on Instagram with #DinnerTonight