Menu Plan Monday: April 10, 2017
April 10, 2017
Get the latest happenings at Small Bites by Jessica, this week's Link Love, and a Passover friendly Menu Plan Monday!
Latest Happenings:
Happy Monday! Spring has finally sprung in New York, and we enjoyed some time outdoors this weekend. Woohoo! Hopefully this beautiful weather continues all week, as the kids are off from school for Passover and we definitely want to get outside for walks and bike rides, especially with all the holiday meals we'll be having!
Do you celebrate Passover? If so, be sure to check out my healthy Passover recipe roundup – there are now over 50 recipes included! If you're celebrating Easter this coming Sunday, you may be inspired by some of these recipes as well, or go check out my spring recipe roundup for some great side dishes, main dishes, salads, soups, and desserts you may like to serve.
This week's menu is a little different than usual since the girls don't have school, so no lunches are included and dinner the next two nights are the big holiday meals that take place at our Passover seders, which thankfully I'm not hosting! I'd love to know what's on your menu this week, so please let me know below!
Articles:
How to Plan Meals if Your Kids are Picky @ Tribeca Nutrition
⇒ You know I'm all about menu planning, and I also don't believe in being a short order cook. That's why I love this method Natalia uses for planning meals when you have picky eaters on hand!
3 Surprisingly Great Natural Cleaners For Your Kitchen @ Teaspoon of Spice
⇒ I bet you didn't know you can clean your entire kitchen with these ingredients you probably have in your pantry now!
Spring Clean Your Eating Habits @ Jessica Levinson, MS, RDN, CDN (that's me!)
⇒ Want to know my thoughts on the popular "clean eating" trend? Find out in this article I wrote for The Calorie Control Council (#client).
5 Fun Fitness Games for Kids @ Snacking In Sneakers
⇒ Most kids don't get enough physical activity. If you're looking to boost exercise for your kids in a fun way, Chrissy has some great ideas. She's a mom and personal trainer, so she knows a thing or two about this stuff 😉
Recipes:
Spinach, Artichoke, and Feta Baked Eggs @ Back to the Book Nutrition
⇒ Love spinach artichoke dip? Then you'll love this egg dish with similar flavors. Plus it's so easy to make!
Carrot Pineapple Salad @ Veggie Inspired
⇒ I love how Jenn gives this nostalgic recipe a modern day update. Plus, the dressing sounds great for drizzling over any salad!
Asparagus and Brie Grilled Cheese with Arugula Pesto @ The Foodie Dietitian
⇒ This Wednesday (April 12th) is National Grilled Cheese Day and I can't think of a better way to celebrate! Of course since it's Passover, I'll have to celebrate on matzo, but the rest of you should definitely dig in!
Asian Chicken Mason Jar Salad @ Joyful Healthy Eats
⇒ This salad sure looks good, but that dressing is where it's at! I can't wait to make it for any salad!
Flourless Chocolate Peanut Butter Muffins @ RDelicious Kitchen
⇒ Chocolate and peanut butter is one of my favorite flavor pairings (as you can see here), and these muffins look so easy to make that I just have to give them a try. Plus, they use a beta-carotene-rich ingredient I always have in my pantry!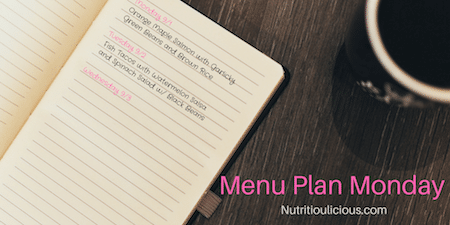 Menu Plan Monday: Week of April 10, 2017
Monday: Passover Seder #1
Tuesday: Passover Seder #2
Wednesday: Baked Mushroom Leek Frittata with Greek Salad
Thursday: Matzo Pizza and Spinach Pear Salad with Goat Cheese and Lemon Thyme Vinaigrette
Friday: Citrus Lamb Power Bowls with Roasted Purple and Orange Cauliflower and Sweet Potatoes with Chimichurri Sauce
What's on your menu this week?
Please share with me below or on social media!