Mediterranean Inspired In-Shell Pistachio Pairing {Recipe ReDux}
February 4, 2014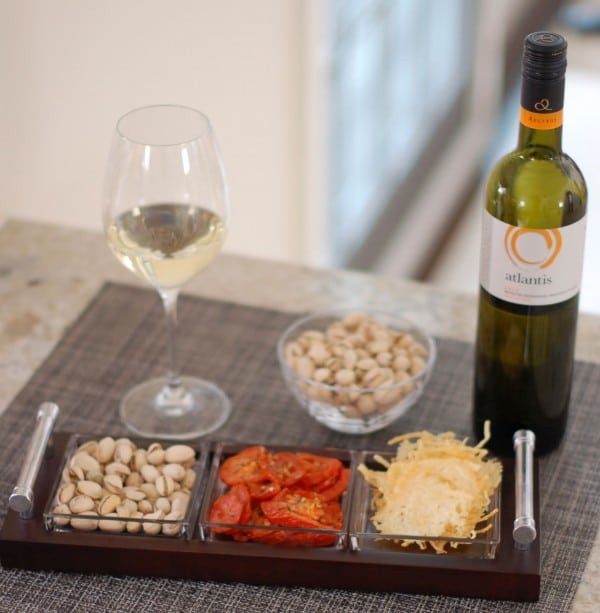 I received free pistachio samples from the Pistachio Health Institute mentioned in this post. By posting this pairing I am entering a contest sponsored by Pistachio Health Institute and am eligible to win prizes associated with the contest. I was not compensated for my time.
The Recipe ReDux has teamed up with the Pistachio Health Institute to once again challenge my fellow ReDuxers and me to put on our culinary hats and come up with a "deliciously unique" pairing for in-shell pistachios in one of four categories: Mediterranean, Skinny Nut/Reduced Calorie, Kid Friendly, or Indulgent. I decided to go mediterranean and pair my in-shell pistachios with a few of my favorite things:
In-Shell Pistachios + Rosemary Garlic Roasted Tomatoes + Parmesan Crisps + Assyrtiko Greek Wine = mmmmmmmm!!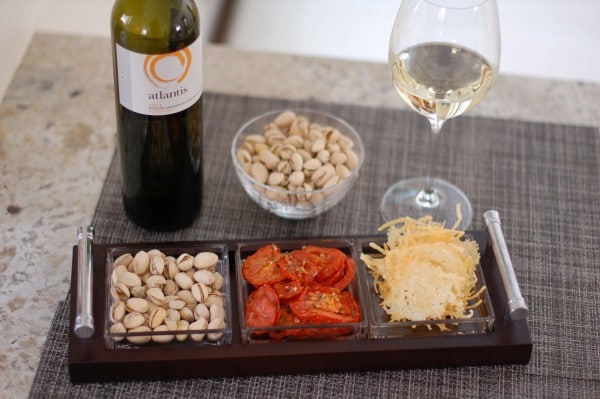 You have probably heard of pistachios being called "The Skinny Nut" before, but there are so many amazing things about in-shell pistachios that you may not be aware of. So let me fill you in:
A one-ounce serving of in-shell pistachios equals approximately

49 nuts, which is more nuts per serving than any other snack nut

. And a reduced serving of 30 pistachios is just about 100 calories – talk about bang for your buck!
Pistachios are also a good source of phosphorus, thiamin, copper, magnesium, and vitamin B6.
Pistachios are filled with the heart-healthy monounsaturated fats and protein, two nutrients that help keep you satiated and your blood sugar levels stable.
We eat with our eyes as much as our mouths, especially when it comes to in-shell pistachios! A recent study in the journal Appetite found that study

participants who left pistachio shells on their desk while snacking reduced their calorie consumption by 18 percent compared to those who discarded the shells

. They also took in fewer calories than those who consumed pistachios without shells. The visual cue of seeing empty shells reminded people how much they ate and encouraged them to reduce their calorie consumption.
Another calorie-saving benefit of in-shell pistachios: the time it takes you to shell these nuts will slow you down and help you register your hunger and fullness cues.
While in-shell pistachios are great for snacking on alone, you can also cook with them, or in the spirit of this contest, pair them with different savory or sweet foods. Each item in my pairing can be consumed by itself, or you can build an all-in-one snack – what I call the Parmesan Tomato Pistachio Tower.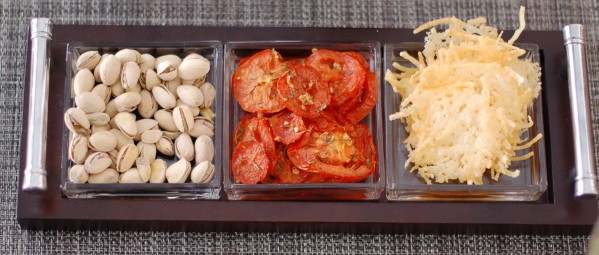 In-shell pistachios
A crisp glass of white wine, preferably a Greek Assyrtiko (which I fell in love with in Santorini on my honeymoon!) or a New Zealand Sauvignon Blanc (my go to wine)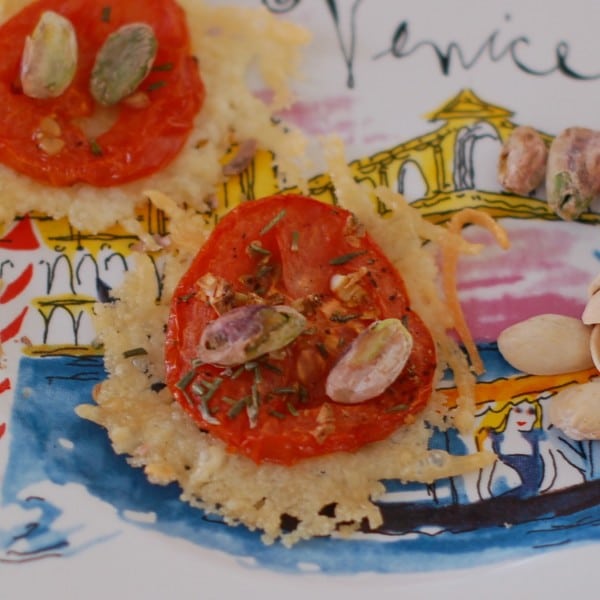 Take a look at the other ReDuxer's "deliciously unique" pairings below and then
 Crack 'em, Chew 'em, Love 'em! 
[inlinkz_linkup id=359936]