Lemon-Dijon Brussels Sprouts and Apples {Recipe}
December 10, 2013
Brussels sprouts get a bad rap.
This cruciferous vegetable is loaded with health benefits (among them fiber, vitamins C and K, and folate), yet it's often referred to as the dreaded vegetable all kids hate. When I was a kid, I never ate Brussels sprout; I don't even think they were offered to me. It was probably assumed I wouldn't like them (granted, I was a picky eater, so it was likely a correct assumption). But as an adult and self-professed foodie, I have come to love Brussels sprouts – but only when they are cooked the right way. That means no steaming this vegetable. For the most flavorful and best tasting Brussels sprouts, these little cabbages need to be roasted or sautéed with olive oil, salt, pepper, and some herbs. Once you try them cooked this way, you'll never have them any other way – and you'll be excited to try many different varieties and pairings for Brussels sprout side dishes.
In continuation of this year's Thanksgiving recap, here is the Brussels sprout recipe I made for Thanksgiving 2013!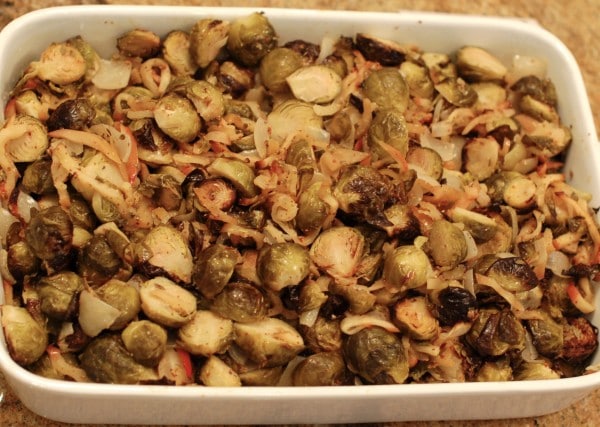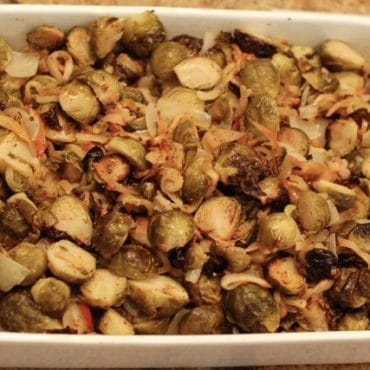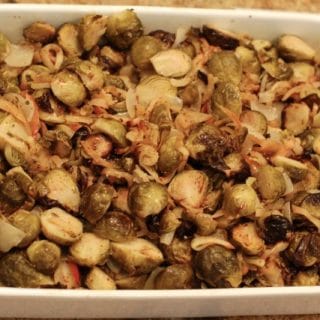 Lemon-Dijon Brussels Sprouts and Apples
The combination of roasted Brussels sprouts and apples brings a sweetness to this dish that is offset by the tanginess of the lemon-dijon vinaigrette.
Ingredients
Nonstick cooking spray
4 pounds Brussels sprouts, cleaned and halved
3 large Braeburn apples, julienned
3-4 yellow onions, cut into chunks
3 tablespoons olive oil
1 lemon, zested
4 tablespoons fresh lemon juice
2 garlic cloves
3 tablespoons white wine vinegar
3 tablespoons honey
3 tablespoons whole-grain Dijon mustard
3 tablespoons fresh thyme
Kosher salt & freshly ground pepper, to taste
Instructions
Preheat oven to roast at 400 degrees F. Line two large baking sheets with foil and spray with nonstick cooking spray. Toss the Brussels sprouts, apples, and onions with olive oil. Divide mixture between the two baking sheets and spread in a single layer. Roast 25-30 minutes until sprouts are brown and tender, stirring once or twice while cooking.
In a blender, combine lemon zest, lemon juice, garlic cloves, vinegar, honey, and mustard. Blend on medium until dressing is smooth. Add thyme and pulse 2-3 times until well-mixed.
Combine both trays of Brussels sprouts, apple, and onions into one large serving dish and toss with the lemon-dijon vinaigrette. Add salt and pepper to taste. Serve warm.
Nutrition Information:
Yield:

24
Serving Size:

24 Servings
Amount Per Serving:
Calories:

80
Sodium:

140mg
Carbohydrates:

15g
Fiber:

4g
Sugar:

7g
Protein:

3g
 Do you like Brussels sprouts? What's your favorite way to cook them?
In case you missed my other Thanksgiving recipes, here are the links:
Kabocha Flatbread with Rosemary Roasted Grapes and Shallots
Note: The lighting at the time the recipe photo was taken was suboptimal. I promise it looked better in person!!