Juicing vs. Smoothies: What's the Difference?
September 18, 2013
This post was written by Rosemary Squires
Juicing has become quite popular these days and you may be wondering how these sweet and savory juices compare to smoothies. Both drinks can boost your fruit and vegetable intake, which means more vitamins and minerals for you. And if your produce is going bad, juicing and blending what you have on hand can help prevent waste. But, there are a few key differences between these two types of drinks that you should consider before you join the juicing bandwagon.
The process of juicing separates the fruit and vegetable juice from the pulp, with the pulp and skin typically thrown away instead of eaten. The problem here is that the pulp and skin contain fiber and many of the vitamins and minerals found in fruits and vegetables. Considering that most people don't get the recommended daily amount of fiber (25 grams) as it is, drinking juices without the pulp won't help you reach your fiber needs for the day.
Also, if you're relying on these freshly made juices as meal replacements, you're in for another surprise. Although some of the juices have close to 300 calories, most are lower calorie and because they do not contain fiber and protein they are not filling, meaning you'll be left hungry for more of something else and could end up overeating as a result. Another thing to consider: juicers can be quite expensive – some cost almost $400! Why spend so much money on a juicer that strips the good-for-you nutrients when you can use a blender to make smoothies and get the full nutritional benefits from the ingredients?!
Smoothies are generally made with fruit and/or vegetables and milk or yogurt. Since you are blending the whole fruit or vegetable in a smoothie, you are getting the fiber and nutrients from the skin and pulp. The addition of milk and yogurt to your smoothie gives you satiating protein and calcium too. Although we don't recommend drinking smoothies as meal replacements on a regular basis, they are a good option on the occasion you need something quick to get out the door – especially for breakfast.
When making smoothies, make sure to watch what you are adding. Smoothies can easily become very high in calories and fat, so use low-fat yogurt (Greek yogurt is especially high in protein), limit protein powders, and if adding any juice to your smoothie make sure it's 100 percent fruit juice. If you're looking to further reduce the calories in your smoothie, unsweetened almond milk is a great alternative to fruit juice.
Here is my favorite smoothie recipe that's perfect to eat with a whole-wheat muffin for breakfast: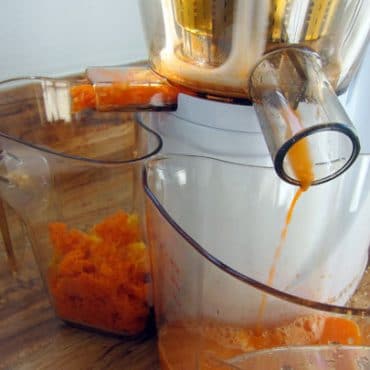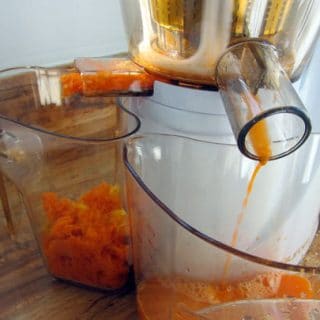 Healthy Green Pineapple-Banana Smoothie
Ingredients
1 frozen bananas
½ cup low-fat plain or vanilla yogurt
½ cup 100% pineapple juice
1 cup fresh spinach, rinsed
Instructions
Slightly thaw and peel banana.
Add all ingredients to blender, pulse until smooth
Pour into tall glass and enjoy all the healthy vitamins, minerals, and fiber!
Notes
1 cup of spinach only contains about 10 calories, so feel free to add more!
Nutrition Information:
Yield:

1
Serving Size:

1 Servings
Amount Per Serving:
Calories:

250
Saturated Fat:

1g
Sodium:

121mg
Carbohydrates:

53g
Fiber:

4g
Protein:

7g
What's your take on juicing and smoothies?