How to Reignite Your New Year's Resolutions
March 2, 2016
Reignite your New Year's resolutions and get back on track over the next nine months with a PLAN.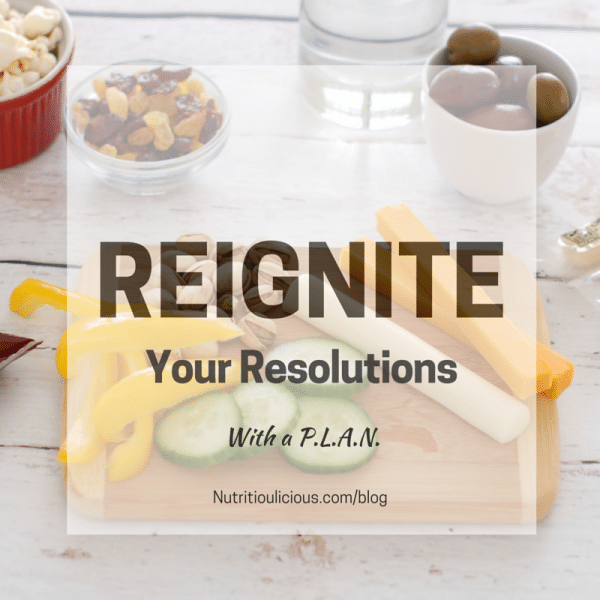 This post is sponsored by Sargento Foods. I was compensated for my time and received samples of their Natural Cheese Snacks. As always, all thoughts and opinions are my own.
It's hard to believe, but we're already three months into the New Year (can we even still refer to 2016 as a new year?!). For many of us, March is a cold, dreary month – there's snow on the ground, many days of below freezing temperatures, and no exciting holidays to celebrate. If you're cuddled up on the sofa hibernating these days, you may be doing more eating and drinking and less physical activity, which may just be getting in the way of those New Year's resolutions you made back in January. What better time than now to stop and evaluate these resolutions.
Give yourself a quick pat on the back for the steps forward you've made and move on to reaching the rest of your goals for the year. While three months have passed, there are still nine more to go! To help you reignite your New Year's resolutions, I have one key word for you to remember: PLAN.
Anyone who knows me knows I'm a planner. You can even see it here at Nutritioulicious when I share my Menu Plan Monday posts every week. To help you get into the planning mentality and move forward with your 2016 resolutions, I've come up with a simple acronym:
Prioritize
Lay out the steps
Analyze
Never look back
Prioritize
You may have a lot of goals on your list, but they can't all be of equal importance, otherwise you won't get any of them done. Focus on your top three goals and make sure they're SMART (you can read more about what that means and how to do that in my 2015 post about Getting Back on Track).
Of course as a registered dietitian nutritionist, one of the goals I think people need to prioritize is to eat better, which to me entails following the MyPlate breakdown for a balanced plate, eating mindfully by eating when hungry and stopping when full, eating regular meals and snacks with room for special treats, talking about food in a positive way and refraining from a "good" and "bad" dichotomy, and enjoying food that's nutritious and delicious!
One component I mentioned here is something people often find difficult, and that's snacking. Some of the questions I get asked are: What is a healthy snack? What are easy snacks to have at the office or on the go when picking up the kids from school?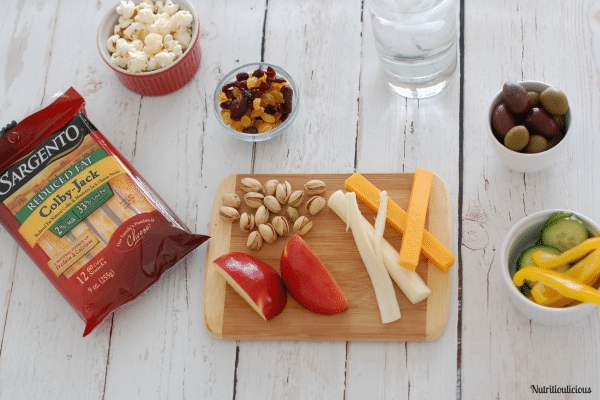 Nutritious, balanced, satiating snacks should include some combination of protein, fat, and fiber-rich carbohydrates. A few of my favorite snack components that fit this bill are string cheese, apples, clementines, bell pepper sticks, cucumber rounds, baby carrots, simply seasoned air-popped popcorn, roasted chickpeas, and raw almonds and pistachios. As far as portable snack items, many of these are easy to take along with you, especially if you plan in advance and have them ready to go in resealable bags.
One of the easiest and most nutritious portable snacks, in my opinion, is string cheese. Personally I love the Sargento® Natural Cheese Snacks because they are a natural source of protein – with 4 to 8 grams of protein per serving, they keep me and my family fueled and satisfied, especially when we're on the go. They also come in 14 delicious varieties, all of which are wholesome and full of flavor – no sacrificing on taste, which, as I mentioned, is included in my definition of eating better!
Some of the varieties I love are the Natural String Cheese (that's the one with 8 grams of protein, which is more per serving than a hard-boiled egg!), Reduced Fat Colby-Jack, Sharp Cheddar, and Pepper Jack. Pair the Cheese Snack of your choice with fruit, vegetables, popcorn, or whole grain crackers and you have a convenient, well-balanced snack. You can get more snack ideas and pairings at Sargento.com/snacks.
Lay Out the Steps
Now that you know which goals are most important to you, plan out the steps you need to achieve them. Don't just do this in your head – write them down, add reminders to your smart phone, tell a friend who you trust to remind you of your goals. If one of your goals is to exercise more, sign up for that non-refundable class at the gym and lay out your gym clothes the night before to save time – and make it to class on time – in the morning.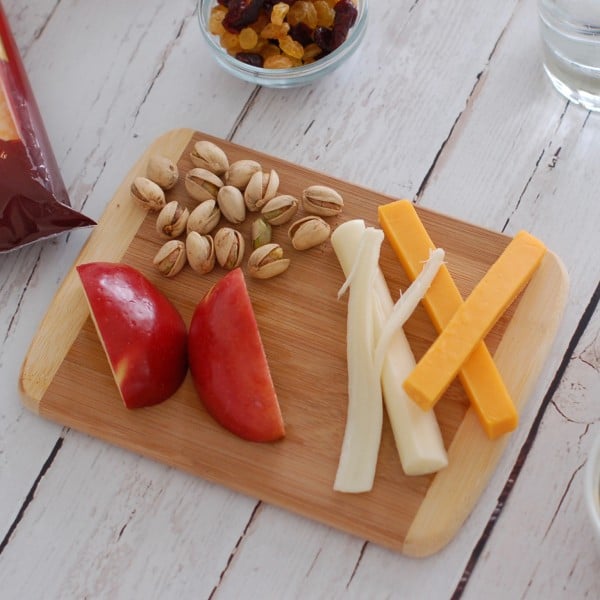 Analyze
A key part of achieving the goals you set is analyzing what you have and have not achieved, what helped or hindered your achievements, and what next steps you can take to keep moving forward. Not taking the time to assess where you're at may be to blame for your lack of headway, so now's the time to do it.
Never look back
Ok, I know I just said you should analyze how you're doing with your resolutions, which basically requires looking back at what you have done so far. But what I mean here is that once you've assessed what has and has not been working, don't dwell on what hasn't worked. Rather, put your best foot forward to accomplish your goals in the way that has been working for you.
If you take some time to PLAN, I know you can reignite your New Year's resolutions and reach them within the next nine months.
How are you doing with your 2016 resolutions?
How do you keep the fire going to achieve them?