Cranberry-Chocolate Peanut Butter Trail Mix
July 21, 2013
This Cranberry-Chocolate Peanut Butter Trail Mix Recipe is the perfect healthy travel snack or treat for all ages!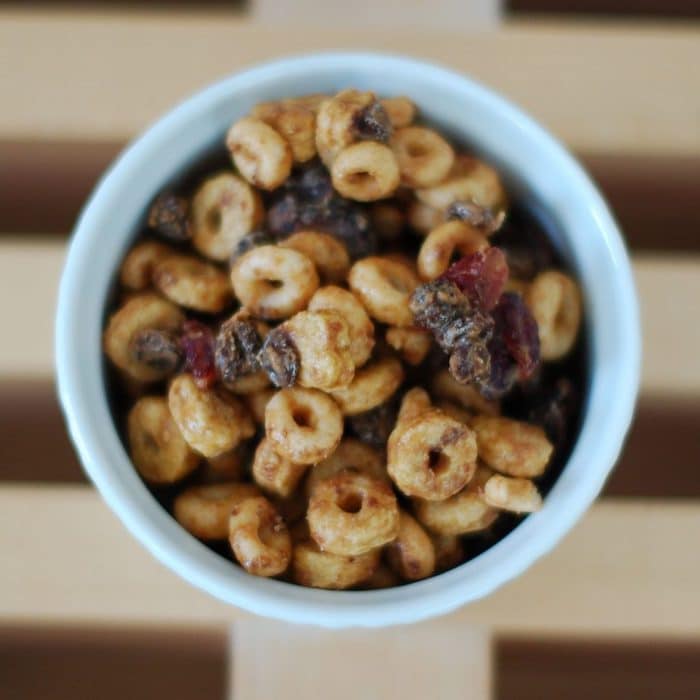 It's prime time for summer vacations, and no matter which mode of transportation you are taking to get wherever you're going, you're likely going to need a snack or two along the way. This month's
Recipe ReDux
theme is the perfect answer to the question "what's a healthy snack to bring on the road?"
Have Snacks. Will Travel.
There are a number of
healthy snacks
that I recommend – some more conducive for traveling by plane, others better for car rides (since they require a cooler). Raw, unsalted nuts; fruit; baby carrots; nonfat or low-fat yogurt; peanut butter to-go packs; air-popped popcorn; part-skim string cheese; and single-serve packs of
hummus
are some of my go-to healthy snack suggestions. But when it comes to homemade snacks I can't say I've really made any specific recipes. For me, snacks need to be easy and quick to put together. So when we received this month's Recipe ReDux challenge, I was a little perplexed about what to make.
What Inspired this Chocolate Peanut Butter Trail Mix
A few months back I saw a recipe for these delicious looking
Chocolate-Peanut Butter Cereal Bars
in Martha Stewart's
Everyday Food Magazine
. At the time, I thought these looked amazing, but I was not about to make cereal bars that are 436 calories a pop! So I thought this would be a perfect time to make a ReDux of this recipe. I set about making my own cereal bars, using a mix of toasted whole grain oat cereal and Kashi Heart to Heart Honey Toasted Oat cereal, ground flaxseed, dried cranberries, natural peanut butter, olive oil, and semi-sweet chocolate chips. It all seemed great, especially the nutrition analysis, which came to 232 calories per bar – more than 200 calories less than the
Everyday Food
recipe. But that's where the good news ends.
Unfortunately, the bars didn't turn out quite as planned, nor were they as low cal as I believed. It seems I either needed the stickiness of the marshmallows used in the original recipe or some other ingredient to get the bars to actually be bars. Because mine did not turn out that way. As soon as I cut the bars, they fell apart. So in the end, I got a bunch of gooey, delicious cereal mix. It tasted great, but certainly was not the snack I had in mind; rather, I had a new version of a peanut butter trail mix.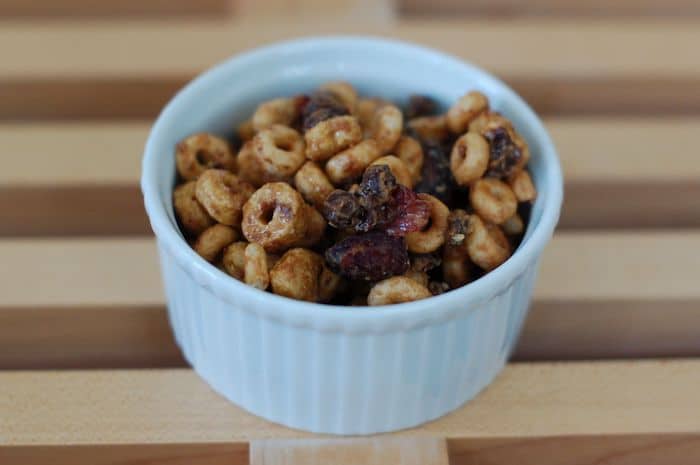 It still works as a healthy snack, right? Well, not so fast. Turns out that when I analyzed the Everyday Food recipe on my own to see how the two recipes compared by weight, my version was actually higher in calories in the end!
How this Peanut Butter Trail Mix Compares
A 35 g serving of the Everyday Food cereal bars contains 164 calories, 8 g total fat, 3 g saturated fat, 3 g protein, 21 g carbohydrate, 1 g fiber, 13 g sugar, 81 mg sodium
A 35 g serving of my cereal bars, aka trail mix, contains 174 calories, 10 g total fat, 3 g saturated fat, 4 g protein, 19 g carbohydrate, 3 g fiber, 10 g sugar, 38 mg sodium
So in the end, it's sort of a toss up as to which is a better bet. The downside: my version isn't a neat, perfectly packaged bar and it has 10 more calories and 2 g more fat than the original version. On the plus side: my version has more
fiber
, more protein, and less sodium.
The bottom line: This "snack" is more of a delicious treat that should be consumed in moderation. But for a healthy snack that will keep you satisfied and your blood sugar stable, stick to the options listed above. I for one am curious to see what everyone came up with!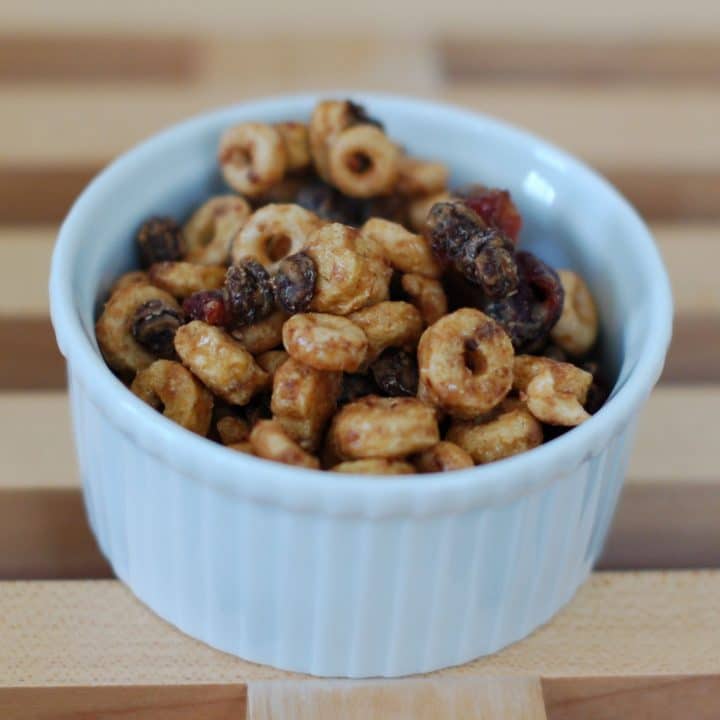 Cranberry-Chocolate Peanut Butter Trail Mix
Make a batch of this delicious cranberry-chocolate peanut butter trail mix for after-school snacks or a yummy on-the-go treat!
Ingredients
2 cups whole grain oat cereal, Cheerios, Trader Joe's Os
2 cups Kashi Heart to Heart Honey Toasted Oats cereal
2 tablespoons ground flaxseed
1 cup sweetened dried cranberries
4 tablespoons olive oil
1/2 cup natural peanut butter
1/2 cup semisweet mini chocolate chips
Instructions
Coat a 9-inch square baking pan with cooking spray and line with parchment. Lightly spray parchment.
Place both cereals, flaxseed, and dried cranberries in a large bowl.
In a small saucepan, combine olive oil and peanut butter. Cook over low heat until the peanut butter is liquidy and the oil is fully mixed in, about 2 minutes. Remove from heat and stir into cereal mixture until combined. Let mixture cool slightly, about 4 minutes, then stir in chocolate chips. With a spatula press mixture into pan. Refrigerate for at least 20 minutes to let it set. Cut into chunks or break apart and divide into ziploc bags for easy portion control.
Notes
I stored the trail mix in the freezer to keep it from getting extremely gooey, especially in the warm weather.
Recommended Products
As an Amazon Associate and member of other affiliate programs, I earn from qualifying purchases.
Nutrition Information:
Yield:

16
Amount Per Serving:
Calories:

174
Saturated Fat:

3g
Sodium:

38mg
Carbohydrates:

19g
Fiber:

3g
Sugar:

10g
Protein:

4g
What's your favorite travel snack?
Share with me in the comments!