Grilled Chicken and Spring Vegetable Salad {Recipe}
June 19, 2013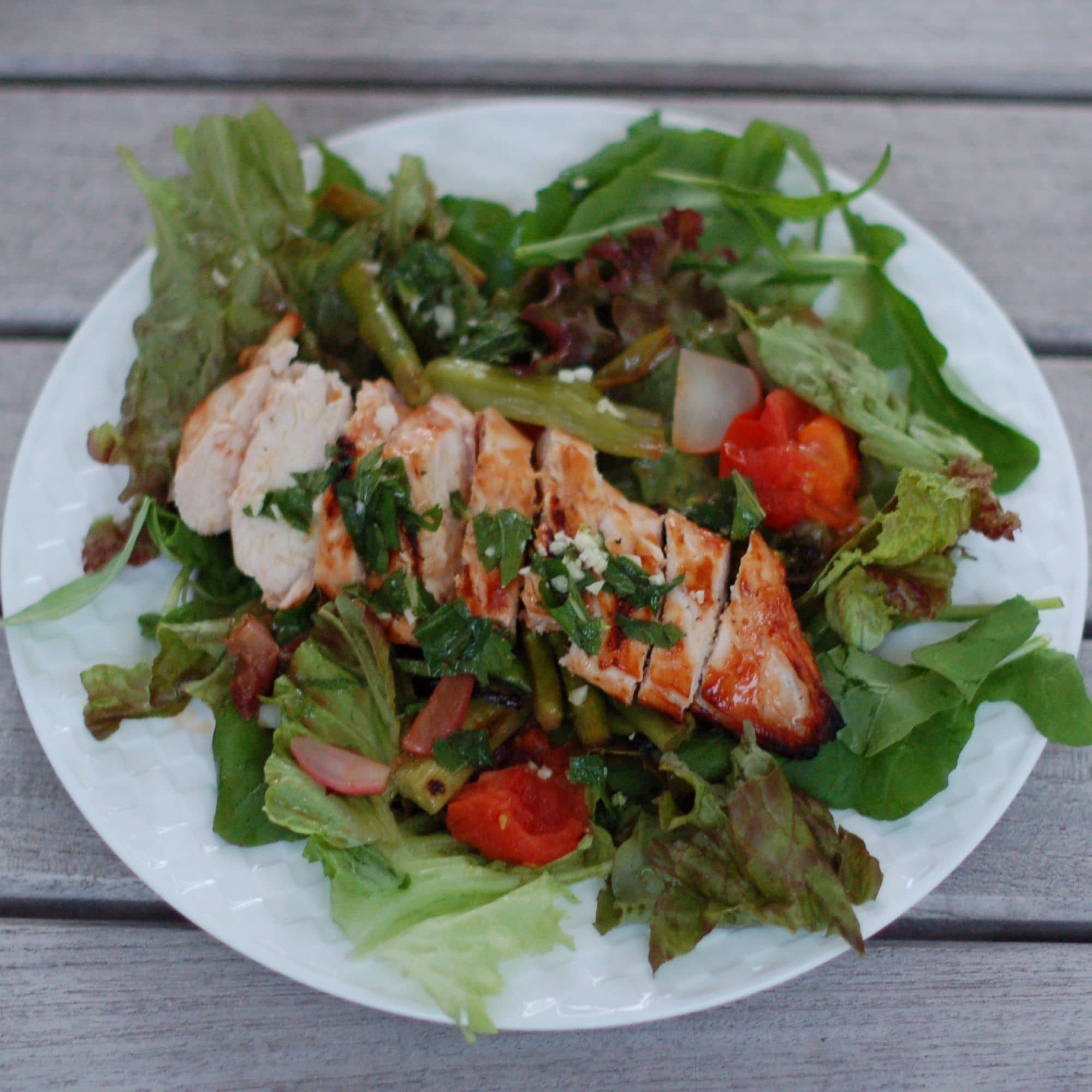 There's only one poem I remember by heart from my childhood: Robert Louis Stevenson's Bed in Summer. I don't know why this is the poem I remember so well, but every year when the seasons change from winter to spring and the days get longer I think of this poem. The first verse goes like this:
In winter I get up at night
And dress by yellow candle-light.
In summer, quite the other way,
I have to go to bed by day.
The other day the poem came to me again as I was preparing dinner – a grilled chicken salad with grilled spring vegetables. I thought about how in winter I roast all my vegetables to bring out their sweetness, but in summer I grill them to get the same end result. There's something so wonderful about the long days and warm nights of summer and the delicious smoky, sweet taste of grilled veggies like onions and tomatoes. I even grilled radishes, which totally melted away the bitterness and bite of this delicious root vegetable. Topped with a lemon mint dressing, this salad is brimming with the smells and flavors of spring and summer.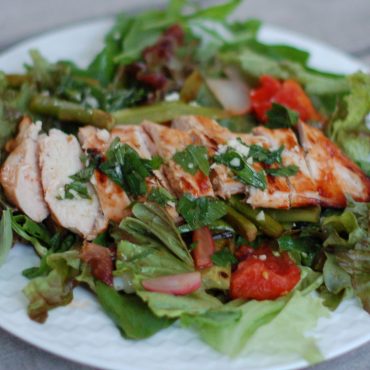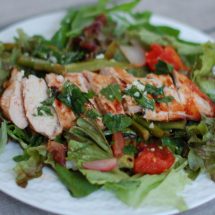 Grilled Chicken and Spring Vegetable Salad
Ingredients
1

pound

boneless

skinless chicken breasts

1

cup

asparagus

cut into 1-inch pieces

1/2

cup

radishes

cut into wedges

4

scallions

cut into 1-inch pieces

3-4

cup

Campari tomatoes

cut into wedges

1/2

cup

red grapes

halved

1-2

tablespoons

olive oil

just enough to coat the vegetables

1/4

cup

barbecue sauce

I like Bone Suckin' Sauce

1

head arugula

1

head red lettuce

3

tablespoons

lemon juice

2

tablespoons

olive oil

1

tablespoon

freshly chopped mint

1

garlic clove

minced

1

teaspoon

kosher salt

Freshly ground pepper
Instructions
Heat a grill to high. Sear chicken breasts on each side for 3 minutes before moving to a lower temperature area of the grill. Brush with barbecue sauce and cook for 3 minutes, flip and brush other side with barbecue sauce and cook another 2-3 minutes until cooked through but still moist.

While the chicken is cooking, toss the vegetables and grapes with olive oil. Grill asparagus and radishes for about 3 minutes in a grill basket, on a grill tray, or on a piece of aluminum foil set on the grill grates (this will prevent vegetables from falling through the grates). Add scallions, tomatoes, and grapes and grill until all the vegetables and grapes are cooked but still tender. The grapes and scallions will be more wilted, which is ok.

Remove chicken and vegetables from grill and set aside.

Divide the arugula and red lettuce among four plates. Top each plate of greens with an even mixture of grilled vegetables and grapes. Slice grilled chicken breasts and divide among plates.

Whisk together lemon juice, olive oil, mint, garlic, salt, and pepper. Drizzle on salads and serve.
Recipe Notes
Grilling time will vary depending on thickness of chicken. Do not leave food on grill unattended, as items can quickly burn.
Do you like to grill in the spring and summer?
If so, share a favorite grilled recipe!