Go Red for Heart Health!
January 31, 2013
This post was written by Tiana Yom
Did you know that heart disease and stroke are America's No. 1 and No. 4 killers? 
In case you weren't aware, February is American Heart Month. As I've mentioned in the past, heart disease is the number one cause of death in Americans and more women die of heart disease than men. The American Heart Association (AHA), a fantastically resourced organization that strives to end heart disease started the Go Red For Women campaign ten years ago to raise awareness about heart disease and stroke.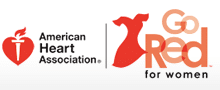 Go Red For Women is a movement created by women for women! Check out their new website GoRedForWomen.org to find out your risk of heart disease and to get more tips on living a heart-healthy lifestyle.
What you can do?
Heart disease and stroke are actually preventable! You can take control of your health and protect your heart. Know your risk and know the causes of heart disease. We automatically think chest pains and falling to the ground are the signs of a heart attack; however, there are other indicators including shortness of breath, nausea, lightheadedness, and pain in the arms, neck, back, or stomach. Become more educated on how to recognize the symptoms of a heart attack and stroke as well as learn how to perform Hands-Only CPR to save a life.
How to get involved:
The first thing you can do is wear your favorite red outfit tomorrow, February 1st, in honor of National Wear Red Day. Follow  @GoRedForWomen on Twitter and Facebook to stay up to date on events and activities you can participate in throughout February to fight heart disease.
For more helpful information and events visit Go Red For Women. The website contains a compact educational guide about heart disease and stroke, recipes for healthy living, stories about heart disease survivors, and advice on what you can do to prevent heart disease.
How will you Go Red this year?