Get Cooking with Clean Eating Cooking School + Beanballs with Marinara Sauce {Recipe}
March 24, 2016
Take the guesswork out of getting healthy meals on the table with Michelle Dudash's Clean Eating Cooking School!
Getting healthy meals on the table takes work and planning. For me, meal planning is key to ensuring I feed my family nutritious, delicious, balanced meals that everyone will eat and enjoy. Along with making my weekly menu plan, I write up a weekly grocery list, keep a pantry stocked with the cooking essentials, have some quick and easy recipes in my arsenal (aka Pinterest boards, blog archives, and recipe binder), leftovers in the freezer, and I house a variety of pots, pans, knives, and other cooking tools in my kitchen, all in an effort to feed my family well.
As a culinary nutritionist, I enjoy doing all this and it comes relatively easy to me. Don't get me wrong – it takes time and forethought, but it's easier for me than for people who don't know the basics of cooking, don't know where to start with meal planning, and don't know what ingredients and cooking tools to have on hand. So I was really excited to hear that my colleague, Michelle Dudash, a registered dietitian nutritionist and certified chef, started a program to help people feed their families well.

In her new program, Clean Eating Cooking School, Michelle provides monthly menu plans, recipes for every meal of the day (snacks included), grocery shopping lists, a list of kitchen gear you should own, and best of all video modules that provide virtual one-on-one cooking lessons and tips with Michelle herself.
I asked Michelle if she could answer some of my burning questions about the Clean Eating Cooking School and her tips for families. Here's what she had to say:
What inspired you to start the Clean Eating Cooking School? 
My readers inspired me. I listened to them as they shared their biggest challenges and "meal planning" and "having everything planned out" for them kept coming up. So that is exactly what I did. I created an entirely new batch of recipes for them that fit into monthly meal plans. I arranged the meals so that there is a good amount of variety each week —chicken, turkey, vegetarian, seafood, a bit of meat — and created weekly, streamlined grocery lists for each week.
And my readers are always looking for ways to eat healthier so they can make the best choices, so in the video modules I take them through breakfast, lunch, dinner, sides, snacks, desserts and entertaining, empowering them to learn how to cook recipes with clean ingredients and that taste amazing.
There's a lot of buzz around "eating clean" these days, with some people creating a black and white dichotomy of "clean" and "dirty" food (which I personally don't believe in). What does Clean Eating mean to you?
The foundation of clean eating is enjoying whole foods in their most natural, least processed state. You don't have to cut out food groups, but rather, you're choosing the purest, most nutritious forms of the foods within each group. While you can still eat packaged foods, you want to be smart and read the label, looking for ingredient lists with whole foods. You want to avoid ingredient lists filled with highly processed foods.
Instead of labeling packaged or processed foods as good or bad, or clean or dirty, I see foods falling on a continuum. Take apples for example: A whole apple picked from a tree to pre-cut apple slices in a bag to apple juice to apple leather. On the far left, you have a pure apple packed with nutrients. As the food travels down the continuum, fiber is removed, sugar is added, along with other ingredients, therefore it is more highly processed and less beneficial.
What's your number one tip for families who are pressed for time and struggle to get healthy meals on the table that the whole family – young children included – will enjoy?
Plan ahead. Plan for making the types of recipes that the people in your family will want to eat. For example, I know my kids love meatballs, chicken nuggets and spaghetti (like most kids!), so I work these meals into my monthly rotation, but make homemade healthier versions of these. Make sure you have all the ingredients you need early in the week. In the morning, know what you are making for dinner that day. And prep before dinnertime if at all possible. Even prepping some ingredients on Sundays can help parents who aren't at home during the day.
You offer so much great information and so many resources in your Clean Eating School. What is the number one thing you hope your students get out of the program?
Delicious, healthy meal ideas that can be prepared amidst a busy schedule that they and their families will want to eat.
Michelle was gracious enough to share one of her children's favorite recipes with us to give you just a little taste of what she offers in the Clean Eating Cooking School. I made these Beanballs with Marinara Sauce a few weeks ago for my family and they were a hit. Hope your family enjoys them – and the rest of what Michelle is offering – too!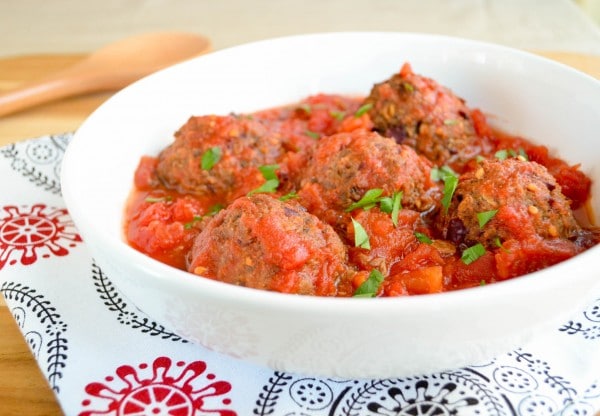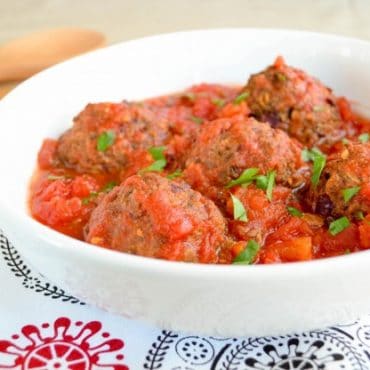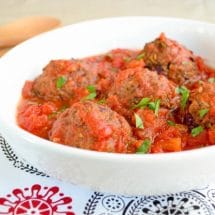 Beanballs with Marinara Sauce
This dish delivers the comforting, classic flavors of traditional Italian meatballs, while replacing meat with kidney beans for protein. Serve over whole-grain pasta, or garlic-sautéed baby spinach or zucchini.
Ingredients
2

tablespoons

extra-virgin olive oil

divided

1

8-ounce package crimini or button mushrooms, chopped fine

3

cloves

garlic

2 minced and 1 smashed

1

14-ounce can kidney beans, rinsed and drained

1/4

cup

rolled oats

use GF if desired

1/4

cup

+ 2 tablespoons flaxseed meal

1

tablespoon

nutritional yeast seasoning

or use grated Parmesan cheese

2

teaspoons

reduced-sodium soy sauce

use GF if desired

1

teaspoon

+ 1/4 teaspoon Italian seasoning

1

28-ounce can whole tomatoes, reserving juice
Instructions
Preheat oven to 425 degrees F convection. Line a large sheet pan with parchment paper.

Heat a large skillet on medium heat and add 1 tablespoon oil. Add the mushrooms and garlic and sauté until liquid releases and evaporates and mushrooms are tender, about 5-10 minutes. Season with a pinch of salt and pepper.

Mash the beans in a medium bowl and add oats, flaxseed, nutritional yeast, soy sauce, 1 teaspoon Italian seasoning, 1/4 teaspoon salt, pepper, and 3 tablespoons juice from the tomatoes. Add the cooked mushrooms and stir well. Scoop into 1-inch balls and place on the prepared sheet pan. Drizzle with 1 tablespoon oil. Bake until golden, about 12-15 minutes.

While the beanballs bake, squeeze the tomatoes into the skillet, using a clean hand. Add 1/4 cup of the tomato juice, 1 smashed garlic clove, 1/4 teaspoon Italian seasoning and a pinch of salt and pepper.

To serve, spoon the beanballs with the sauce. Garnish with chopped fresh herbs if you have some on hand, like parsley, basil or chives.
How would you like to go to a virtual cooking school?