Encourage Kids to Make Fruits & Vegetables Center Stage
October 23, 2015
This Food Day, encourage kids to make fruits and veggies center stage on their plates by keeping it delicious and fun! Plus a review of Teddy Tries a Veggie!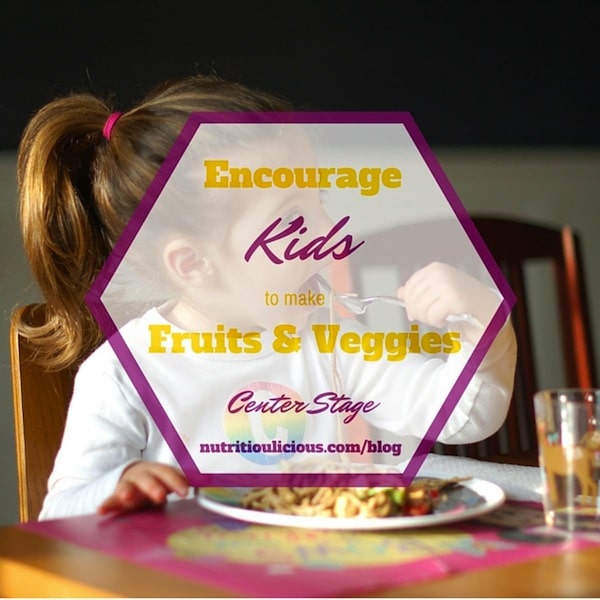 I received a complimentary copy of Teddy Tries a Veggie, but was not compensated for writing about it. As always, all opinions are my own. 
This Saturday, October 24th, is Food Day, a day to aspire – and inspire others – to make positive changes to our diets and food policies. This year's focus is Toward A Greener Diet, with the primary focus on raising awareness about the importance of eating less meat and enjoying more whole plant-based foods as a way to become healthier and to help animals and the environment.
In honor of Food Day, this year I am participating in the Food Day Blogger Takeover along with many other dietitians and food bloggers. Be sure to check out the links below for the other posts!

The importance of eating a plant-based diets, and in particular fruits and vegetables, is not news to anyone (and if it's news to you, it's time to get your head out of the sand!). But that doesn't mean we as a population are meeting the recommendations for fruit and vegetable intake. In fact, according to the Produce for Better Health Foundation, overall consumption of fruit and vegetables in the US has declined seven percent since 2010. Wamp, wamp. That means we need to do better job of adding produce to our plate – remember, the USDA MyPlate recommendations are for half the plate to be filled with fruits and veggies at every meal!
One of the best ways to encourage more plant-based eating is to start it at a young age. That means getting kids interested in and exposed to all different foods with an emphasis on produce. Personally, I make it a point to include a fruit and/or vegetable at every meal for my kids. Some days it's easier than others, some days they eat it and other days they don't. But my feeling is as long as they are exposed to it and they try it, that's enough – at least for now. I have to say I'm pretty lucky that my almost four year old twin girls are pretty good eaters and they eat a fair amount of produce (they're definitely not lacking in the fruit department, that's for sure!).
I know it's not the same for everyone (and there's still a chance that it will change in my house), which is why I am always looking for new ways to encourage kids to eat more produce. Recently I learned about an interactive e-book, Teddy Tries a Veggie, written by registered dietitian nutritionist Jennifer Glockner for children 4 to 8 years old. The book follows Teddy, an almost-six-year-old girl who loves to garden with her father, but hates eating the vegetables she grows. That is until she stumbles upon a band of fruits and veggies rocking out in her garden!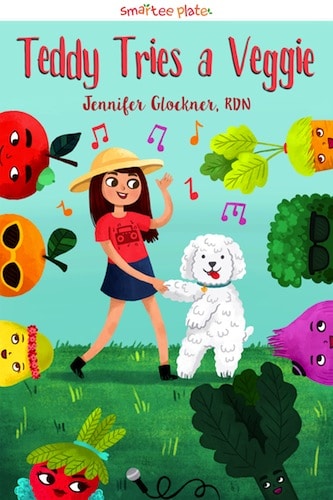 The book conveys the importance of eating a variety of fruits and vegetables as part of healthy eating and familiarizes kids with terminology such as vitamins, minerals, antioxidants, and fiber, all with pretty pictures of adorable fruit and veggie characters like Maya Papaya and Beta Carrot and unique interactive elements like pop-up fun facts! There's even a recipe at the end for Teddy's Broccoli Orange Crunch. Teddy Tries a Veggie is just one more way to get the kids excited about eating their fruits and veggies. (Plus, it's the first e-book in Jennifer's Smartee Plates series and I can't wait to see what she comes up with next.)
For more ideas, check out my recent post 7 Ways to Improve Your Fruit and Vegetable Intake. And here are some of my favorite recipes for making fruits and veggies the star of the plate!
Peanut Soba Noodles with Crispy Tofu and Spring Vegetables
(made with snap peas, peppers, daikon, and scallions – a fave in our house!)
Mediterranean Hummus Flatbread
(made with sun-dried tomatoes, red onion, radishes, peppers, and hummus)
(made with peppers, peas, tomatoes, and basil)
(made with zucchini, peppers, corn, and tomatoes)
(my kids think this is rice and they absolutely love it!)
Do fruits and vegetables take center stage at your table?
Tell us How!
Don't Panic Mom http://Dontpanicmom.com
Gluten is My Bitch https://glutenismybitch.wordpress.com/
Naturalmente Mamá http://naturalmentemama.com/
Laughing Lemon Pie http://laughinglemonpie.com
Just the Right Byte www.jillcastle.com/blog
The Balanced Kitchen www.balancedkitchen.com/
Teeny Tiny Foodie http://teenytinyfoodie.com
The Multitasking Missus: http://www.themultitaskingmissus.com/
Colorado Moms http://www.coloradomoms.com
The Hanging Spoon www.thehangingspoon.com
Real Kids Eat Spinach www.realkidseatspinach.com
Fueling a Fit Fam fuelingafitfam.com
Produce for Kids www.produceforkids.com/blog
Real Mom Nutrition www.RealMomNutrition.com
Driftwood Gardens http://driftwood-gardens.com
Cooking with Siri http://www.cookingwithsiri.com/
Mommy & Love http://www.mommyandlove.com
Eating Well Diary http://eatingwelldiary.com
Su's Healthy Living http://sus-healthy-living.blogspot.com
Picky Diet http://www.pickydiet.com
Craving Something Healthy http://cravingsomethinghealthy.com
Ketchup With That http://www.ketchupwiththat.com
I Try to Eat Healthy http://www.itrytoeathealthy.com/
Tasteovers by Jackie http://jackienewgent.com/recipe-blog/
The Plant-Powered Blog www.sharonpalmer.com