Eggs Anytime Recipe Roundup
February 4, 2015
Eggs are nutritious and delicious to eat anytime of day, whether breakfast, brunch, lunch or dinner. Try some recipes from this eggs anytime recipe roundup!
Most people think of eggs as a breakfast food, but they really play a role in every meal, whether hard boiled in a salad for lunch, scrambled into pad Thai for dinner, or poached and added to a pizza or a side of asparagus. Not to mention the use of eggs as a binder in other recipes like pancakes and casseroles. There are endless ways to use the incredible egg! Here are some of my favorites from my blog and fellow bloggers.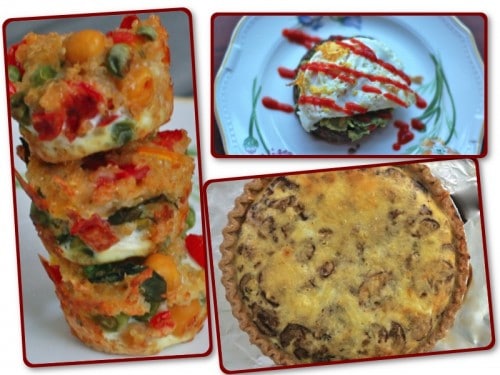 From Nutritioulicious:
Mushroom Onion Quiche (pictured above)
Veggie & Bean Quinoa Bites (pictured above)
Sriracha Black Bean Burgers with Poached Egg (pictured above)
Tomato-Basil Mozzarella Frittata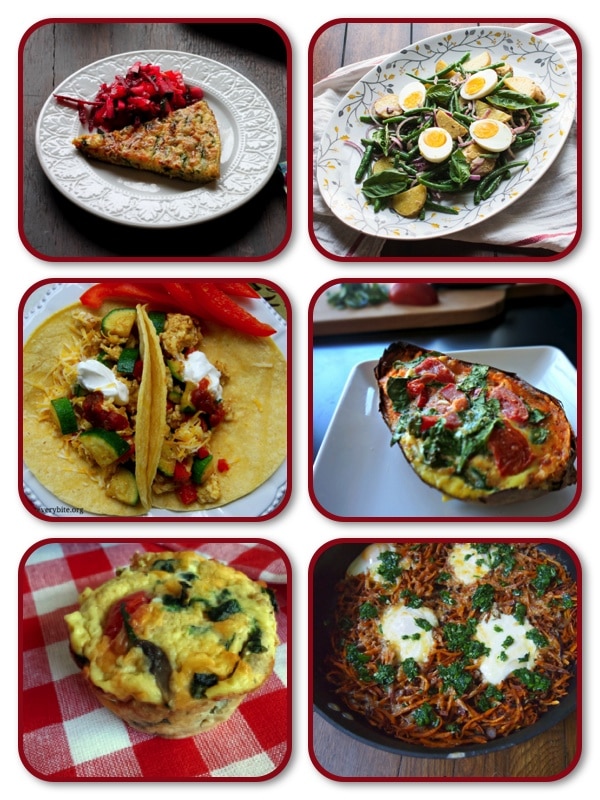 From top to bottom, left to right:
Kale, Leek and Cheese Frittata from Dixya @ Food, Pleasure, and Health
Green Bean and Potato Salad with Lemon Anchovy Dressing from Min @ MJ and Hungryman
Egg Veggie Tacos from Elizabeth @ Enjoy Every Bite
Sweet Potato Spinach Egg Boats from Kristen @ A Mind "Full" Mom
Turkey Veggie Protein Cups from Emily @ Zen and Spice
Shredded Sweet Potatoes with Eggs from Rachael @ An Avocado a Day Nutrition
What's your favorite way to eat eggs?