Edible Flower Recipes {Recipe ReDux}
June 22, 2014
Floral Flavors
"Nothing brightens up a dish like a real flower! Whether you live in the northern or the southern hemisphere, edible flowers can add flavor and aroma to salads, breads, spreads, desserts or dips. Make your recipe bloom with rose water, flowering herbs, floral teas, dried lavender blossoms or even fresh flowers like nasturtiums, violets, borage, squash, sunflowers or pretty much any blossom in a vegetable garden."
I just returned from an amazing vacation in northern Spain where I had some of the most amazing and imaginative food I have ever tasted – and much of which was presented with edible flowers.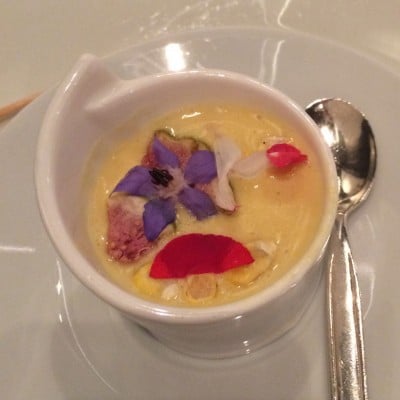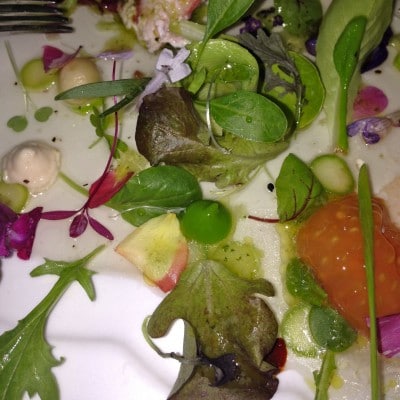 (I'll be posting about these delicious meals soon! In the meantime, back to this month's ReDux.)
As a result of being away, I didn't have a chance to come up with a new recipe for this month's Recipe ReDux, but as it turns out I have a lot of recipes with edible flowers already posted on my blog. While I have never really considered my use of various herbs like mint, cilantro, rosemary, thyme, and sage (the list can go on) as edible flowers, that's exactly what they are. One of the many new things I remember learning early on in my culinary nutrition classes is that herbs are the flowers of plants and spices are the seeds. Take a look at some of my favorite flower-containing recipes (there are too many to list, so do a search on my blog for your flower/herb of choice to see more!):
MINT:
Fusilli with Fava Beans, Roasted Asparagus, Ricotta, & Mint (am actually making it again this week!)
Arugula Salad with Cider Honey Vinaigrette
CILANTRO:
BASIL:
Corn & Basil Cakes with Lemon Yogurt Sauce
Tomato-Basil Mozzarella Frittata
Grilled Corn, Basil, and Tomato Salad
THYME:
Mushroom-Onion Truffle Pesto Pizza
ROSEMARY:
Roasted Chicken with Artichokes, Peppers, and Sun-Dried Tomatoes
Rosemary-Garlic Roasted Tomatoes
Rosemary-Roasted Cauliflower with Raisins
For more great recipes using edible flowers, check out my fellow Recipe ReDuxer posts below!
Do you use edible flowers in your cooking?
[inlinkz_linkup id=410347 mode=1]