Dried Fruits and Vegetables Recipe Roundup {Recipe ReDux}
September 22, 2014
Cooking with dried fruits and vegetables is a nutritious and delicious way to add flavor to your meals all year round. Here are some of my favorite recipes using sun-dried tomatoes, raisins, dried cranberries, and dried apricots. 
I wish I had my act together for this month's Recipe ReDux, but between the start of school, hiring a new caregiver for my girls, and all my excitement about Blog Brûlée, I lost track of time and don't have a brand new recipe to feature for this month's theme. It really is too bad, because it's a great theme! And I have a recipe in the works that would have been a pretty good fit. But c'est la vie – that's life. The next best thing to me sharing a new recipe with all of you, is to share a roundup of some of my previously published recipes that fit within the theme, which, by the way, is…
Get Your Dehydrator On
Whether it's extra garden bounty or a sale at the supermarket – dehydrating food is a budget-friendly way to stock up for later. You can use a food dehydrator, a low slow oven, or natural sunshine to preserve natural healthfulness. Show us how you like to dehydrate, or a healthy recipe for how you enjoy using dehydrated fruits, veggies or other bounty.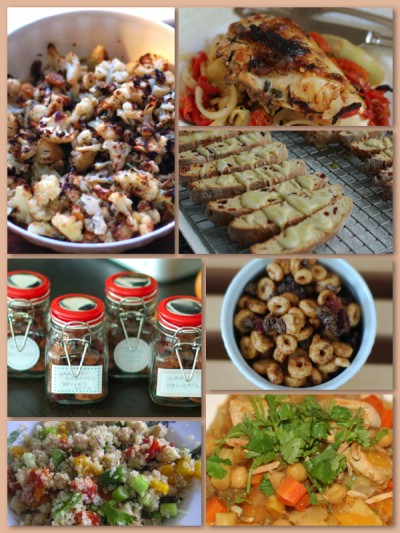 I'm not gonna lie and tell you I would have started dehydrating my own fruit and veggies even if I had realized the ReDux reveal day was approaching. Although I will try it at some point after seeing from my fellow ReDuxers how relatively easy it is even without a professional dehydrator – check out these Oven-Dried Tomatoes from NourishRDs and these Spiced Pear Chips from Lauren @ Healthy. Delish. If you scroll to the bottom of their posts (and mine) you'll find many more recipes from the innovative dietitians and food bloggers who participate in the monthly ReDux.
But I digress. Since I do use a lot of dried fruit, sun-dried tomatoes, and occasionally some dried mushrooms in my cooking, I decided to give you a roundup of some of my favorite recipes that include dried fruit and vegetables (this list is not exhaustive of all the dried fruit/veggie recipes I have made and some of these recipes are from when I first started blogging, so please excuse the not-so-great food photography!). And I promise – I do have a new recipe coming that uses dried fruit too. Check back soon – hopefully I can get my act together this time!
Recipes with Sun-Dried Tomatoes
Roasted Chicken with Artichokes, Peppers, and Sun-Dried Tomatoes
Vegetable and Chickpea Quinoa Salad
Recipes with Raisins
Rosemary-Roasted Cauliflower with Raisins
Recipes with Dried Apricots
Recipes with Dried Cranberries
Iced Orange-Cranberry Biscotti
Cranberry-Chocolate Peanut Butter Trail Mix
Oh, and if you do have a food dehydrator, check out this recipe for Apple Fruit Leather, which was made by one of my previous Nutritioulicious blogger interns.
What's your favorite dried fruit or vegetable?
Have you ever dehydrated your own?
[inlinkz_linkup id=442141 mode=1]