Creamy Baked Acorn Squash {Recipe}
February 8, 2013
In the final issue of Everyday Food (cue the violins), I saw a delicious-looking recipe using acorn squash. In the past, when I made acorn squash I have used it as an edible "bowl" to hold a mixed rice dish. I even once filled it with turkey bolognese – that was an interesting combination, one I'm not sure I would repeat. The squash has always been a vessel of sorts, not really the star of the show.
When I saw the recipe for Creamy Baked Acorn Squash, I liked the idea of highlighting the squash itself. I followed the recipe almost exactly (which as you know is rare for me), and the end result left me disappointed. I felt the squash lacked flavor once you got past the top layer, which was surprising considering all the cheese I added. My sister-in-law mentioned she was making the same dish and I gave her some recommendations on what I would do to improve it. She made it with my suggested tweaks and said it came out great. I myself didn't have a chance to recreate it until the other day. With the changes I made, I found the side dish a lot more flavorful and it kept my taste buds interested beyond the first few bites.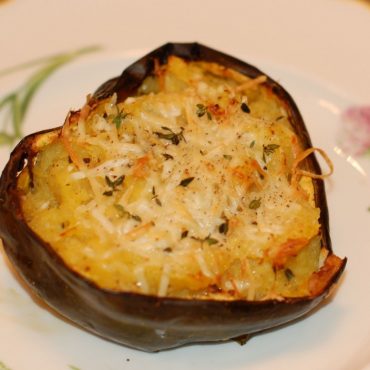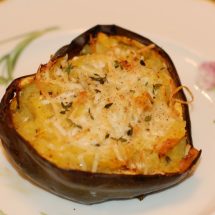 Total Time
1
hour
10
minutes
Ingredients
2

acorn squash

1 pound each, halved lengthwise, seeded, and bottoms trimmed to lie flat if necessary

1/2

tablespoon

olive oil

Salt and pepper

1/4

cup

whole milk

1

tablespoon

fresh thyme

divided

1/2

cup

grated Parmesan

divided
Instructions
Preheat oven to 375 degrees. Place squash halves cut side up on a rimmed baking sheet.

Brush with olive oil and season with salt and pepper. Divide milk and 1/2 tablespoon of thyme among halves.

Bake until squash is tender when pierced with the tip of a sharp knife, 35 to 40 minutes.

Scoop out the flesh of each acorn squash and combine in a large bowl. Be careful not to rip the skin of the squash and set it aside to refill later. Add 1/4 cup of the Parmesan to the squash and mash together to incorporate the cheese. Season with salt and pepper as needed.

Stuff each of the reserved squash skins with 1/4 of the mashed squash. Sprinkle the remaining cheese on top of each squash half and top with the remaining 1/2 tablespoon of thyme.

Bake until cheese is melted and golden, 10 to 15 minutes more.
 Have you been disappointed by a published recipe and fixed it up? Tell us what the recipe was for and what you did differently!