Cooking with Flax Seed
April 18, 2014
Disclosure: I received samples of Carrington Farms products and was invited to be an All Good April Ambassador. I was not paid for this review or post. All opinions are my own.
As you're preparing for spring and restocking our kitchen, why not try some new products that add flavor and nutrients to your meals? What kind of products am I talking about? How about flax seeds.
In honor of springtime, Carrington Farms is celebrating all things good & healthy with
"All Good April"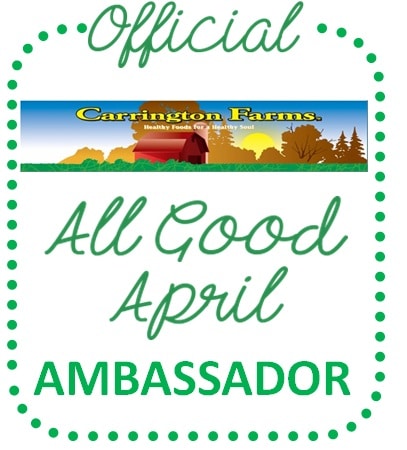 Carrington Farms sent me a few samples to try, and as an All Good April Ambassador I want to fill you in on the benefits and versatility of one of those products: flax seeds. I'm sure you've heard about flax seeds before – they've become quite popular the past few years. But maybe you don't really know what all the fuss is about, so let me tell you.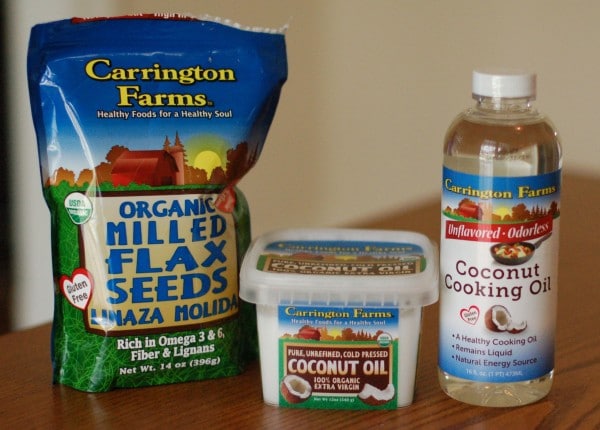 The flax seed, which comes from the blue-flowered plant crop grown mainly in cool, northern climates such as that of the western Canadian prairies and the northern plains of the US, is one of the most nutritional seeds on the planet. Flax seed is an excellent vegetarian source of omega-3 fatty acids, "healthy fats" that have been known to maintain healthy cholesterol and blood sugar levels. Carrington Farms health and nutrition consultant Deborah Orlick Levy, MS, RD points out that flax seeds are also a good source of fiber to improve bowel function and lower cholesterol, and they have the benefits of lignans, which contain phytoestrogens that have been clinically shown to protect against hormone-related cancers, such as breast, ovarian, prostate and uterine. Flax seed is also high in most of the B vitamins, magnesium, and manganese.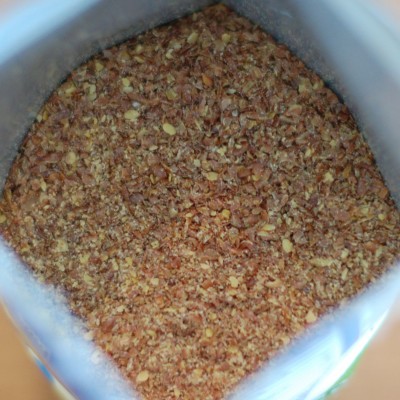 Now that you know why flax seeds are so good for you, here are some ways to enjoy them:
Add milled flax seeds to low-fat Greek yogurt or cottage cheese at breakfast. 2 tablespoons of Carrington Farms Organic Milled Flax Seeds contain 50 calories – a lot healthier and less caloric than most granola.
Sprinkle milled flax seeds into fun breakfast foods like muffins and pancakes for a fiber boost.
Coat chicken, pork, or fish with a mixture of milled flax seeds, whole wheat bread crumbs or panko, and herbs. Then bake in the oven for a better-for-you "fried" chicken.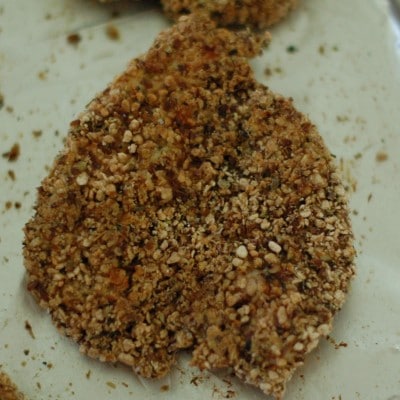 Since this week is Passover and we can't eat breadcrumbs or panko, I made this "fried" chicken with whole wheat matzo meal, Carrington Farms milled flax seeds, and dried herbs. It certainly was Nutritioulicious!
If you live in New York, you can purchase Carrington Farms products, including Coconut Cooking Oil and Unrefined Extra Virgin Coconut Oil (which I received, but haven't yet had a chance to experiment with) at Shoprite or Stop & Shop, and you can find out more about their health benefits and how to use them on their website. Also be sure to check their Facebook page for more All Good April posts!
Have you tried flax seed?
What's your favorite way to incorporate it into your cooking?