"Clean Eating for Busy Families" Cookbook {Recipe & Giveaway}
January 15, 2013
You know I love to cook and as I mentioned a couple of weeks ago when I told you about "America's Favorite Food," I still love looking through cookbooks even though there are so many recipe databases online. Thankfully, registered dietitians like myself are writing more cookbooks these days. What I love about this is that it shows just how versatile the job of a dietitian is. Recently a fellow registered dietitian and friend of mine, Michelle Dudash, published a new cookbook called "Clean Eating for Busy Families." Michelle is not only a dietitian, she is also a certified chef and a mom – so she knows a thing or two about good food, healthy eating, and how to combine the two when it comes to kids.
There are so many great things about this cookbook: most recipes take 30 minutes or less to prepare, many meals can be made in one pot or pan, which means less cleanup, and there's a focus on sustainable seafood, being "green," and using local and seasonal foods (many recipes even have alternatives based on the season). Michelle also includes a suggested weekly, monthly, and quarterly shopping list (perfect if you spend half your week in the supermarket like I do!), a list of busy family convenience foods like natural popcorn and low sodium soups, cooking tips, her favorite kitchen tools, and tips for dealing with picky eaters. This book is geared for the busy family!
After looking through the cookbook I decided to try Michelle's version of fish tacos. I loved Michelle's recipe for pico de gallo, especially since there was a "Go Green" box with seasonal alternatives. Although I normally use tilapia when I make fish tacos, my husband really wanted tuna (not the most eco-friendly choice, but you know the things we do for our husbands!), so I changed part of the recipe, but the star of the show was the pico and boy was it good! The original recipe calls for tomatoes, but since local tomatoes aren't available in the winter I used oranges and grapefruit, which Michelle recommended.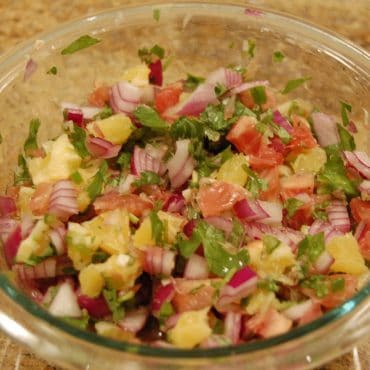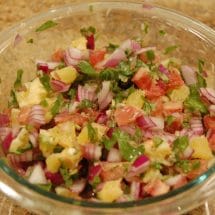 Ingredients
For Pico De Gallo:
1

cup

diced oranges and/or grapefruit

1/3

cup

red onion diced 1/4 inch

2

tablespoons

lime juice

2

tablespoons

chopped cilantro

1

teaspoon

seeded

deveined, minced jalapeño pepper

1/2

teaspoon

minced garlic

1/8

teaspoon

salt

1/8

teaspoon

freshly ground black pepper
For Fish:
1

pound

tuna steaks

Salt and freshly ground pepper

to taste

1-2

tablespoons

olive oil
For Assembly:
1

avocado

mashed

2

tablespoons

lime juice

Salt and freshly ground pepper

8

warm small corn or whole-grain flour tortillas
Instructions
To Make the Pico de Gallo:
Place all the pico de gallo ingredients in a small mixing bowl and toss to combine.
To Make the Fish:
Season the tuna steaks with salt and pepper to taste.

Heat a large saute pan over medium-high heat and add 1 to 2 tablespoons of oil. When oil is hot and shimmering, add tuna steaks to the pan. Cook about 1 minute per side, including the sides, until the tuna is seared on the outside and raw on the inside (if you prefer your tuna less raw, you can cook it longer).

Remove tuna from pan and place on a cutting board. Slice tuna at a right angle to the veins for best quality.
To Assemble:
In a small bowl, combine the mashed avocado with the lime juice, salt, and pepper. Spread mashed avocado on a tortilla and top with sliced fish and pico de gallo.
Recipe Notes
The original recipe calls for 1 large tomato, diced 1/4-inch (1 cup).Recipe Note: To save time, you can chop the tomatoes and onion for the pico de gallo in a food processor. Remove and then pulse the jalapeño, cilantro, and garlic together. Combine all of the salsa ingredients in one bowl.
Go Clean: When choosing tortillas, look for those that contain the fewest ingredients - ideally just ground corn, lime, and salt in corn tortillas and whole-wheat flour, canola oil, and salt in flour tortillas.
I served the tacos with a spinach salad with lime vinaigrette.
Are you the member of a busy family? If so, enter for your chance to win your own copy of Clean Eating for Busy Families!
Giveaway begins: Tuesday January 15, 2013 at 6:00 PM ET
Giveaway ends: Thursday January 17, 2013 at 6:00 PM ET
Mandatory Entry:
Tell me in the comments area "How does your busy family manage to get healthy meals on the table?"
Additional Entries:
For additional entries do any or all of the below and come back and create a new comment to tell me. Use a separate new comment for each or it will only count as one entry.
Follow me on twitter
Like me on Facebook
Like cookbook author Michelle Dudash on Facebook
Follow cookbook author Michelle Dudash on twitter
Copy and paste this tweet, then come back and comment with the link of your tweet (allowed only once per day):
Enter for your chance to win @MichelleDudash's #CleanEating for Busy Families via @jlevinsonRD #giveaways http://smallbitesbyjessica.com/?p=164554786
When entering, be sure to include your email address in the "Email" field when posting your comment so I can let you know if you won. You do not need to purchase anything to win.
Disclaimer:  I received a copy of "Clean Eating for Busy Families" but was not compensated for this review. All opinions are my own. The publisher has sponsored the prize offered, and is responsible for shipping it.