Chicken Myths & Truths + Healthy Chicken Recipes
September 14, 2016
Find out the truth about some common chicken myths and enjoy over 35 nutritious, delicious and healthy chicken recipes.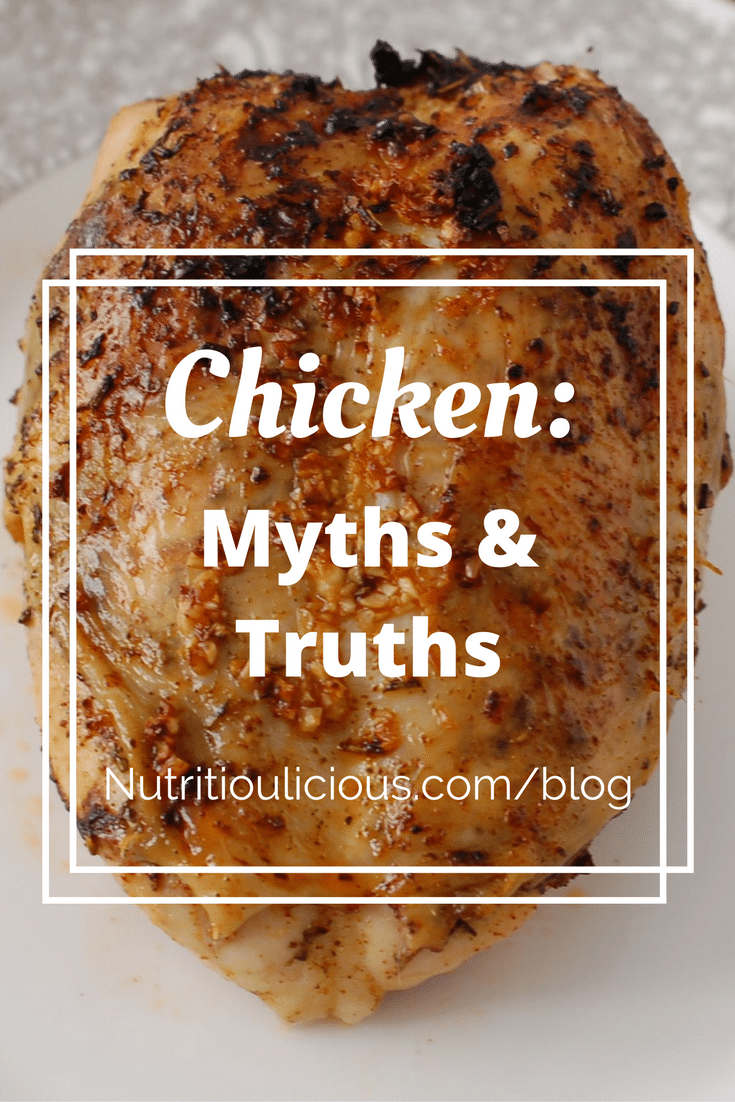 This post was written as part of my ongoing sponsored partnership with the U.S. Farmers and Ranchers Alliance. All opinions expressed are my own.
I've mentioned before when it comes to food, there's a month or special day to celebrate everything—December is National Pear Month; November is National Peanut Butter Lover's Month (not to be confused with National Peanut Month in March); there's even a day devoted to donuts! We know September is known for back-to-school chaos, but it's also Fruit & Veggies More Matters Month and National Chicken Month.
I don't know about you, but chicken is a staple in our house. I make it at least once a week because it's generally quick and easy to make, budget-friendly, an excellent source of protein, low in saturated fat and sodium, extremely versatile and kid-friendly.
In honor of National Chicken Month, and in partnership with the U.S. Farmers & Ranchers Alliance, I want to share a few common myths and facts about chicken; which will hopefully help you feel more confident to cook it in your kitchen and feed it to your family. Once you're ready to get cooking, check out the versatility of this protein for yourself with the 35+ nutritious and delicious recipes below!
Myth #1: Most chickens are raised with artificial or added hormones.
Truth: The use of hormones in chickens and eggs is forbidden by the U.S. Food & Drug Administration. Chicken packages labeled "no added hormones" or "hormone free" are unnecessary, and used primarily as a marketing strategy to increase purchases of those brands. If the label includes those statements, look closely at the package and you'll see a statement that says no hormones are used in the production of any poultry raised in the U.S. Another reason to always read the fine print!
Myth #2: "Free-range" chickens are better for you.
Truth: Let's start out with a definition of this term. According to the U.S. Department of Agriculture (USDA), "free-range" means that chickens have access to the outdoors for at least some part of the day, whether the chickens choose to go outside or not. There are no requirements for the length of time the chicken must spend outdoors, the size of the outdoor area, or the type of groundcover. According to the National Chicken Council, less than one percent of chickens nationwide are raised as "free-range." Also, don't assume that just because a chicken is "free-range" it's organic—all organic chickens are "free-range," but not the other way around.
Related to "free-range," you may see labels for "cage-free," which doesn't mean much since no chickens for consumption are raised in cages. Most chickens are raised in houses where they are free to walk around.
Myth #3: You should wash chicken before cooking.
Truth: I grew up watching my mother wash her chickens before she marinated or seasoned them, but that's one thing I don't follow in her footsteps! The USDA Food Safety and Inspection Service does not recommend washing raw poultry (and other meats). When you wash raw poultry, bacteria from the raw meat and juices can spread to other foods, utensils, and kitchen surfaces — which leads to cross-contamination and potential foodborne illness. The best way to kill the bacteria: cook your poultry and meats to the correct temperature (an internal temperature of 165°F for chicken).
Myth #4: Chicken can be thawed on the countertop.
Truth: DO NOT thaw chicken on the countertop! The safest way to thaw chicken is in the refrigerator, but if you don't take the chicken out of the freezer early enough, the alternative is to defrost it in cold water. To do so safely, submerge chicken in cold water in it's original leak-proof package or a water-tight plastic bag and change the water every 30 minutes.
When defrosting chicken in the refrigerator, it takes 24 hours to thaw a 4- to 5-pound whole chicken and 3 to 9 hours to thaw cut up parts. Once thawed it can be kept in the refrigerator for a day or two. Using the cold-water method, it takes about 2 hours to thaw a 3- to 4-pound package and the chicken must be cooked immediately.
Now that you know the truth about chicken, let's get cooking! Here are over 35 recipes made with chicken—everything from soups and salads, to pizza and burgers, to one-pan dishes and more. Plus, there's a cooking method for everyone here! So really, no more excuses for why you can't eat chicken (unless you're allergic or vegetarian, of course)!
Healthy Chicken Recipes
Salads and Soups: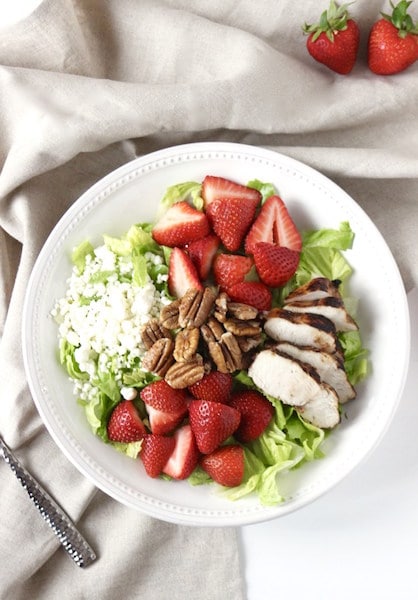 Barbi Salad @ Lively Table
Apricot Pineapple Chicken Salad @ Nutritioulicious
Chicken Tortilla Soup @ Family. Food. Fiesta.
Chicken Vegetable Udon Soup @ Nutritioulicious
Classic Jewish Chicken Soup @Nutritioulicious
Tacos, Pizza and Burgers: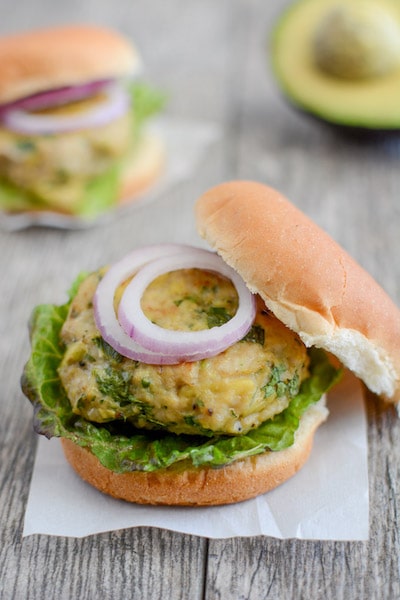 Avocado Chicken Burgers @ The Lean Green Bean
BBQ Puled Chicken Hummus Pizza @ My Cape Cod Kitchen
Chicken Tacos @ Real Living Nutrition
Gluten Free Blackberry Chicken Flatbread @ Lively Table
Crock Pot Chicken Ranch Tacos @ Living Well Kitchen
One-Pan Dishes: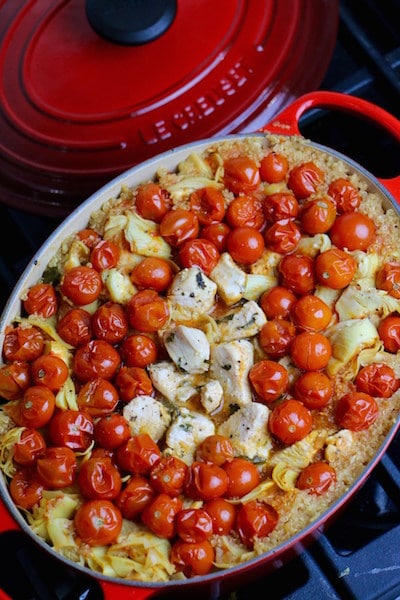 One-Pot Mediterranean Quinoa Chicken @To Live and Diet in LA
One Skillet Lemon Chicken with Asparagus @ A Pinch of Grace
One Pan Chicken and Mushrooms @ KISS in the Kitchen
One Skillet Chicken Enchilada Quinoa Bake @ Lively Table
Salsa Chicken @ Food, Pleasure and Health
Healthy Chicken Paprika Skillet @ Healthy Seasonal Recipes
Italian Inspired Dishes: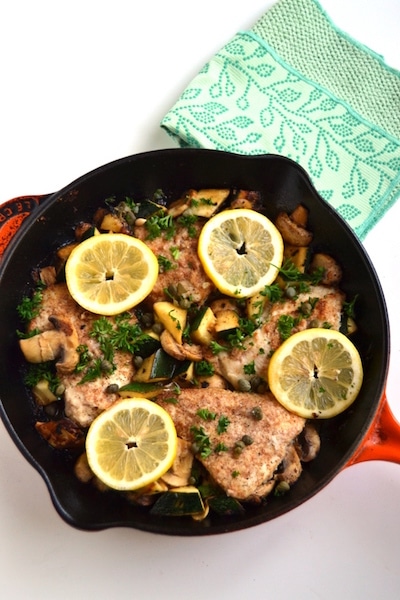 Lemon Chicken Piccata @ The Nutritionist Reviews
Easy Chicken Paillard @ Mom's Kitchen Handbook
Chicken Cacciatore @ Nutrition Starring You
Italian-Seasoned Sautéed Chicken Breasts @ Nutritious Eats
Asian Inspired Dishes: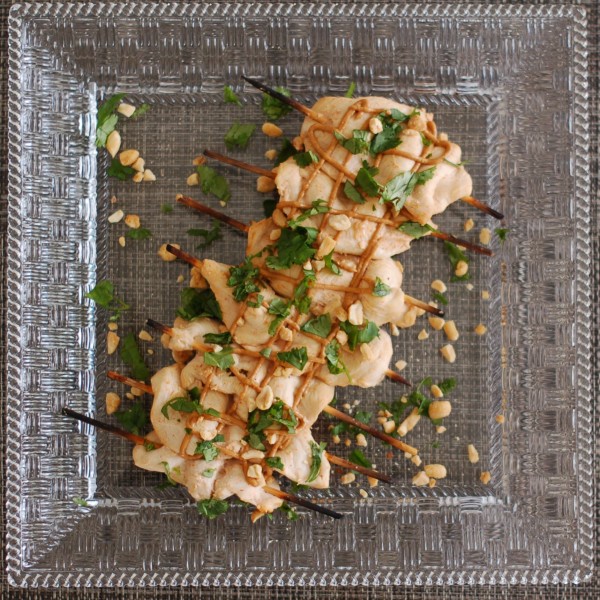 Thai Peanut Chicken Satay @ Nutritioulicious
Chicken Pad Thai @ Lively Table
Thai Stuffed Chicken with Cilantro, Ginger and Almond Marinade @ Nourish. Breathe. Thrive.
Thai Chicken Salad @ Nutritioulicious
Miso Chicken @ Lively Table
Grilled: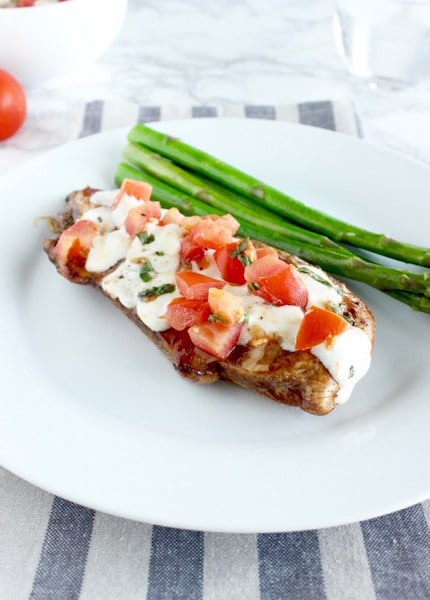 Easy Bruschetta Chicken @Lively Table
Grilled Lemon Fennel Chicken @ Erin Dishes Nutrition
Summer Chicken Kebabs with Herb Sauce @ Nutritioulicious
Kiwi Lime Chicken @ Hungry Hobby
Greek Chicken with Tzatziki Sauce @ Lively Table
Baked and Roasted: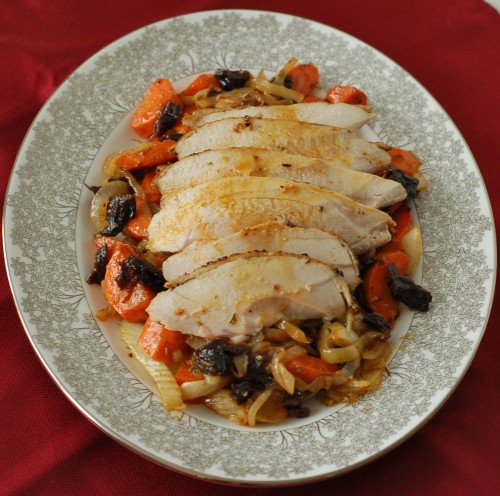 Roasted Chicken with Fennel, Carrots, & Dried Plums @ Nutritioulicious
Maple + Mustard Chicken with Balsamic Roasted Figs & Grapes @ Nourish. Breathe. Thrive.
Coconut-Lime Chicken @ Nutritioulicious
Parmesan and Pecan Crusted Oven Fried Chicken @ Nutritious Eats
Roasted Chicken with Artichokes, Peppers, and Sun-Dried Tomatoes @ Nutritioulicious
Pistachio-Stuffed Chicken Breasts @ Nutritioulicious
Do you have any concerns about chicken I didn't address here?
What's your favorite chicken recipe?