Chicken Mexicano with Nectarine-Avocado Salsa {+ Frito Lay Giveaway}
May 25, 2012
Disclosure: I received free samples from Frito-Lay of the products mentioned in this post. By posting this recipe I am entering a recipe contest sponsored by Frito-Lay and am eligible to win prizes associated with the contest. I have worked with Frito-Lay previously; however, I am not being compensated for my time on this project.
In the spirit of celebrating days and months dedicated to certain foods, I would be remiss not to mention that May is Celiac Awareness Month. In case you are not familiar, celiac disease is an autoimmune disease that damages parts of the small intestine when gluten-containing foods (wheat, rye, barley) are consumed. Over time it leads to malabsorption of many nutrients. In the past few years, celiac disease and the gluten-free diet that is required to treat it, have become more commonly diagnosed and now over 3 million Americans have the diagnosis.
Living with celiac disease can be difficult, as foods that people love to eat can often no longer be a part of their diet. Many food companies have taken the initiative to validate their products that are gluten-free but haven't been labeled as such. One such company is Frito-Lay. Many Frito-Lay snacks have always been gluten-free, but now the company has developed a gluten-free validation process to test ingredients and finished products to ensure they meet the standards before making a "gluten-free" claim. This way, they can put the words "gluten-free" on their package labels, which helps people with celiac disease and gluten intolerances navigate the supermarket a little more easily.
In honor of Celiac Awareness Month, Frito-Lay teamed up with The Recipe ReDux (the monthly recipe challenge I participate in) to host a recipe contest and giveaway.
The challenge: ReDux members are to create gluten-free recipes that use at least (1) one Frito-Lay snack chip as a replacement for traditional gluten-containing ingredients.
I was super excited about this challenge. Who doesn't love chips?! I knew right away what I wanted to make. One of my favorite recipes that I have posted before and included in We Can Cook is my Panko "Fried" Chicken. Since panko is made from wheat, someone with celiac disease would not be able to enjoy this Nutritioulicious recipe. That's why I knew I needed to make a gluten-free version using Tostitos Restaurant Style Tortilla Chips. And what goes better with chips than salsa?! I hope you enjoy this dish as much as my family did!
Chicken Mexicano with Nectarine-Avocado Salsa
Serves 4
Ingredients:
For the chicken:
2 large egg whites
2 cloves garlic, minced
1/2 teaspoon chili powder
2 cups ground Tostitos Restaurant Style Tortilla Chips (grind in a food processor until they are the consistency of bread crumbs)
1 pound boneless, skinless chicken breast
For the salsa:
3 nectarines, diced
1/2 cup chopped red onion
1/2 avocado, diced
2 tablespoons lime juice
1/3 cup chopped cilantro
Salt, to taste
Directions:
Preheat oven to bake at 375 degrees F. Place a wire rack coated with cooking spray on a foil-lined baking sheet and set aside.
In one shallow dish, combine egg whites, minced garlic, and chili powder. Pour ground tortilla chips into another shallow dish.
Dip each piece of chicken into the egg white mixture, shake off excess, and dredge chicken in ground tortilla chips, making sure to fully coat both sides.
Place coated chicken breasts on the wire rack and bake in the oven for 25-30 minutes, turning once halfway through. Let rest for about 5 minutes before serving.
Prepare the salsa while the chicken is cooking. In a medium bowl, combine all of the salsa ingredients. Chill in the refrigerator until 10 minutes before serving.
Serve the gluten-free "fried" chicken with the salsa on top. (I also served it with baked sweet potato fries and roasted broccoli).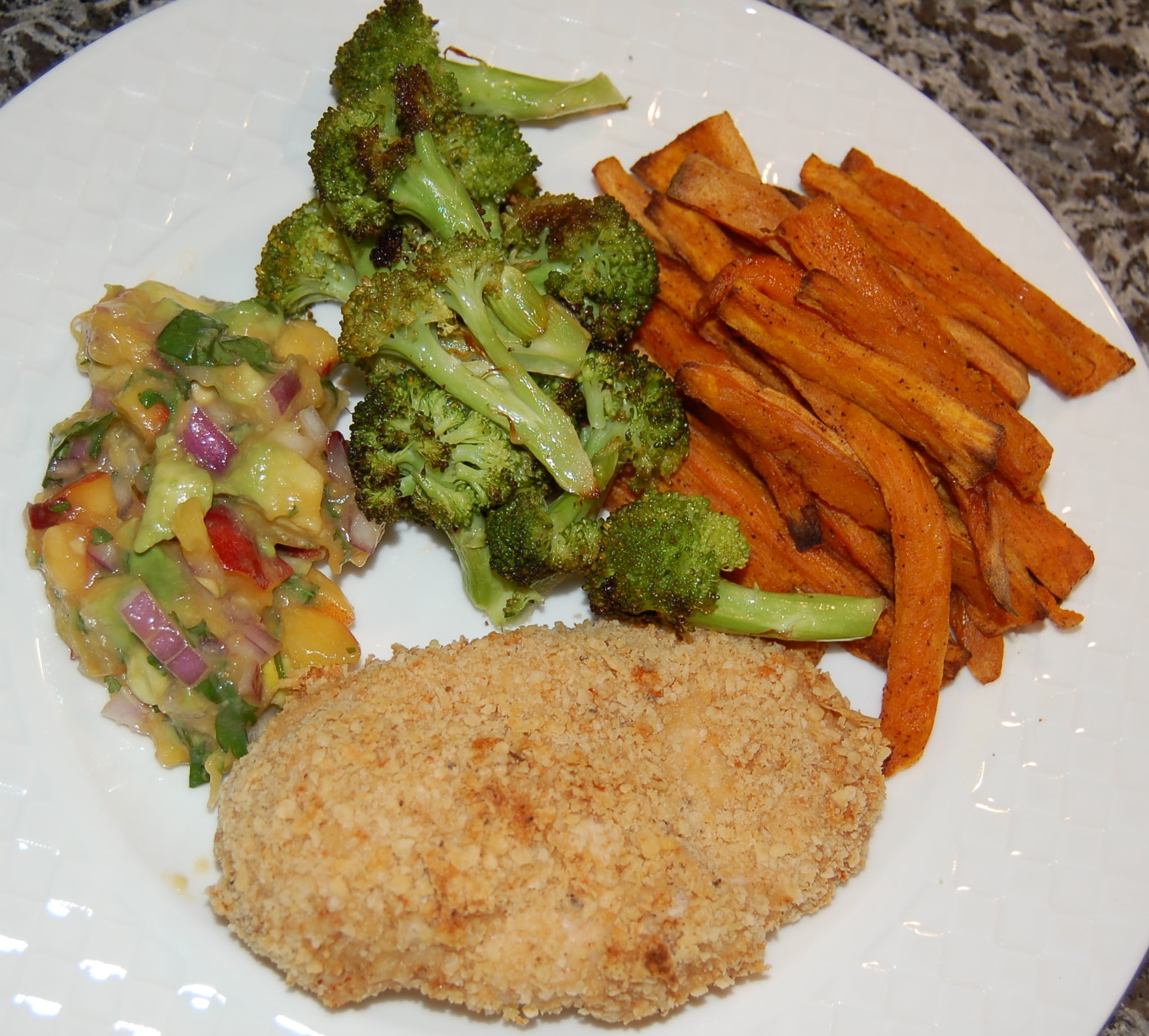 Want to make your own Chicken Mexicano at home? Enter the giveawayfor your chance to win the Frito-Lay Gluten-Free Prize Pack. One (1) lucky Nutritioulicious reader will win:
To enter the giveaway, leave a comment on this post and tell me what gluten-free recipe you would make using Frito-Lay chips (here's a list of all their gluten-free chips).
You will also be entered each time you do the following (and leave a separate comment letting us know you've done it):
Follow me on Twitter @JLevinsonRD
"Like" Nutritioulicious on Facebook and/or share the giveaway news with your Facebook fans and friends with a link back to the post
Tweet about the giveaway with a link back to this post
Subscribe to the Nutritioulicious blog using the "Email Subscription" box on the right side of the page
The giveaway will end on May 31, 2012 at 5:00 pm EST and a winner will be chosen using random.org. Please leave a link to your blog, a twitter name, or some other way to contact you in case you win. Good luck!