Celebrate the Benefits of Chocolate on National Chocolate Day
October 28, 2014
October 28th is….
National Chocolate Day
Believe it or not, there is a day devoted to chocolate and today is that day. What better way to celebrate all things Nutritioulicious than with chocolate, which we know is delicious, and research is showing is nutritious and providing us with numerous health benefits!
Research within the past 10 years has found that flavonoids found in cocoa offer protection for cardiovascular health, including antioxidant protection, reduction of blood pressure, and lowered LDL ("bad") cholesterol levels. While chocolate is high in fat – especially saturated fat – 1/3 of the fat in cocoa butter is stearic acid, which has been shown to have a neutral effect on blood cholesterol levels. Chocolate is also a source of trace minerals, including magnesium, low levels of which have been linked to hypertension and stroke. And just yesterday, a newly released study showed that antioxidants in chocolate improved memory skills in those with age-related memory decline.
Before you go out and purchase any chocolate you like, it's important to note that the amount of flavonoids in chocolate depends on the type of chocolate and how it is processed. For example, Dutch processed cocoa has lower levels of antioxidants, whereas dark chocolate is higher in the antioxidant flavonoids.
During the Blog Brûlée retreat I attended in September (my attendance was partially funded by the incredible sponsors; I was not compensated to write this post), I had an opportunity to learn more about chocolate when we took part in a chocolate class and tasting with Lake Champlain Chocolates.
Among the interesting things I learned about cocoa and chocolate making, is that cocoa trees don't like sun, so you will find them alternating with rows of banana and plantain trees, which provide them with shade. I also found out that to be called chocolate, at least 30% of the ingredients have to come from a cocoa tree.
So guess what…white chocolate isn't chocolate at all! Dark chocolate is composed of cocoa mass (pure chocolate liquor), cocoa butter, and sugar; milk chocolate is made by adding milk powder to dark chocolate; and white chocolate is composed of cocoa butter, sugar, and milk powder and has no chocolate mass at all.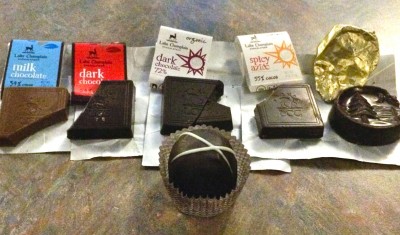 After we learned a bit about how chocolate is made, we got to tasting. What I loved about this chocolate tasting (besides all the decadent and delicious chocolate!), was the focus on eating mindfully by using all of our senses while tasting, which I always discuss relating to the behaviors around eating.
You can read more about the Lake Champlain Chocolates tasting process in this mindful eating post written by fellow Blog Brûlée attendant Diane Boyd of Cape Fear Nutrition.
Luckily for me, I still have some chocolate left to indulge in later today to celebrate National Chocolate Day! Hope you get to celebrate too!
What's your favorite type of chocolate?