Blog Brûlée Highlights: Setting Fire to Better Blogs
November 5, 2014
 Setting fire to better blogs with wine, cheese, s'mores, and amazing speakers and friends at Blog Brûlée.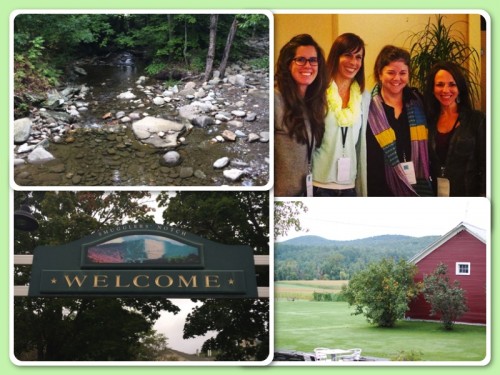 My attendance at Blog Brûlée was partially funded by the sponsors of the event. I was not compensated to write this post.

A few weeks ago I shared my excitement over my impending trip to Vermont for the first annual Blog Brûlée and when I returned I gave you some minor glimpses into the amazing weekend it was. (In case you missed it, on National Chocolate Day I shared the satiating experience of mindfully eating Lake Champlain Chocolates over that weekend.) Finally I have had a chance to gather my thoughts, edit my pictures, and fill you in on what I learned and the friends I made over the course of a picture-perfect fall weekend in Vermont.
As you can see from the photos above, the setting at Smugglers' Notch was perfect for a weekend retreat. The Blog Brûlée founders, Gretchen Brown, Deanna Segrave-Daly, Robin Plotkin, and Regan Jones, did an unbelievable job putting together an educational and fun-filled agenda for the weekend and recruiting talented speakers and gracious sponsors.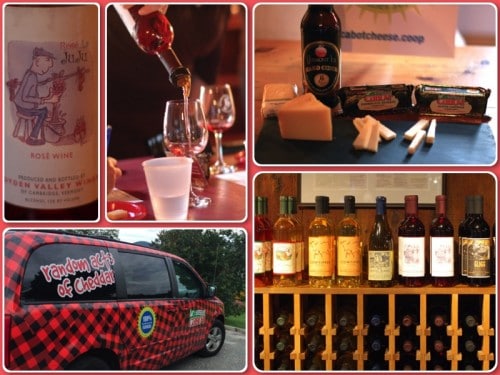 Between mid-morning wine and cheese tasting, afternoon s'mores, and an evening chocolate tasting there were ample opportunities to put into action what we were learning about food photography, photo processing, and the art of storytelling. And just as importantly, all these activities accentuated the fact that dietitians know how to enjoy all foods and are not the food police!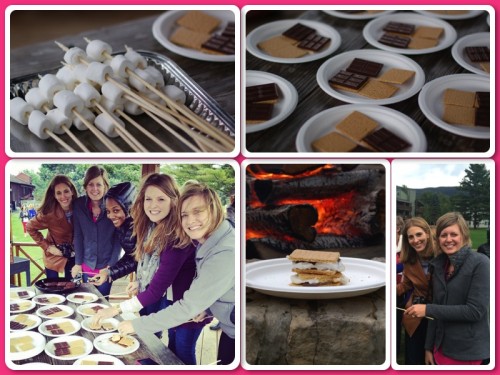 Here are a few of my highlights and key takeaways from Blog Brûlée:
During Food Photography 101, Gretchen Brown and Regan Jones said "If an image is worth a thousand words, what is your picture saying about healthy eating?" Talk about food for thought! I learned so many great nuggets in this session and have since been working on (and I think improving) my food photography skills.
If you're going to use your iPhone to take food pics, download the Camera+ and Snapseed apps. And for anything else you want to know about iPhoneography, contact Deanna – she's the master!
Once in a while drink wine and eat cheese at 10 am. Especially when it's a chilly morning.
As the sharpness of cheese increases, the sodium content decreases.
3 steps to a wine and cheese tasting: take a small bite of cheese, sip the wine, then take another small bite of cheese. Sit back, relax, and say mmm…
If you get a discount at a wine store, don't leave without purchasing a few bottles – even if it means you almost miss the bus! (Thanks Ann Dunaway Teh and Danielle Omar for holding the bus!)
Keep everything "wet and sexy." When styling food that is.
When making a dish that involves raw eggs in the end product (e.g. cookie dough bites, eggnog, Caesar dressing) try Davidson's Safe Eggs (Blog Brûlée sponsor), which are already pasteurized, eliminating the risk of Salmonella.
When writing a story, Eating Well's Nutrition Editor Brierley Wright says to ask yourself 3 questions: 1) Why are you telling your story now?; 2) How are you telling your story?; 3) What are you giving your reader?
Make an editorial calendar. Thanks Robin for twisting my arm to finally do this!
"The flower in the field isn't comparing itself to the flower next to it. It's just blooming." – Gretchen Brown
If you want to monetize your blog, get to know All Day I dream About Food's Carolyn Ketchum and Anne Mauney from fANNEtastic Food.
Kashrut (Kosher) + Kushi (Founder of macrobiotics) = Kashi (great tasting natural food)
The Meal Makeover Moms' recipe for successful branding has 5 ingredients: 1) Authenticity, 2) Reliability, 3) Responsiveness, 4) being Engaging, 5) Evolving
There's nothing more exciting and professionally fulfilling than spending time in person with fun, diligent, hard-working, and food-loving dietitians and bloggers who you previously only knew through social media. These are my fellow Blog Brûlée attendees who I urge you to check out:
Diane ~ Cape Fear Nutrition
Kylie ~ immaeatthat
Meme ~ Living Well Kitchen
Danielle ~ Food Confidence
McKenzie ~ NourishRDs
Kara ~ The Foodie Dietitian
Kristina ~ Love & Zest
Julie ~ RDelicious Kitchen
Karman ~ Nutrition Adventures
Jenna ~ Fresh Food Perspectives
Marisa ~ Marissa Moore Nutrition
Jenny ~ 30 Seconds with A & J
Ann ~ Dunaway Dietetics
Holly ~ Grassroots Nutrition
Jen ~ Down to Earth Dietitian
Min ~ The Adventures of MJ & Hungryman
Ashley ~ The Fresh Beet
Rachael ~ An Avocado a Day
Anne ~ fANNEtastic food
Liz & Janice ~ Meal Makeover Moms
EA ~ The Spicy RD
Carolyn ~ All Day I Dream About Food
Ok, so I took away more than a few things from Blog Brûlée, and in the process of sharing them with you I think I broke a few of the blogging rules I learned, but there was so much good stuff to share – and this wasn't even all of it! Fellow healthy food bloggers, I hope you get a chance to experience the brilliance of all those involved in Blog Brûlée in the future. And to my readers, I hope the gems I learned from this weekend away will keep you coming back from more at Nutritioulicious!