Baked Ziti with Spinach and Cauliflower {Recipe}
January 30, 2013
We're only barely into the new year and the 2013 food trends are already hot! Last week I shared my Recipe ReDux for Coconut-Curry Beef with Bok Choy and Farro, which incorporated two of the trends, ancient grains and using more vegetables in meals. A few weeks ago, Martha Rose Shulman, the author of Recipes for Health shared some recipes using cauliflower, one of the star vegetables for 2013. One of her recipes was for Baked Ziti or Penne Rigate With Cauliflower. I happen to LOVE baked ziti and was recently thinking about making it. So when I saw this recipe I took it as a sign to add it to my menu plan for the week.
I modified the recipe just a bit to make it more like my traditional baked ziti recipe, just with the addition of the vegetables and some protein from the anchovies. This is definitely a ReDuxed recipe! I was a little worried my husband was going to be upset that I didn't just leave the traditional dish alone, and I had no intention of hiding the veggies (I don't believe in doing that), but I guess because the cauliflower blended in with the pasta and cheese, my husband didn't realize it was in there and he loved the dish! Try it out and tell me what you think!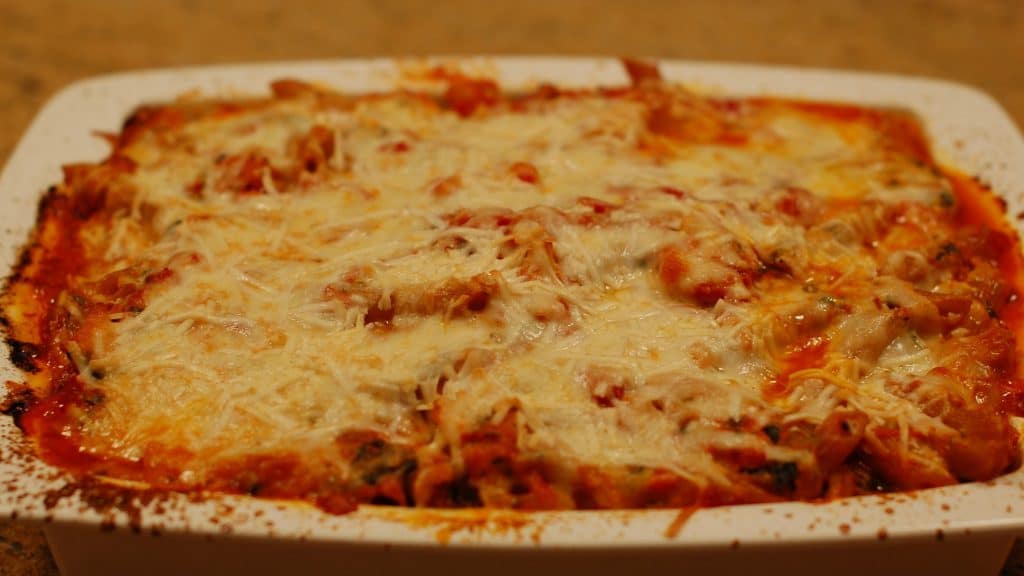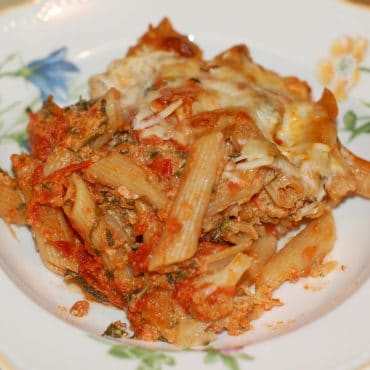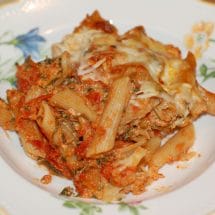 Ingredients
1/2

medium cauliflower

florets chopped

3

tablespoons

olive oil

divided

2

garlic cloves

minced

3

anchovy fillets

rinsed and chopped

2 26-

ounce

boxes chopped tomatoes

or cans

Kosher salt and freshly ground pepper

1

pound

whole wheat ziti or penne

10

ounces

shredded part-skim mozzarella cheese

divided

1 15-

ounce

container part-skim ricotta cheese

1

egg

1 10-

ounce

package frozen chopped spinach

thawed and drained

1/2

cup

grated Parmesan
Instructions
Preheat oven to 400 degrees, line a baking sheet with foil and set aside.

Toss chopped cauliflower florets with 2 tablespoons olive oil and spread on prepared baking sheet. Roast for 15 minutes and set aside. When the cauliflower is done, reduce the oven temperature to 375 degrees.

In the meantime, heat the remaining tablespoon of oil over medium heat in a large skillet and add the garlic. Cook, stirring, until it smells fragrant, about 30 seconds to a minute. Add the anchovies, the chopped tomatoes, and roasted cauliflower. Season to taste with salt and freshly ground pepper. Turn the heat down to medium-low and cook, stirring often, until the tomatoes have cooked down and smell fragrant, about 10 minutes.

Prepare the pasta according to package directions, but only cook until it is al dente. Drain and transfer to a large bowl.

Toss the pasta with the sauce, reserving 1/2 cup of sauce for later.

In another large bowl, combine 2 cups of mozzarella cheese, the ricotta, egg, and spinach. Season with salt and freshly ground pepper.

Add the cheese and spinach mixture to the pasta mixture.

Spray a 9 x 13 baking dish with cooking spray. Spread half of the reserved sauce on the bottom of the dish and pour the pasta and cheese mixture into the baking dish. Top with the remaining sauce, mozzarella cheese, and grated parmesan.

Bake uncovered for 25-30 minutes, until bubbling and browned on top.