Arugula Salad with Cider Honey Vinaigrette {Recipe}
April 4, 2013
When my husband sees a salad section on a menu he usually dismisses it without even looking and goes on to read the more interesting sounding appetizers and entrees. So when he comes home from work to find that we're having salad as part of the meal he's usually not very excited. That's not to say he doesn't like salad, but like many people he feels there is a health halo surrounding salad and it brings visions of a boring, uninventive mixture of greens with some cut up vegetables. And unless there's a lot of dressing or some tasty add-ons (ie. croutons, bacon bits, or some fried, crunchy topping) he's not particularly interested. This is true for many people as I have witnessed over the years counseling clients. The problem with salads with a lot of add ons and some of those build your own salad bars is that if you're not careful the calories and fat add up FAST. We'll discuss that another time.
For now, I want to share a new salad that I made that has healthy, flavorful add-ons and a vinaigrette that even those who aren't the biggest fans of salad will enjoy. My husband certainly did!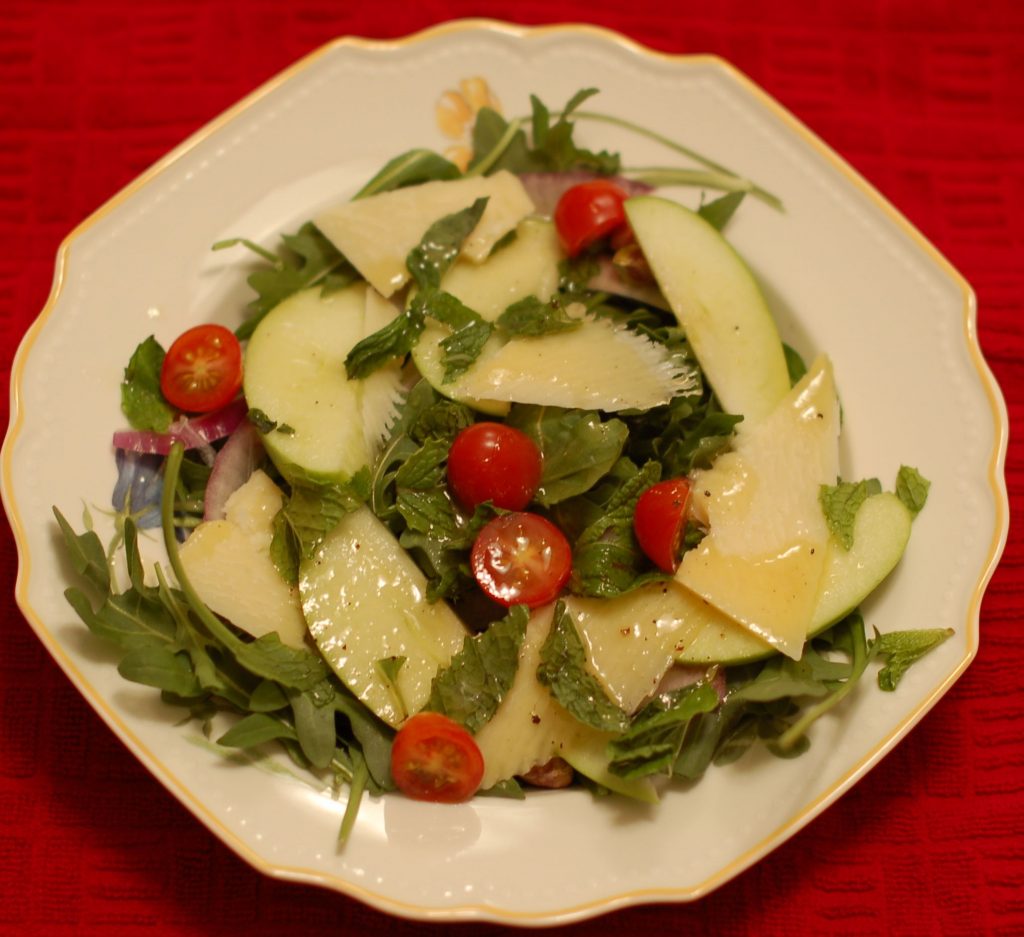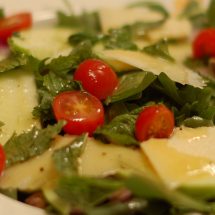 Ingredients
For the Dressing:
2

tablespoons

olive oil

1

tablespoon

cider vinegar

1

tablespoon

honey

Kosher salt and freshly ground pepper
For the Salad:
1 5-

oz

bag of arugula

1

medium red onion

sliced into half moons

1

Granny Smith apple

cored and thinly sliced (toss with some lemon juice to keep from browning)

1/4

cup

shelled

raw, unsalted pistachios

2

ounces

Parmesan cheese

1/3

cup

chopped mint
Instructions
To make the dressing:
In a small mixing bowl, whisk together the olive oil, vinegar, honey, and salt and pepper to taste.
To make the salad:
In a large serving bowl, toss the arugula, onions, and apples.

Divide the salad among 4 salad plates. Sprinkle 1 tablespoon pistachios on each salad and slice Parmesan on top using a cheese slicer or vegetable peeler. Sprinkle each salad with mint and drizzle with dressing.
Recipe Notes
Whisk dressing again before serving to re-emulsify.
Looking for more Nutritoulicious salads that won't bore you? Try one of these:
Spinach Salad with Jicama, Black Beans, and Lime Vinaigrette 
Poached Salad with Peach Salad
Poached Salmon with Asian Pear, Oranges, and Cilantro-Shallot Vinaigrette
Do you like salad?
What's your favorite type of salad and dressing?