AquaTally Hydration Cup {Product Review}
June 25, 2014
Disclosure: AquaTally provided me with a sample of the cup for review. All opinions are my own and I was not compensated for this post. 
With temperatures rising as we start the summer, it's extra important to stay hydrated. Surely you've heard the recommendation to drink 8 cups of water a day, which is the equivalent of 64 ounces. This may seem like a lot, but keep in mind that your water intake comes from other foods and beverages, including fruit and vegetables, coffee, tea, and other beverages (although I highly recommend limiting caloric beverages as they can add up). That said, if you're trying to meet a certain fluid intake to stay hydrated, there's a new cup that can help you reach your goal without thinking about it too much.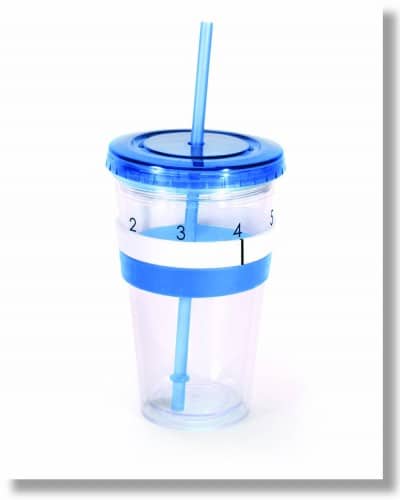 The AquaTally holds 2 cups (16 ounces) of fluid and can either track cups, or refills. There are two bands on the cup: one colored band, the bottom of which is the 1 cup (8 ounce) mark, and a white band, which you turn to keep track of how much you drink.  If you would like to track how many cups you drink start by lining up the white band so the black line is set to "0."  The first time that you drink an entire AquaTally turn the ring so the black line is set at "2," letting you know you've had 2 cups (16 oz) so far.
Need to drink more than 8 cups a day? Track refills by treating each number on the AquaTally as if it represents 2 cups (16 oz.), instead of 1 cup (8 oz.).  Then just shoot for "your number."
The Aquatally is insulated and heat-safe, so it can also be used for hot beverages like coffee, although I found that with the straw it wasn't really conducive to drinking hot liquids. Apparently there's a travel cover in the works. The AquaTally is also top rack dishwasher-safe and BPA free.
Personally, I have found the AquaTally useful when I am at home and it's a great reminder to keep drinking water and stay hydrated throughout the day. If you would like your own AquaTally cup, head over to their product page where you can order one of 3 snazzy colors, and be sure to enter the discount code "Tally6" for 25% off!