"America's Favorite Food" Cookbook
January 2, 2013
The holiday season may be over, but if you're like me, you're always in need of gifts for family and friends who are celebrating birthdays, anniversaries, housewarmings, or any other occasion. One gift I love to give is cookbooks – especially when someone has us over for dinner! These days most people search Google for recipes or look to some of their favorite food and cooking-related websites to figure out what they're going to make for dinner. But there's something about a printed cookbook that I still love. And if there are pictures of the food throughout, even better.
Recently I was sent a new cookbook from the creators of MyRecipes.com, which houses recipes from multiple magazines, including some of my favorites like Real Simple, Cooking Light, and Health. America's Favorite Food is filled with 200 of the website's top-rated recipes. Yes, you can access all these recipes online, but wouldn't it be great to have them all in one place?! The book is divided into 10 categories, including starters, soups & sandwiches, poultry, meats, seafood, meatless mains, pasta & pizza, sides & salads, desserts, and a separate section for breakfast & brunch recipes. You can see which magazine each recipe comes from, and there are helpful labels that, among other things, inform you if a recipe is gluten-free, uses 5 ingredients or less, will be done in half an hour from start to finish, is kid-friendly, or can be made ahead. There are also side boxes throughout with MyRecipes user suggestions, ask the expert tips, and quick tips. And of course there are mouth-watering photos throughout.
It gets even better! What is really unique about this cookbook is that it contains a Scan-It/Cook-It™ feature that lets you access helpful recipe-enhancing multimedia content on your mobile or tablet device. You download the Digimarc Discover app and then throughout the book when you come across a "Scan this Photo" box you scan the photo and you'll automatically be taken to how-to videos, professional cooking tips, meal planners and more.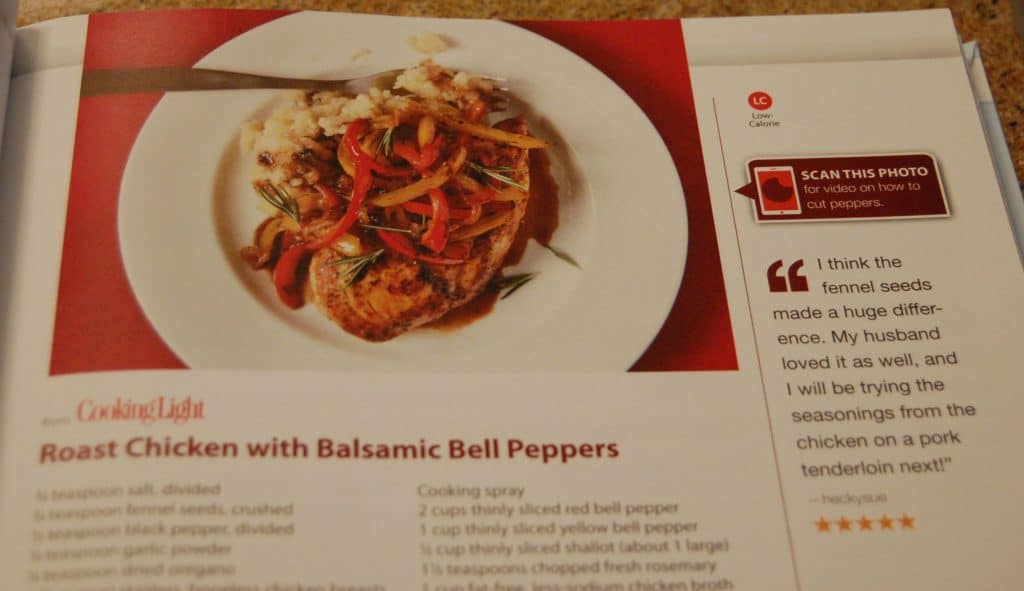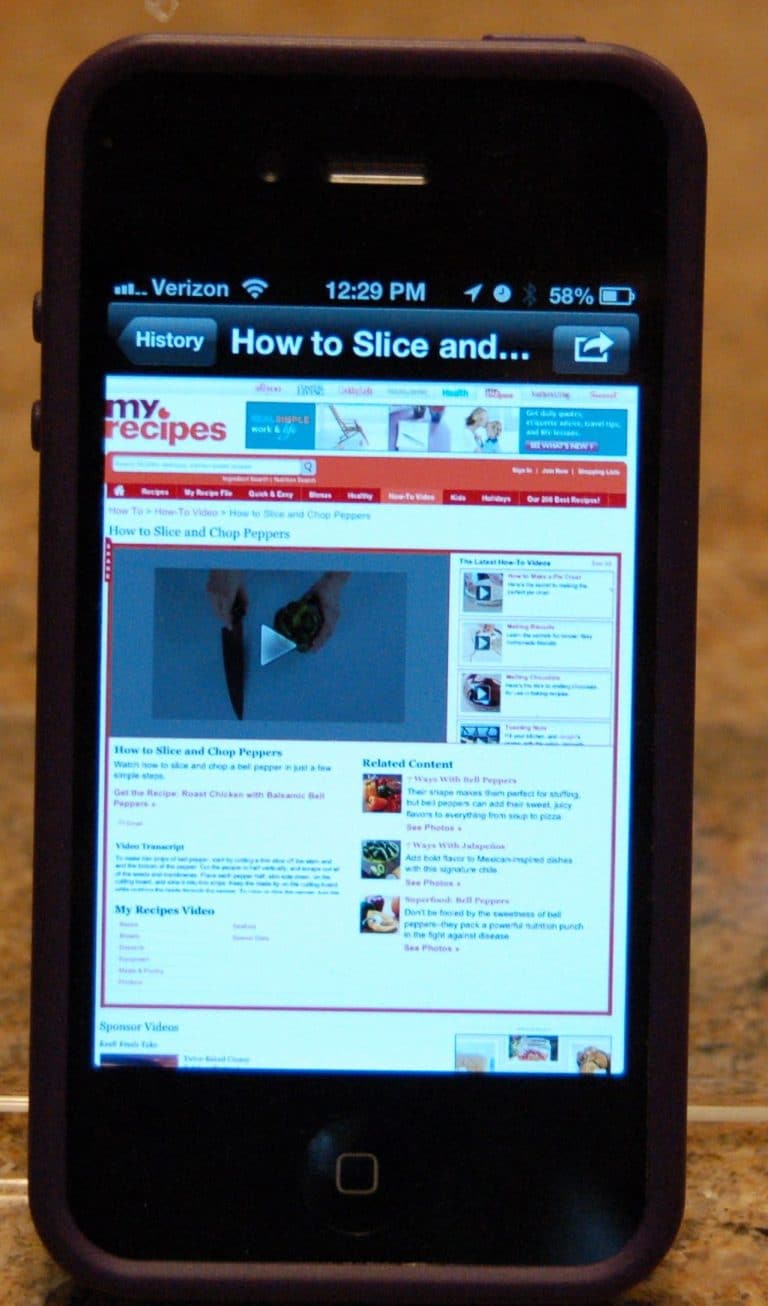 I tried the app on the Roast Chicken with Balsamic Bell Peppers recipe. The Scan It feature was for a video showing how to cut peppers. I thought the app was very easy to use, although this isn't a video I really needed to see. What I felt was missing was the ability to go to the recipe and see user reviews directly from the app. I was surprised this wasn't part of the design because more than anything I think people want to read what other users say about the recipe. And while there are some user reviews in the cookbook, one benefit of looking up recipes online is seeing what other cooks have liked, disliked, or changed in the recipe.
I still haven't gone through all the recipes yet and I am sure there's a lot of great content to see. Definitely a unique and tech-savvy cookbook for someone who loves to spend time in the kitchen!
Disclaimer: I received a copy of "America's Favorite Food" but was not compensated for this review. All opinions are my own.