All About Probiotics and Kefir Super Bowl Guacamole {Recipe}
January 29, 2013
This post was written by Tara Milhem
Wondering about probiotics?
With probiotics all the rage right now, you may be wondering what they are and where you can find them. Probiotics are live bacteria that help protect against disease and digestive issues in the intestines. You may think that bacteria is a bad thing, but there are actually helpful and harmful bacteria, and you want to make sure you have a balance in your intestines. Some foods like yogurt contain natural bacteria, Lactobacillus acidophilus. That's why you may have heard to eat yogurt if you're taking a course of antibiotics! There are also many probiotic dietary supplement, which replenish the old bacteria and help strengthen your tummy against invaders and unwanted guests. Probiotics have also been shown to enhance immunity, reverse IBS and Crohn's disease, and prevent against yeast infections. Most recently researchers have been looking at how probiotics can be beneficial for people with celiac disease, colon cancer, and even depression.
Fermented food is known for being a source of probiotics. Although it has been around for over 3,000 years, Kefir, a fermented milk drink, has become increasingly popular as an amazing source of pure probiotics. Kefir is similar to yogurt in texture, but is cultured from kefir grains. Kefir is typically a dairy product, but non-dairy alternatives like coconut kefir are also readily available and can be used as a substitute in any recipe or dish.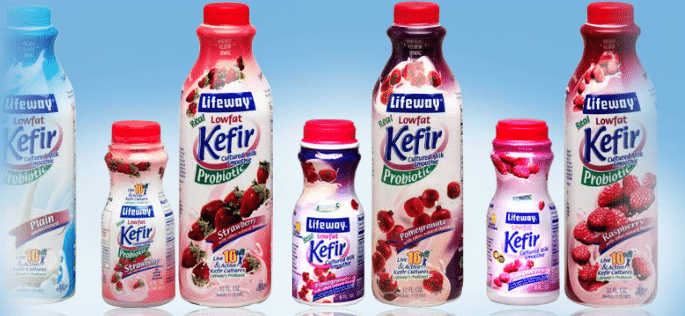 Ready to try it out? Just in time for Super Bowl, we received this great guacamole recipe from the folks at Lifeway Foods, the largest manufacturer of Kefir in the US. What a Nutritioulicious treat!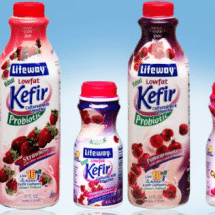 Ingredients
4

ripe avocados

½

red onion

minced (about ½ cup)

1/2

cup

Lifeway Lowfat Plain Kefir

1-2

tablespoons

fresh lime juice

to taste

½

teaspoon

coarse salt

½

teaspoon

black pepper

½-1

teaspoon

chili powder

to taste

½

ripe tomato

seeds and pulp removed, chopped
Instructions
Cut avocados in half and remove the pits. Scoop avocado out from peels and place in a mixing bowl.

Using a fork, mash the avocados. Add the chopped onion, lime, salt, pepper and chili powder and mash together.

Store in the refrigerator with plastic wrap directly on the surface to prevent browning. Just before serving, mix in the chopped tomato.
Interested in other recipes using Kefir? Check out fellow dietitian EA Stewart's Grapefruit Sherbet recipe. You'll also find a whole bunch of other probiotic-rich recipes from my fellow Recipe ReDuxers at the end of that post. (Sorry I missed that month!). 
 What's your favorite form of probiotics?