Affordable Art Fair: Fall Exhibition 2013
October 4, 2013
This post was written by Tiana Yom
This past April I attended the Affordable Art Fair Spring Exhibition at the Metropolitan Pavilion in Chelsea, New York. I was really excited to find out that AAF was back again with its Fall Exhibition at the Tunnel from October 3rd to 6th, showcasing a photobooth pARTy designed and orchestrated by artist Chad Kouri.
One of the major Fall 2013 highlights is the Onishi Project's "Lunchbox" piece, however, this piece was not available at the viewing party. Instead, "The Summer Table" by Makiko Azakami (below) was boldly placed at the front of Onishi Project's booth. It was amazing to see how this 3-D piece was entirely made out of paper. The executive assistant stated that it takes the artist about 2-3 weeks to complete.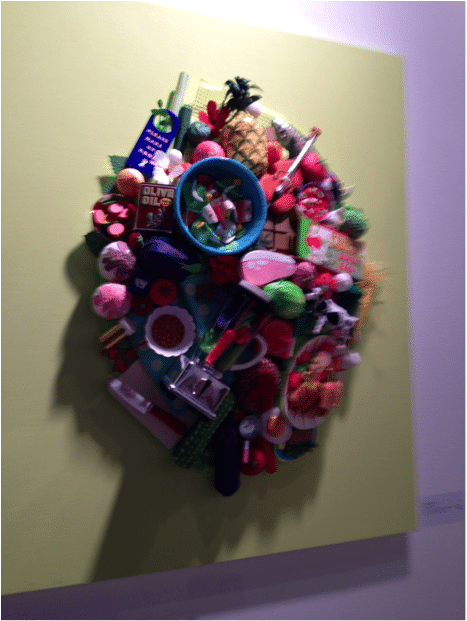 A few booths down, there was a stunning collage of photographs from Lawrence Fine Art (below) – all shots of different foods with a slight twist, such as fruits and vegetables with small toy figurines strategically placed on top and around. For example, I was immediately attracted to the crystal clear images of the avocados but then realized that there were super tiny action figures placed around the avocado's pit!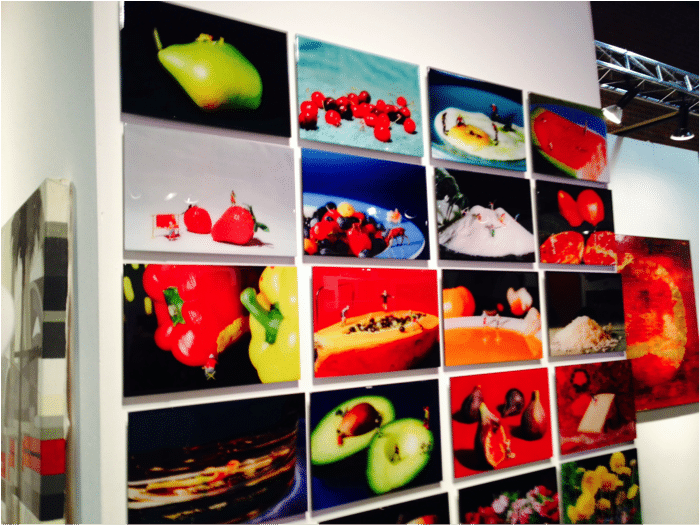 Right across from the photographs was a fascinating piece from Galerie Virginie Barrou Planquart (below). From afar, I thought it was a form of calligraphy with its straight lines and precise spacing between columns. But I was completely wrong. If you look closely, these were all gold gummy bears. Who would have thought that?!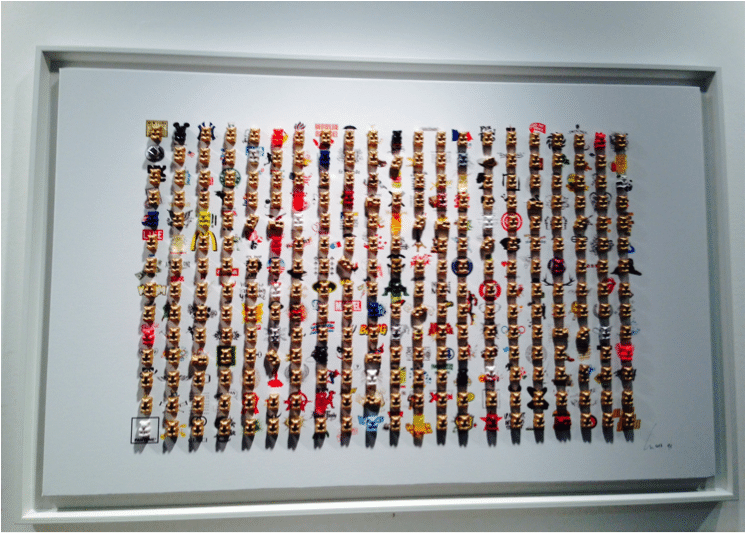 Overall, compared to the showcase in April, the fall exhibition was significantly smaller in the number of exhibitions presented as well as event space. There weren't as many pieces for a visual feast; however, I did enjoy the more intimate setting of The Tunnel.
The Affordable Art Fair will be open for viewing from October 3rd -6th with varying hours each day. In addition, each day has specific workshops and tours for visitors.
For more information about Affordable Art Fair viewing times and dates, visit: New York Visit.
For more information about Affordable Art Fair exhibitors, visit: Affordable Art Fair.