A New Year and National Honey Month
September 17, 2012
It's been quite some time since I have updated Nutritioulicious with a new post – my apologies for the delay. It's not for lack of what to write – I have a backlog of recipes, food news, and interesting topics to write about. Unfortunately time has been what's missing these days. Charlotte and Sabrina are now 8 1/2 months old and we just moved into a new house in a new neighborhood. And today is Rosh Hashana, the Jewish New Year! Talk about good timing!
Rosh Hashana marks the completion of the creation of the world, and how perfect that the completion of our new home arrived at just the right time! Rosh Hashana starts the beginning of a 10-day period of contemplation, self- examination, and reflection for Jews around the world. As I reflect on the past year and look forward to the year ahead, I have so much to be grateful for and so much to look forward to. In the spirit of Rosh Hashana, even if you are not Jewish, take five minutes today to reflect upon your life, what you have to be grateful for, your accomplishments, and what you want to achieve going forward. It can be related to health and wellness, a topic of great importance for everyone, personal and/or professional success, relationships, or a myriad of other subject matters. Please share your reflections in the comments below, on the Nutritioulicious Facebook page, or tweet them to me @JlevinsonRD.
On another, but related, note, September is National Honey Month! And get this – honey plays a prominent role in Rosh Hashana! A common greeting for the holiday is shana tovah u'metukah, Hebrew for "a good and sweet new year." The holiday is traditionally filled with sweet foods including apples drizzled with honey, honey cake, pomegranates, and raisin challah. As I've mentioned in the past, honey is a Nutritioulicious sweetener and great to use in baked goods (like this honey cake) because it retains moisture. Babies under one year should not eat honey because of potential botulism spores, so my girls won't be eating any of these honey-sweetened recipes this year. But that didn't stop them from enjoying some apples and honey for the new year!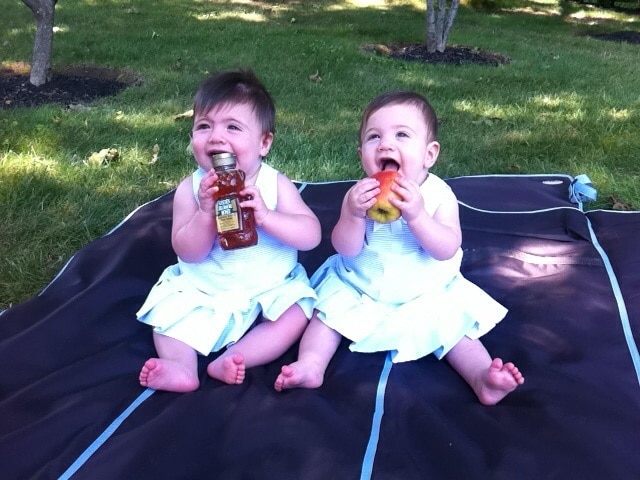 I wish you all a happy, healthy, sweet, and delicious new year. Stay tuned in the weeks to come for some great fall recipes and interesting food and nutrition-related posts. One wish I have for the new year is time!