Print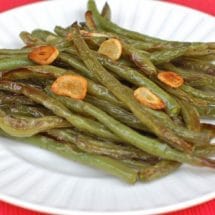 Garlicky Green Beans
Take green beans to another level by roasting them with sliced garlic. Crisp and delicious, you'll never look at green beans the same way again!
Preheat oven to 425 degrees F. Line a baking sheet with foil and coat with cooking spray.

Toss green beans with olive oil on baking sheet and spread in one layer. Roast in the oven for 8 minutes, stir, toss in sliced garlic, and roast another 7 to 8 minutes until the garlic is crisp and browned, but not burnt.

Remove from oven and season with salt and freshly ground pepper, to taste.