Print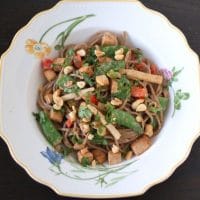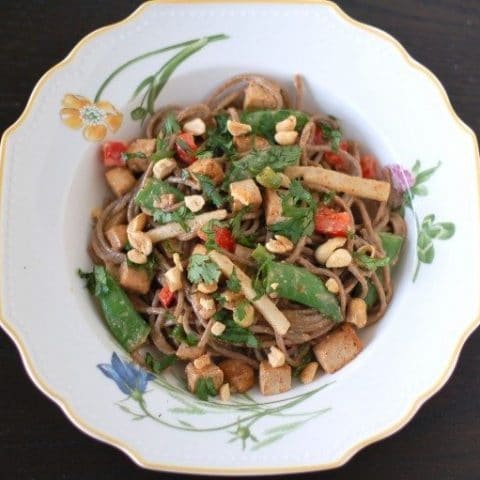 Peanut Soba Noodles with Crispy Tofu and Spring Vegetables
Sweet and slightly spicy peanut sauce tossed with buckwheat soba noodles, oven-baked crispy tofu, and vegetables is a meal your family will ask for over and over again!
Total Time
1
hour
5
minutes
For the tofu:
1

tablespoons

sesame oil

1

tablespoons

lime juice

1

tablespoons

unseasoned rice vinegar

1 1/2

tablespoons

low-sodium soy sauce

One

16-ounce package

extra-firm tofu, drained, pressed*, and cubed small

(or two 8-ounce packages cubed super firm tofu) (see notes below)
For the peanut sauce:
2

teaspoons

minced garlic

(~2 cloves)

2

packed teaspoons

grated ginger

1/3

cup

natural creamy peanut butter

(can substitute other nut butters for allergies or preferences)

2

tablespoons

low-sodium soy sauce

2

tablespoons

unseasoned rice vinegar

1

tablespoon

dark brown sugar

1

teaspoon

sriracha

2

tablespoons

hot water

(optional)
For the noodles and vegetables:
One

12-ounce

box of buckwheat soba noodles

(or gluten-free noodles)

1

cup

diced red bell pepper

1/4

cup

chopped scallions

1

cup

halved blanched snap peas

1

cup

julienned daikon

(Japanese radish)

Chopped cilantro for garnish

(optional)

Crushed peanuts for garnish

(optional)
To make the tofu:
Combine sesame oil, lime juice, rice vinegar, and soy sauce in a small bowl and whisk until emulsified.

Pour marinade over cubed tofu in a medium mixing bowl and marinate for at least 30 minutes, tossing occasionally.

Preheat oven to bake at 425 degrees. Spread marinated tofu in one layer on a foil-lined baking sheet. Bake in the top shelf for 20 minutes; turn tofu and bake another 10 minutes until crispy.
To make the peanut sauce:
Combine the sauce ingredients up to and including sriracha in a mini food processor and puree until smooth and well blended. Add 2 tablespoons of hot water and puree again to thin out the sauce. Add more hot water if thinner sauce is desired. Set aside.
To assemble:
Cook soba noodles according to package directions (about 5 minutes). Drain and rinse under cold water.

Coat pasta pot with a drizzle of sesame oil so noodles don't stick, and return noodles to pot.

Add the prepared vegetables and toss with the noodles. Add the peanut sauce and toss again, making sure everything is well coated. Add the crispy tofu and toss one last time.

Serve peanut noodles with chopped cilantro and crushed peanuts if desired.
This recipe can be served warm or cold. For the creamiest consistency, eat immediately!
Directions to drain and press tofu:
If you have a tofu press, place block of tofu in the press and refrigerate for 15 to 20 minutes. 
If you do not have a press, press the tofu as follows: Place the block of tofu between multiple layers of paper towel or a couple of clean kitchen towels. Place the wrapped up tofu on a cutting board or plate and top with another cutting board or heavy pan. Set aside for about 30 minutes until most of the liquid is pressed out of the tofu.
Note: I usually drain the tofu overnight and add marinate it in the morning.