Print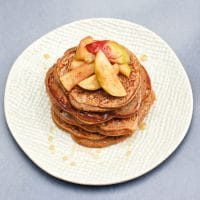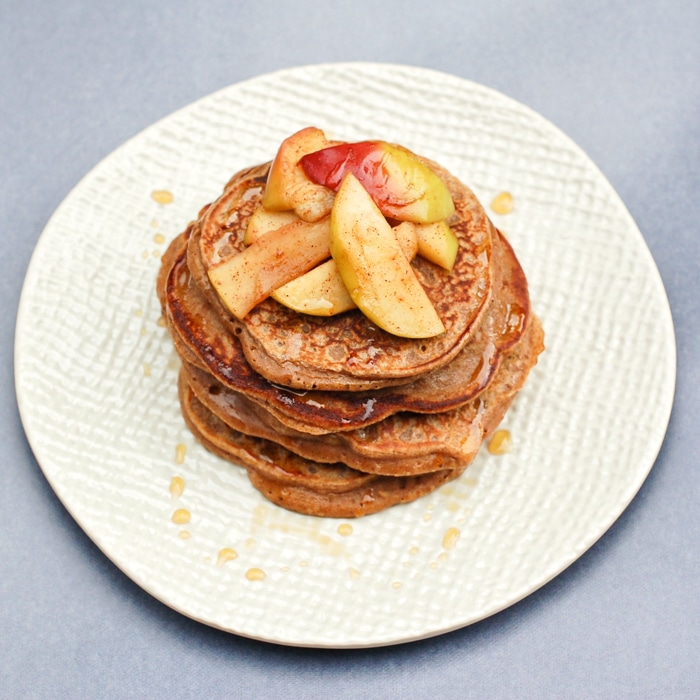 Apple Peanut Butter Pancakes with Sautéed Cinnamon Apples
Take your favorite snack duo to breakfast or brunch with these apple peanut butter pancakes. Serve with sautéed cinnamon apples on top.
Total Time
1
hour
15
minutes
For sautéed cinnamon apples (optional):
1

teaspoon

unsalted butter

1-2

sliced apples

Cinnamon

Water

Maple syrup,

for serving (optional)
To make pancakes:
In a large mixing bowl, whisk together both flours, sugar, baking powder, and cinnamon.

In a small mixing bowl, whisk together milk, applesauce, and peanut butter.

Whisk the wet ingredients into the dry ingredients, making sure to incorporate everything well, but be careful not to overmix. Fold diced apples into the batter.

Over medium-low heat, melt butter on griddle - use just enough to coat the griddle (you don't want to use all the butter at once). Using a 1/4 cup measuring cup, drop the batter onto the griddle and smooth with the spatula. Cook until the edges are set and the batter begins to bubble in the middle, about 4 to 5 minutes. Flip and cook on other side for another 4 minutes or so.

Repeat with remaining batter, adding butter to griddle as needed. Keep pancakes warm in a toaster oven. (Note: I make two pancakes at a time on my griddle.)
To make sautéed cinnamon apples:
Melt 1 teaspoon butter in a sauté pan. Add sliced apples, cinnamon, and a few teaspoons of water. Cover and stir occasionally until apples are soft and somewhat caramelized.

Serve pancakes with sautéed cinnamon apples and maple syrup, if desired.
* You can use 1 1/2 cups white whole wheat flour in place of combining the two flours listed.
Recipe inspired by Apple Walnut Buckwheat Pancakes at RDelicious Kitchen.