Print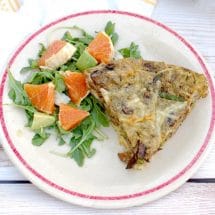 Mushroom Asparagus Pesto Frittata
Savor the flavors of spring and summer with this Mushroom Asparagus Pesto Frittata. Perfect for a quick and easy weeknight dinner or a relaxing weekend brunch.
Preheat oven to 375 degrees F. Spray 9-inch pie dish with cooking spray and set aside.

Heat olive oil in a large skillet over medium-high heat. Add onions and sauté 3 minutes, until starting to brown. Add mushrooms and sauté 6 to 7 minutes until softened and most of the water has evaporated. Add 1 to 2 tablespoons water to deglaze the pan.

Add asparagus and sauté stirring continuously, 2 to 3 minutes until bright green and slightly tender. (Thicker asparagus may need to be cooked longer and pan may need to be deglazed again.) Add 1/4 teaspoon salt and pepper to taste. Remove from heat.

In a medium bowl, whisk together eggs and half and half. Stir in pesto, remaining ¼ tsp salt, and pepper, to taste.

Sprinkle 1/2 cup of shredded Parmesan in bottom of pie dish and top with vegetable mixture spread in an even layer. Pour egg and pesto mixture on top and sprinkle with remaining ¼ cup cheese.

Bake frittata for 30 minutes until top is puffed and golden brown.
You can use evaporated skim milk or low-fat milk in place of half & half if preferred.