Print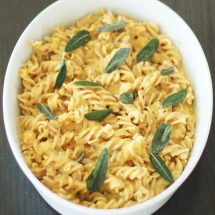 Lightened-Up Macaroni and Cheese
Indulge your family with a dinnertime favorite of mac 'n cheese that's extra gooey and better for your waistline!
2

cups

cubed butternut squash

1

pound

whole wheat fusilli pasta

1/4

cup

light butter spread with canola oil

1

cup

minced yellow onion

2

garlic cloves,

minced

1/4

cup

whole wheat flour

3

tablespoons

grainy Dijon mustard

1

teaspoon

Kosher salt

1/4

teaspoon

chili powder

3

cups

nonfat milk

3

cups

reduced-fat shredded sharp cheddar

(I use Cabot Sharp Light)

1/2

cup

grated Parmesan cheese

2

tablespoons

finely chopped sage

(optional)

Fried sage leaves for garnish

(optional)
Bring a small pot of water to a boil; add butternut squash and cook 15-20 minutes until tender. Drain and puree with a hand immersion blender or food processor until smooth. Set aside.

Cook pasta according to package directions; drain and return to pot.

While pasta is cooking, melt butter spread in a large saucepan over low heat. Add onion and garlic to melted butter and stir for 1 to 2 minutes. Add flour, mustard, salt, and chili powder; whisk to stir until a thick paste forms.

Slowly pour in the milk and whisk vigorously to prevent curdling. Add the pureed squash, stir to combine, and whisk every couple of couple of minutes until mixture is thickened, about 10 minutes total.

Remove pot from the heat; add shredded cheddar, parmesan, and chopped sage if using. Stir until cheese is melted and smooth. Mix sauce and pasta. Serve with fried sage leaves if desired.