Print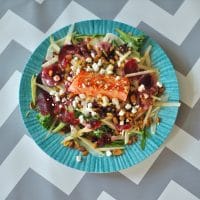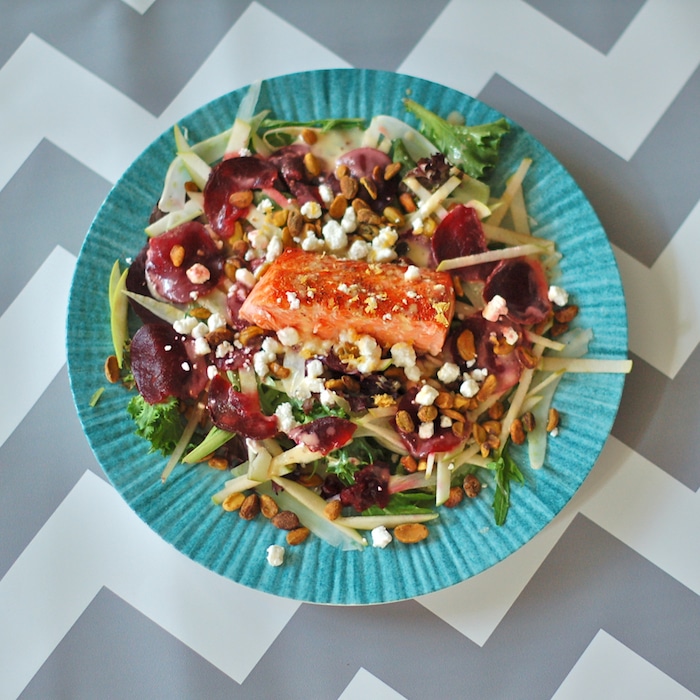 Salmon Waldorf Salad with Citrus Yogurt Vinaigrette
Mixed greens, ruby red beets, crisp fennel and green apple, crunchy pistachios, creamy goat cheese, and heart-healthy salmon are tossed with a citrus yogurt vinaigrette in this twist on the classic Waldorf salad.
For the salad:
1

pound

salmon fillet

1/8

teaspoon

Kosher salt

Freshly ground pepper

1/2

cup

shelled unsalted pistachios

5

ounces

mixed greens

1

cup

thinly sliced fennel

1

cup

thinly julienned green apples

1/2

cup

thinly sliced cooked beets

1/2

cup

crumbled goat cheese
To make the dressing, combine yogurt, grapefruit juice, garlic, mustard, lemon zest, and lemon juice in a small food processor or blender. Blend until combined. Add 1/4 cup oil and blend again until emulsified. Season with salt and pepper and set aside.

Preheat broiler at 450 degrees F. Place salmon fillet on a foil-lined baking sheet and sprinkle with 1/8 teaspoon salt and pepper to taste. Broil 15 minutes until cooked through.

While salmon is cooking, toast pistachios in a dry skillet or toaster oven, about 4 minutes.

To assemble the salad, divide greens, fennel, apples, beets, and goat cheese among 4 plates. Top with 1/4 of the broiled salmon and 2 to 3 tablespoons dressing. Garnish with additional lemon zest if desired.
This recipe is for 4 entree salads, but it can also be served as a side salad or appetizer for more people.
Recipe adapted from Waldorf Chicken Salad on page 54 of Food & Wine Annual Cookbook 2010