Print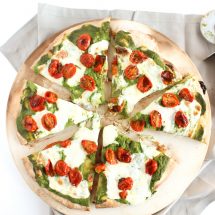 Rosemary-Roasted Tomato Pesto Pizza
This Rosemary-Roasted Tomato Pesto Pizza is made on a whole wheat crust and topped with a nut-free kale pesto lightened up with ricotta cheese, rosemary-roasted tomatoes, and fresh mozzarella cheese. A delicious and healthier way to enjoy pizza night at home.
Total Time
1
hour
10
minutes
Kale Pesto:
5

ounces

chopped kale

2

cloves

peeled garlic

2

tablespoons

olive oil

2

tablespoons

lemon juice

1/2

cup

part-skim ricotta cheese

2

tablespoons

grated parmesan cheese

1/4

teaspoon

Kosher salt
Rosemary-Roasted Tomatoes:
Pizza:
Whole wheat flour for dusting

8

ounces

refrigerated whole-wheat pizza dough

(I like Trader Joe's)

Olive oil for brushing

8

ounce

ball fresh mozzarella cheese

, sliced into medallions
For the Kale Pesto:
Bring a large pot of water to a boil and blanch the kale. Squeeze out excess water from the kale and add to a food processor. Add the remaining pesto ingredients and pulse until well combined and smooth. Strain the pesto to remove some of the excess moisture and set aside.
For the Rosemary-Roasted Tomatoes:
Preheat oven to 400 degrees F. Line a baking sheet with aluminum foil and toss tomatoes on it with olive oil, rosemary, and salt. Roast for 10 minutes, stirring halfway through.
For the Pizza:
Prepare a pizza stone or round pizza tray. If using a metallic tray, coat with oil or cooking spray.

Spread some whole wheat flour on the counter or non-stick rolling mat. Roll the dough into a medium-thin circle. Carefully transfer dough to pizza tray. Brush top of dough with olive oil and bake 2-3 minutes until dough is lightly cooked.

Spread about 1/2 to 3/4 cup kale pesto on lightly-cooked dough. Top with mozzarella medallions and rosemary-roasted tomatoes. Return to oven and bake 12 minutes until the dough is fully cooked and cheese is melted and starting to brown and bubble. Slice into six or eight slices and serve hot.
Pesto makes about 2 cups. Reserve remaining pesto in refrigerator or freezer for another pizza or to top pasta.